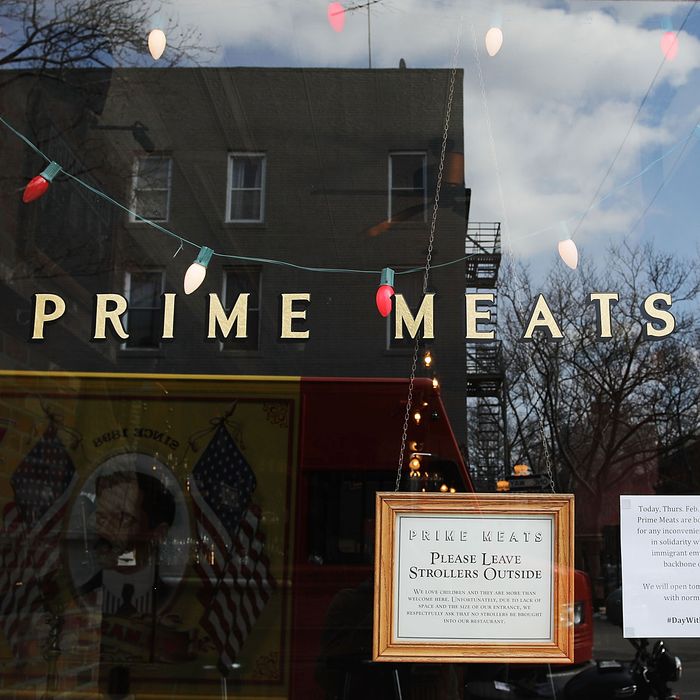 Part of the space will be turned into an expansion of Frankies 457 Spuntino.
Photo: Spencer Platt/Getty Images
In a major hit to the Carroll Gardens (and Brooklyn) dining scene, Prime Meats will close in November as part of a major shake-up by owners Frank Castronovo and Frank Falcinelli.
The New York Times reports that the Franks, as they're known, will close the popular Germanic restaurant just short of its ten-year anniversary. The plan is to expand the dining room of their equally popular Italian hot spot, Frankies 457 Spuntino, which, despite being located several storefronts up the street, is connected to Prime Meats' corner space by a long back kitchen.
That is not the only move afoot in South Brooklyn: Team Frank will also turn the bar area at Prime Meats into a wine bar, expand the backyard of Frankies 457 and open a new Sicilian pizza shop up the street, in a space that formerly held Cafe Pedlar.
Until November, Prime Meats will serve its greatest hits, including its steaks, schnitzel, and housemade sausages. Then, like dust in the wind, it'll be gone, although the Franks tell the Times that they'll still serve "a steak, a real steak," at the newly expanded Frankies.