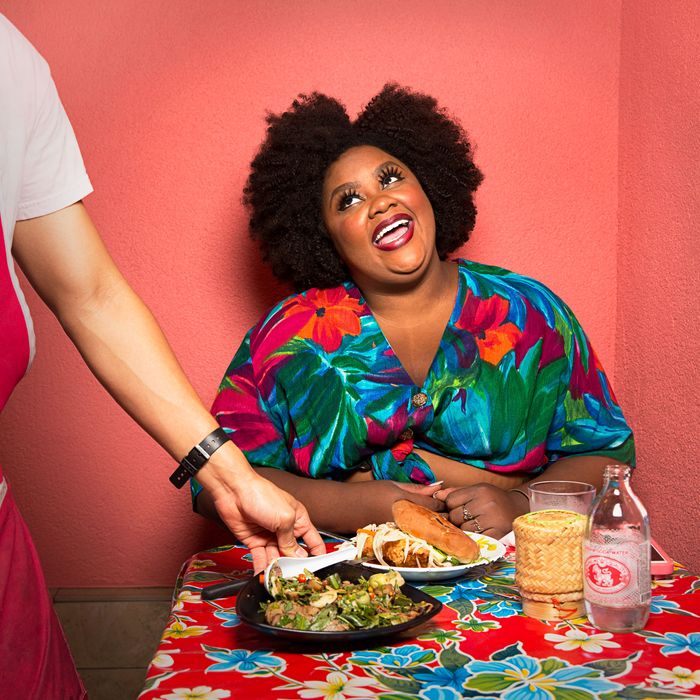 Byer at Night + Market Song.
Photo: Bradley Meinz
As the host of Netflix's Nailed It! Nicole Byer is the star of a show that is equal parts Chopped and Pinterest Fails. So we wanted to know how the comedian and actress — who also works on her series Loosely Exactly Nicole and her podcast Why Won't You Date Me? — eats when she's at home. "I'm trying to try more things," she says. "I do eat like a 12 year-old." Of course, that's not exactly true, and this week Byer managed to hit one of her favorite Middle Eastern spots, save subpar fried chicken with ranch (a.k.a. the country's greatest condiment), and try sticky rice for the first time ("It's sticky!"). Read on to see which meals rate an 11 out of 10 in Byer's eyes.
Thursday, September 20
I don't know how eventful this is going to be. I truly eat like a dumpster.
All right, I woke up late. This day was a single-meal deal. I had coffee and then went to the gym. For the most part, I drink Stumptown cold brew. Straight, no milk. I don't really like hot beverages. They always burn my tongue.
At the gym, I worked out on the elliptical and there was a man there who, two days before, had given me a high five. I tried my hardest to avoid him, because there's nothing worse than being a fat person in the gym near a thin person who feels like their motivation will bring you back. I'll let you know right now: It has the opposite effect.
Anyway, I went home and then to therapy. I made sure to wear makeup and a long wig so she would think I was doing okay. (Just kidding — I was fine that day.) I did talk to her about the man from the gym.
Later that night I went to dinner with two friends. One old, one new. We went to one of my favorite spots in L.A., Bowery Bungalow. It's a small Middle Eastern place with shared plates, which is perfect for tasting everything. We got all my favorites: turmeric fried rice, the baby back ribs, the bruschetta, and the fried cauliflower with tahini, which is the best.
My friend ordered lamb, which was also excellent. I'd say this dinner was an 11 outta 10. Usually I don't rate any higher than 11, but I guess if something is out of this world it would be a 20 outta 10. Providence is probably 20 outta 10. It's so high because it's pretty tasty but also real expensive and I love when people spend money on me.
Friday, September 21
I woke up early, like 10 a.m. That is very early for me. I had some coffee to start my day, and then recorded two episodes of my podcast. Then I went to the gym again and lifted. I'm trying to get strong arms for my pole dancing class. Pole dancing is so hard.
I got home and made my weird little salad, which I eat almost every day if I eat at home. Truthfully, I don't know how to make anything else. It's ground turkey, tomatoes, and butter lettuce topped with ranch dressing. Kraft ranch, the only acceptable ranch other than Hidden Valley. Well, Mr. Newman's is okay, too.
I haven't always had such strong feelings about ranch, because I grew up on bad ranch. My mom was a good cook but would buy Wishbone, which is disgusting. So I thought I didn't like ranch except restaurant ranch. When I lived in New York, I would go to this sandwich place called Subsconscious. They had the best ranch. One day I was like, "Oh my God, this ranch. You have to give me the recipe." And they were like: "It's Kraft."
After that I wrote jokes for a bit then went to a very funny, silly midnight show, UCB Drag Race, at the UCB Theater. I'm a judge when I'm in town. It's loud, colorful, and exciting. I had a couple of drinks there, vodka and a beer.
I headed home a li'l tipsy and made the worst fried chicken I've ever had. I had watched my friend Matteo panfry it at a dinner party at my house a couple of days before and it was delicious. I guess I didn't watch close enough, because I literally ate goopy flour.
I dumped Kraft ranch on it to try to make it edible. That didn't work, so I washed it down with more vodka. This was the first time I made fried chicken and the second time I watched Matteo cook something and tried to make it. It didn't go well the first time, either. That was carbonara. He put egg in it, and I put egg in it and it scrambled right up.
I rate this 6 outta 10. The bad chicken really brought it down, but the ranch kinda saved it?
Saturday, September 22
Ooooh baby, I woke up with a slight hangover and a real tummy ache. So I didn't even have my morning coffee. I had to go to a rehearsal for a live stage reading of the Goonies for charity. I didn't eat anything there but a cracker and as soon as I put it in my mouth I knew that it wasn't going to be a good day for eating.
We did the show. I think it went very well. 'Twas funny and we raised a shit ton of money for RACIES. If you can donate you should, it's a very good cause. There were free drinks after and mama loves free shit. The best drink is a free drink, so I had a cocktail, then went home. I guess the vodka settled my stomach because this bitch was hungry, so I ordered dinner at midnight. A bacon cheeseburger, fries, and a vanilla milkshake from 25 Degrees via Postmates. What a glorious app: I can have whatever I want, when I want, for a million dollars. Yes please!
I ate most of it and it was very tasty. 10 outta 10!
Sunday, September 23
I had to fly to Vegas for a couple of shows, so I got my ass on a plane slightly hungover again — don't worry; I see a theme.
I had my traditional plane breakfast: a vodka soda. I'm in first class. It's free, baby! I've already paid for it.
Landed, checked into my hotel, and went to my shows. I performed three times and each time was a different type of fun. I ate a bunch of vodka sodas and Stacey's pita chips — they're the only pita chips I've ever seen — because it was too hot to venture outside for real food.
After my show, I wanted to go back to my hotel and eat at the fancy steak house in the hotel. But alas I got back too late. It was closed. The bartender directed me to a place on the strip that he said was good. It wasn't. It was one of the worst steaks I've ever had! I ate and went back to my room and talked on the phone with a dear friend for like two hours, just gabbing. The first 15 minutes were probably about the steak; I was very angry about it because I chose this hotel for the steak restaurant. I didn't realize how quickly it closed because I didn't look at Yelp until the way back and then I was upset that I missed it.
I rate this as 5 outta 10.
Monday, September 24
On my way back to Los Angeles, I again had my plane breakfast: a vodka soda.
After I landed, I went and I took a bit of a nap. Flying tuckers me out!
Woke up and went to Night + Market Song. It was a very cute place that I'd read about but never been to. I ordered a chicken sandwich, which was one of the best I've ever had. It rivaled Howlin' Rays. I once waited three hours for theirs and I'd do it again, baby!
Then I ordered a pork something with fish sauce. I hadn't had fish sauce before, so I was skeptical. But I got it and it was also so fucking good. I got sticky rice, too. I'd never had it before, either, and let me tell you: It's sticky! This was 11 outta 10.
Tuesday, September 25
I woke up and had coffee and then was off. I went and did some voice-over work for a new show that's coming out next year. Then I went and got a tattoo on my butt at Rabble Rouser. One of their artists, Alyana, has done three of mine so far and they are all very cool. It's a hamburger and a hot dog and it says, "Stick it in these buns."
Then I drove for two and a half hours for a show at University of California Riverside. My GPS all day said an hour, then when I got in my car it was like, nah bitch, you get there next year. I ended up being a half hour late, which sucks, but I think the show was successful! I mean I had fun and met a great group of kids.
Then I went back to L.A., walked my dogs, and met my dear friend for a late dinner at Little Doms. We both got lasagna. TUESDAY NIGHT IS LASAGNA NIGHT, BITCH!
(It's lasagna night at Little Dom's, not in my life. A lot of times I'll call on Wednesdays and be like, "Do you have lasagna?" and they'll say, "absolutely not.")
We also got an arugula salad and a caprese salad. You better believe we shared a bottle of rosé, then got another bottle for desert. For desert, we also had vanilla gelato. This dinner was 11 outta 10!