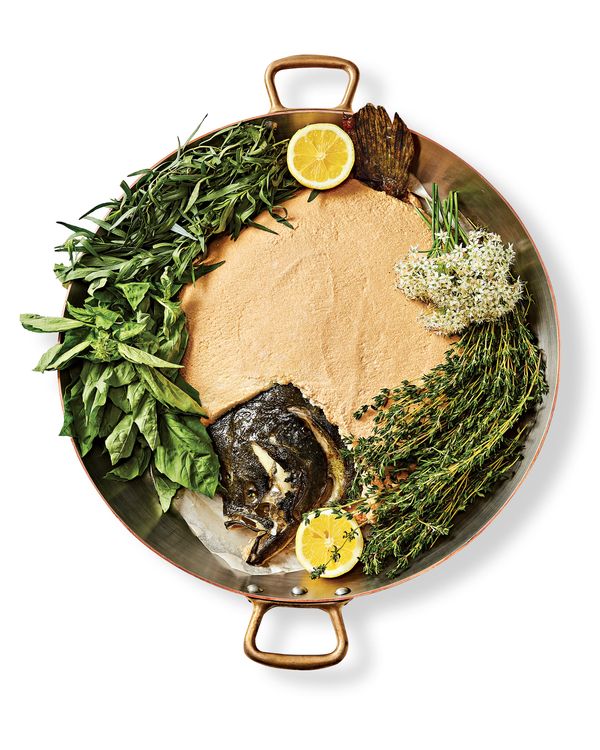 What you see before you is a whole, four-pound-ish Spanish turbot stuffed with lemon and thyme, cocooned in a sort of salty meringue, and presented tableside for general admiration. What you don't see is the battery of reimagined condiments and garnishes that make this new addition to Momofuku Nishi's menu a true member of the extended tribe of Momofuku large-format feasts: There's fish sauce and white soy sauce in the salsa verde, garam masala in the caponata, yuzu kosho in the aïoli, plus bowls of Calabrian chile paste and pungent boquerones with piquillo peppers. Like Ssäm Bar's bo ssäm and Noodle Bar's dueling fried chickens, the fish (once neatly filleted and basted with brown butter) is meant to be pounced upon and tucked, if so desired, into the soft lettuce leaves that come alongside. "It's my favorite cooking fish," says chef de cuisine Nick Tamburo, who loves turbot's varying textures, which range from firm and meaty to rich and unctuous around the fins, the area he calls "the pork belly of fish."
On the menu at Momofuku Nishi; $140; 232 Eighth Ave., nr. 22nd St.; 646-518-1919.
*This article appears in the September 17, 2018, issue of New York Magazine. Subscribe Now!