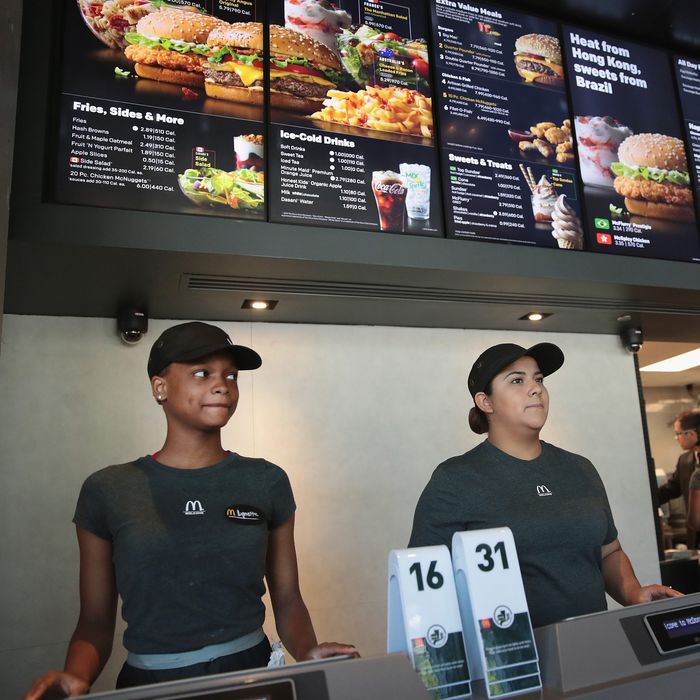 McDonald's employees in Chicago.
Photo: Scott Olson/Getty Images
Fast-food companies are, no two ways about it, terrible. Labor issues plague the industry, where underpaid workers are particularly vulnerable to issues like sexual harassment and abuse. According to one survey, 40 percent of female fast-food workers say they have experienced sexual harassment at work. In hopes of getting management to do more about this issue, McDonald's workers have voted to go on a single-day strike in ten cities next week.
The strike will take place during lunchtime on September 18, at certain locations in Chicago; Durham, North Carolina; Kansas City, Missouri; Los Angeles; Miami; Milwaukee; New Orleans; Orlando; San Francisco; and St. Louis. It was approved by women's committees formed by employees at dozens of McDonald's franchises, and organizers believe it is the first U.S. strike against sexual harassment in workplaces that will take place in multiple states. Fast-food workers have gone on strike for better wages in recent years.
The organizers include McDonald's employees who filed complaints earlier this year with the U.S. Equal Employment Opportunity Commission about harassment at some McDonald's franchises. Those women include New Orleans's Tanya Harrell, who alleges that her managers teased her but otherwise did nothing about her EEOC complaint, and Kansas City's Kim Lawson, who alleges that her mangers responded insufficiently when she reported sexual harassment.
In an email sent to the AP, McDonald's said it has anti-sexual-harassment policies and training in place, and that "we firmly believe that our franchisees share this commitment." The company will also bring in outside experts, including from Seyfarth Shaw at Work and RAINN, to help work on its policies and procedures. But labor lawyer Mary Joyce Carlson, who has been working with the women who filed complaints, argues that there are no signs of any real change.
Through the strike, the organizers are demanding improved procedures for dealing with harassment complaints, required anti-harassment training, and the formation of a national committee focused on sexual harassment. They want leaders of national women's groups, workers, and representatives of the corporation and franchise locations involved.