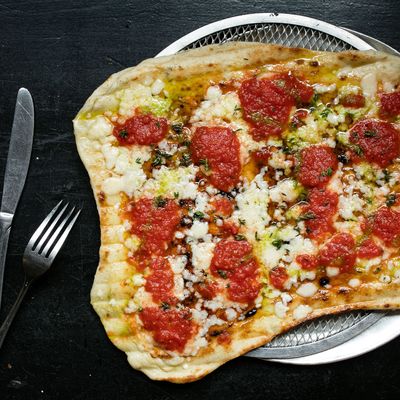 Matt and Emily Hyland's grilled pizza.
Photo: Melissa Hom
These are good times for connoisseurs of pizza styles. You can't swing a ball of mozzarella di bufala in this town without hitting a shop or parlor that specializes in Roman pizza al taglio or Long Island grandma pizza or authentic margheritas D.O.C., to name but a few. Yet among the bounty, one type of pizza — the fantastic Providence, Rhode Island, creation known as grilled ­pizza — is woefully underrepresented.
Cue Matt and Emily Hyland of Emily and Emmy Squared fame, who will be grilling pizza at the as-yet-unnamed restaurant they're opening this fall.
Not only are the Hylands grilled-pizza aficionados, as it turns out; they actually went to grilled-pizza mecca Al Forno on their first date back in college at Roger Williams University. "We had the pasta in the pink, the spicy clam roast, and, of course, a grilled pizza margherita," remembers Matt as if it were yesterday. This is, to say the least, good news for grilled pizza. If anyone can spark interest in a relatively obscure regional pizza, it's the couple who did for Detroit-style pies in this town what Danny Meyer did for cheeseburgers.
For the uninitiated, grilled pizza is just that. To make one, you take a ball of ordinary dough, oil it up like an international bodybuilding contestant, smoosh it into a free-form oval, and drape it onto a white-hot grill, then watch in wonder as, as if by some strange culinary voodoo, the thing does not droop and slide through the grates like a rogue campfire marshmallow. The virtually undisputed inventor of the style was the late George Germon of Providence's iconic Al Forno, and the grilled pizzas there are little miracles of perfection—impossibly thin with nary a cornicione, crisp but tender, and imbued with both a smoky essence and a hint of fried flavor. Another great thing about these pies is that they're so light and sparingly topped you can devour a whole one alone without fear of the dreaded pizza bloat or anyone looking at you and wondering whether you were raised in a barn or had just broken out of prison.
Hyland plans to cook his pizzas over a hybrid gas-and-charcoal grill. The key, he says, is achieving a crust that's crisp, but not cracker-crisp, and also soft. He'll use a nifty combo of Fontina, Pecorino, and a fancy, eminently meltable Jasper Hill Farm ­shredded-cheese blend on some of the pies. And that's not all. More so than at their other restaurants, the kitchen will delve into non-pizza dishes including housemade pastas like spaghetti chitarra with clams and bonito butter; grilled whole fish and head-on shrimp; and johnnycakes treated like polenta and topped with, say, roasted mushrooms and bitter greens. The inspiration is part nostalgia for the couple's pizza-eating college days and part tribute to the Portuguese and Italian-influenced cooking of southern New England — "Stuff I personally want to eat," says Matt, "and stuff you can't easily get in New York."
511 E. 5th St.; Nov.
*This article appears in the September 3, 2018, issue of New York Magazine. Subscribe Now!