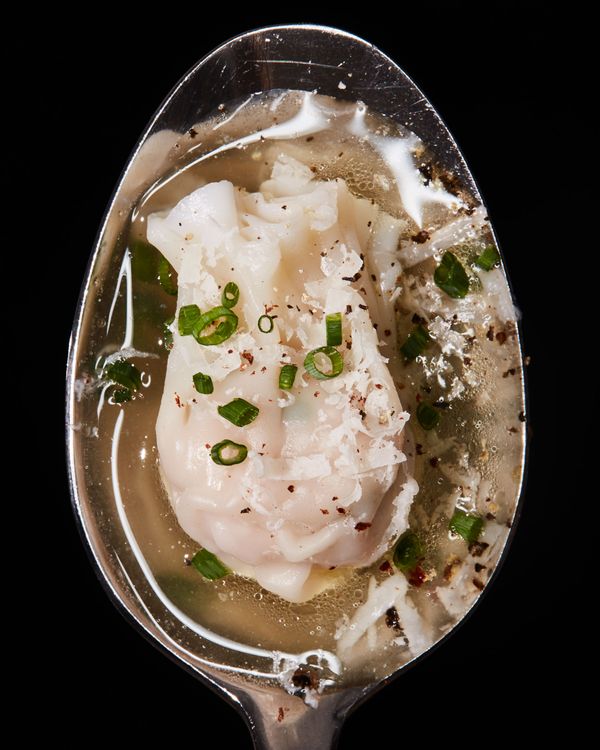 Golden Diner's wontonini en brodo with Parmesan.
Photo: Hannah Whitaker
While many sit back and bemoan the decline of the diner, Sam Yoo is rolling up his sleeves and doing something about it. He's opening one. It's called Golden Diner, and he's building it on the percolating fringes of Chinatown. And why not? Although the 32-year-old chef has done time in some of the swankiest kitchens around, including Momofuku Ko and Torrisi Italian Specialties (not to mention, as practically required by law, a stage at Noma), he naturally gravitates to the greasy spoon. "To me, there's no place more comfortable than a diner," says Yoo, a Queens native whose local bean wagon was Little Neck's late Scobee Grill.
In a way, the move is a homecoming of sorts. Yoo's Korean-born father ran 24/7 restaurants in Flushing and Manhattan's Koreatown, and visiting those places as a boy instilled in Yoo a fascination with the bustling pace and balletic precision required to run a successful restaurant. After college, he decamped to Seattle with vague notions of a food cart; two years later, with valuable line-cook experience under his belt, he returned to New York, working his way up the ladder at the Major Food Group before he took the helm at one of his father's restaurants.
But when it came time to strike out on his own, he knew he wanted to do something at once universal and ­personal — to infuse an iconic urban archetype with techniques he'd mastered and flavors he'd grown up with. He'd also solve what he considers the restaurant category's biggest problem. "Diners have these impossibly long menus, and you can't do good food that way," he says. His simple solution: shrink the damn menu. Thus, although Golden Diner's bill of fare will be covered in plastic, as per tradition, it will also be relatively brief, built on comfort food that appeals to both short-order purists and 21st-century gastronomes. Along with Greek salads and grilled cheese, in other words, there's saganaki tempura, chicken katsu BLTs, and wontonini en brodo. You'll find smoked kimchee in the chicken-mozzarella tamale, Buffalo dipping sauce for the Korean-fried-chicken wings, and a spiced terrine of lamb and pork in the Xian-style gyro. The grass-fed burger comes on a squishy sesame-scallion milk bun. And for dessert, think buttermilk-green-tea pie à la mode. This may not sound like diner food to some, and at first it didn't necessarily strike Yoo as such either. "Initially, I set out to create a restaurant that paid homage to the communities of the Lower East Side, Chinatown, and Little Italy, where I live," he says. "Then, it clicked: 'Hey, this is a diner.' "
123 Madison St.; Nov.
*This article appears in the September 3, 2018, issue of New York Magazine. Subscribe Now!