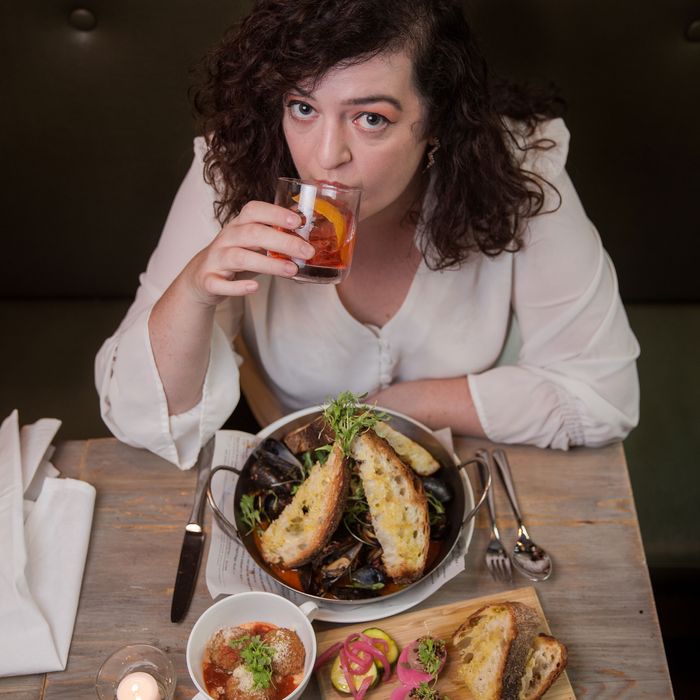 Higgins at her favorite neighborhood spot, Krupa Grocery.
Photo: Scott Heins
Comedian and author Maeve Higgins has already made a name for herself in her native Ireland, and now she is chipping away at doing the same in the States, which means her days are filled with lots of hustling. This week, between her podcast, Maeve in America, promoting her new book of the same name, writing breaks, talk-show appearances, and co-hosting a weekly comedy show at Littlefield with Aparna Nancherla and Jo Firestone, Higgins even managed to find time to eat: Vietnamese spring rolls in Chicago, backstage pizza in Brooklyn, and some linguine al limone at home. Read all about it in this week's Grub Street Diet.
Thursday, September 6
Every morning, if I'm home, I take my dog Shadow to the park and stop in DUB Pies for coffee. It's a small, on-the-corner place and it's really handy because it opens early. It sells New Zealand–Australian pies, but I've never had a pie there. These past few hot months, I've been getting a small iced coffee, and on this day I asked the barista what it actually is that I'm drinking. He told me it was cold brew, specifically Counter Culture Coffee No. 46.
As I walked in the gates to Prospect Park, it felt like someone had injected my heart with adrenaline. An expanding sense of well-being started pulsing throughout my system. That's what usually happens, and I had thought it was from being in nature and seeing all the dogs gamboling around off-leash. Now I know it's just the rush of extreme caffeine.
At home I mashed half an avocado and ate it on sourdough toast with olive oil and lemon juice. I was pleased with myself for remembering to use that last half of the avocado. It really felt like a big achievement. But I also had a feeling of doom, like this would be the only time I would cook during this whole week.
I had to go to Chicago to tape NPR's Wait Wait … Don't Tell Me and do a book event, and at the airport I had a Chobani yogurt. I read an interview with the founder once where he talked about deliberately employing refugees in his factories and how that quickly changes their identity from being a refugee to being a working person, just part of society, making their way. I think about that every time I get one. I was very hungry when I landed. It was my first time in Chicago, so I should have been out and about, exploring, but I had a deadline, so I ate a bag of Kettle Chips as I typed.
At 4 p.m., I ordered in to my hotel room like some kind of depressed businessman. I got a Caviar delivery of a gyro bowl from Piggie Smalls. I had a grain mix of brown and red rice, quinoa, and barley, with chicken and salad. There was Feta and tzatziki, both perfect, which is rare. I also got Greek fries, which were too much, but I still ate everything. Also, it came in compostable packaging, which never seems to happen in NYC.
Everyone at Wait Wait … Don't tell Me was absolutely lovely and very funny. I did not know the show very well, but it's a much-loved American institution that people grew up listening to. Even my hipster friends were bowled over by the fact that I was a panelist. The producer had a big spread of Mexican food in the greenroom, but I had just eaten that big salad thing. After the show, people got little takeaway cartons to bring Mexican food home, but I didn't do that because — how could I heat it up in the hotel?
I drank coffee throughout the taping, which is done before a live audience, hoping that the caffeine would give me some veneer of charisma. It certainly left me quite hyper after the show, so I drank maybe two glasses of wine when I got back to the hotel. The front desk had given me a bottle of Chilean Chardonnay because of a mix-up earlier in the day that I didn't care about, but they were very concerned. I was happy to drink it and do emails. I find they get so much simpler after a drink — I'm just like "yes," "no," "yes," "yes," and it always turns out to be the right decision!
Friday, September 7
At around 10 a.m., I got a latte and croissant from Pret a Manger because that was near my hotel and it was chilly and rainy out. I still don't understand that America is a really big country with different climates and time zones, so I had come from boiling-hot, muggy New York with just my T-shirts.
I was writing and suddenly it was 4 p.m. It was still raining, so I went to the hotel restaurant. Always a mistake. Plus, they were only doing "small bites," which was a frightening prospect. The other tables were men in suits, drinking, so I quickly got zucchini fritters. Actually, they were pretty nice and herby (the fritters, not the men).
That evening, I had a book event at Women & Children First, which is near Little Vietnam. The bookstore was such a revelation. It's in a really cool neighborhood, it's run by women, and it's such a comfortable, elegant space, but it still feels really open. And they have all these lovely posters on the wall, like "Trans People Are Here." It was a great way to meet Chicago.
Afterward a bunch of us went to Pho Lily, which my friend picked because I told him I wanted Vietnamese. It was BYOB, and because we were a big group, and who knows how much money everybody has, I think bring your own beer is ideal. Any casual Vietnamese place is good for groups because you can share starters and you can just chat. That was good for what I needed: someplace to relax and catch up with friends and have drinks. We shared spring rolls with Vietnamese sausage, and then I had pho with beef flank and skirt steak and a deep, delicious broth. We were the only ones in there for a long stretch of time, and at one point a friend of the staff dropped in an ate McDonald's at the bar.
I always panic in wine and beer shops, and before the restaurant I just grabbed some Sapporo because it looked familiar to me, but then I ended up drinking this other girl's beer. She said, "Here's a Chicago beer, Apex Predator; you guys need to try this one." It was such a great way of making a new friend: drinking her beer. I didn't realize how strong it was until I caught myself thinking, What an interesting point I was making. That's when I knew I was drunk.
Saturday, September 8
All I had the next morning was coffee at the airport because I felt a bit shaky. I got home at 3:30 p.m. and immediately made scrambled eggs on toast. I only make eggs if I have Kerrygold Irish butter on hand. I can't stand the anemic changeling version of butter that's somehow acceptable in this country. Butter needs to be yellow and salted! I used sourdough bread again. I like it because more butter can go in the little holes. I care about bread quality, but obviously my main priority is butter.
I drank two strong cups of Barry's Tea and ate a handful of dates and felt a lot better. I had this rising sense of panic about not getting any writing done, so finally I canceled dinner plans in Williamsburg. I felt okay about canceling them because they were only made recently. The longer-standing the plan, the worse it is to bail.
At 7 p.m., I made a cafetière of coffee with Trader Joe's dark roast, and then I did some work. It's taken me years to accept it, but staying in and writing on a Saturday night is my favorite thing to do. It's competitive of me maybe, but also practical; there are no emails or messages because everyone else is out and they all assume you've got plans.
Later, I made linguine al limone, very simple with just the pasta water, lemon, Parmesan, and butter. I don't know where I got the recipe; it's just one of those ones I've been making so long that it's in my heart. I ate it with broccolini and garlic, and a glass of Grenache Blanc wine.
Sunday, September 9
Sunday felt like autumn, so when I got coffee from DUB Pies, I switched to hot! It didn't have the same electric effect as cold brew, but that's probably for the best. There's a farmers' market each Sunday in the middle of the roundabout, and I risked crossing the street to get a tomato there. What bliss to be at the in-between time when tomatoes are still in season, but I also get to wear a raincoat! This tomato was an heirloom pineapple one in all sorts of yellow and red sherbet-y colors. I ate it on sourdough toast with olive oil and salt.
Growing up, my parents grew their own vegetables and kept goats and chickens, and my mother cooked everything from scratch. It was very farm-to-table, but not in a deliberate way. It was more that we were poor and that was just the way in 1980s rural Ireland.
After that tomato on toast, things went downhill. I just worked and every now and then I ate some nuts and an apple and a Babybel. I had dinner plans in Queens, but got into another anxiety whirlpool about writing and ended up canceling them. I had to finish a piece about voting rights for immigrants, and also a script for this Audible series I'm working on. I did feel bad about canceling that dinner, for the person I was supposed to meet and also because it's terrible to do a Grub Street Diet and just buy one tomato all day, but that's what happened.
Monday, September 10
I knew I had to leave the house as soon as I woke up, so I got a latte and a croissant, and settled down to work in Postmark Cafe, which is near my dog's day care. There's a sentence I never thought I'd write, but what can I do?
I like Postmark — a lot of babies and toddlers seem to come through there, and I really like that. And the staff donate all of their tips to a different cause each month. That's kind of extraordinary, don't you think? There's a blackboard where they keep track of how much they've raised. I noted that so far this month they've raised $700 for Little Essentials, a nonprofit for kids in shelters. None of it from me, of course, because Europeans don't tip.
Later, I went to Krupa Grocery and ate mussels with a gorgeous broth, with garlic bread. It's my favorite neighborhood restaurant. I've moved around a lot. I've lived in East Harlem and different places around Brooklyn, so it's nice to be like "this is my neighborhood." It's such a basic thing, but it's such a good feeling to have a familiar place you feel safe in. The first time I went to Krupa I actually don't remember the reason I needed a drink, if I was celebrating or mourning something, but I know I really wanted a Negroni. There were three other women sitting alone with books and drinks, and I knew at once that I was in the right place. As I said, I don't remember if I was happy or sad, but I remember my shoulders getting that sigh of "Yes, this is a good drink." I did tip that one time. (JK I tip everywhere all the time; I understand it's part of living here.)
Monday nights I host a show at Littlefield called Butterboy with Aparna Nancherla and Jo Firestone. We call ourselves the Aunts of Comedy. Our producer Marianne always gets two huge plain pizzas from Pizza Plus on Seventh Avenue for all the acts, and we have that and cans of beer backstage. The pizza is so good. Comics who aren't even on the show come backstage and eat it. Comedians love pizza, that's how dull we are.
Marianne has been running the same show for ten years, maybe. It used to be called Hot Tub with Kurt Braunohler and Kristen Schaal, then Wyatt Cenac did Night Train. Over the years, Marianne tested out all the pizza places in the neighborhood, and settled on this one. We just inherited that show, my friends and I, so we just inherited the pizza, too, which is the best part of the show. I mean, we have amazing acts, and drop-ins, and a lovely sense of community, but I'm always most excited for the pizza.
Tuesday, September 11
Absolutely disastrous start to the day. I was late for a meeting at Balthazar, but it turned out that meeting is actually next week. Even though there was no meeting, at least I had an excuse to eat a fancy breakfast, but they were shooting some TV show there so the place was closed.
I kind of wandered around until I had a lunchtime thing at a corporate law firm, speaking on immigration and inclusion. The lawyers were very nice and quiet, and the best part was the catering: huge platters of fresh fruit all sliced up, and — you're not going to believe this — pizza!
My friend Saadia invited me for dinner in her house. We started out with Campari and sodas, but instead of soda, she used pamplemousse LaCroix. On its own, pamplemousse LaCroix tastes like seltzer that's been paddled in by a rat that once sidled past a grapefruit, but it actually tastes great with Campari.
We ate a tomato salad with these miniature individual burratas, then Saadia's husband, Kip, made an Ottolenghi recipe: pasta with yoghurt, peas and chili, which we ate with garlic prawns. We drank Erath Pinot Blanc, and I was extremely happy to sit there between courses cuddling their Chihuahua Gumdrop. She's so cute and has mild brain damage.
When I got home, my own dog hugged me (she does that) and then backed up and looked at me like, Where have you been? I gave her a tiny bit of the pastry from these lemon squares that Saadia had baked, and Shadow was thrilled, of course, because the pastry was so rich.
The trick, as I told her, was Irish butter.