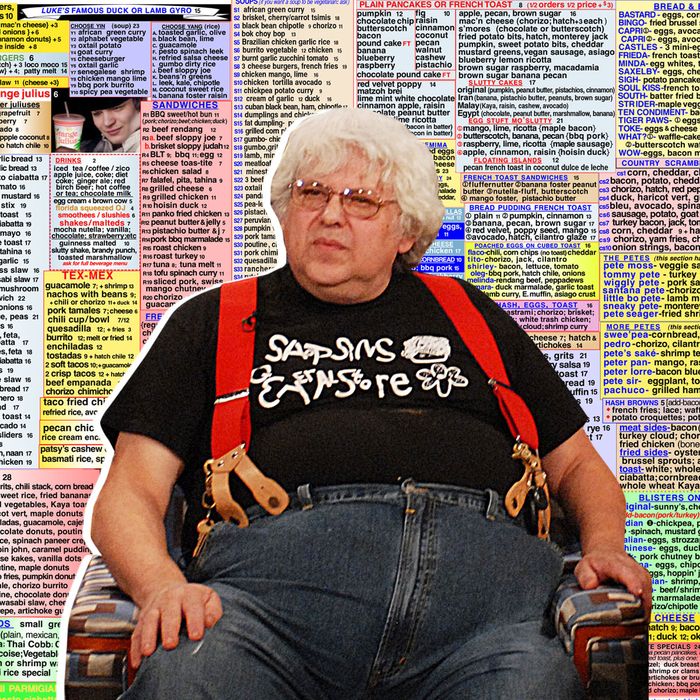 Shopsin, and his legendarily epic menu.
Photo: Dana Edelson/NBC via Getty Images
Kenny Shopsin was the philosopher king of short-order cooks, a master of eggs, and a man for whom the word opinionated does not quite cut it. Over Labor Day Weekend, word circulated through social media (among fans, fellow travelers in the industry, and others who shared personal stories) that Shopsin had passed away, and his daughter Tamara Shopsin confirmed the news on her Instagram, saying the restaurant will be open tomorrow. It's a big loss for the city, since Shopsin was vulgar and gruff, with a boiling anger that was easily let loose — and one of the most admired chefs in New York.
Kenny and his late wife, Eve, opened the original incarnation of Shopsin's — his eponymous, eccentric diner — in 1982, when they converted their corner store on Bedford Street into a café. (The general store was purchased in 1973; Shopsin says he was going through Freudian psychoanalysis at the time.) The charmingly ramshackle space was decorated with children's toys and knickknacks, and had leftover shelving from the store. Shopsin ruled over it all less like a king than a dictator: enforcing strict, often arbitrary rules (no parties of five, no phone calls, you'd probably get yelled at for taking photos), while cultivating an environment for only the kind of customer he wanted, kicking out whomever he liked, and prohibiting press. (When I asked our resident restaurant critic, Adam Platt, about Shopsin, he replied, "I didn't know him because I was too afraid to approach him.")
That media blackout lasted until the restaurant was booted from its original home in 2002. That year, New Yorker writer and Shopsin's regular Calvin Trillin wrote a lengthy profile that added to the legend of the place. In it, Trillin laid out what the Shopsin's experience was really like:
Not all the rules at Shopsin's are based on the number of meals that the kitchen has to put out. For years, a rule against copying your neighbor's order was observed fairly strictly. Customers who had just arrived might ask someone at the next table the name of the scrumptious-looking dish he was eating. Having learned that it was Burmese Hummus — one of my favorites, as it happens, even though it is not hummus and would not cause pangs of nostalgia in the most homesick Burmese — they might order Burmese Hummus, only to have Eve shake her head wearily. No copying. That rule eventually got downgraded into what Ken called "a strong tradition," and has now pretty much gone by the wayside. "I realized that the problem was not that they were trying to imitate the other person but that they weren't capable of ordering anything themselves, and it was just unnecessary cruelty to point that out to them," Kenny told me not long ago. He said he was getting more and more people of that sort.
For newcomers, a meal at Shopsin's could be about as calming as a subway ride during rush hour. Shopsin did relax some of the rules over the years, but he never softened his hot temper and knack for cutting, creative insults. (All this said, he was also a man who seemed to care deeply about his family, all of whom worked at the restaurant.) Shopsin was exactly who he wanted to be, which is why people gravitated to him. The Serious Eats founder and Shopsin's regular Ed Levine wrote in 2008 that Shopsin "can make me laugh, even while insulting me."
The actual menu at Shopsin's was, like Shopsin himself, quirky to the extreme and inscrutably vast. The number of dishes on the downtown restaurant's legendarily voluminous menu reached Himalayan heights of, at one point, 900 items. There are standards like the famous mac-and-cheese pancakes; numerous varieties of egg sandwiches (scrapple, anyone?), and loose interpretations of other cuisines' dishes. Sometimes entirely imagined, as in the invented country of Indomalekia. Many are (not infrequently kooky) creations rooted in no traditions but Shopsin's — taco fried eggs? Cheeseburger soup? — but one of his best-regarded dishes is nothing more than scrambled eggs and toast. Shopsin liked to make them with clarified butter, and was not shy about describing them as "perfect" — most notably in his 2008 book, co-written with Carolynn Carreño, Eat Me: The Food and Philosophy of Kenny Shopsin.
"I think his book is actually one of my favorite food books of all time," Platt says. "It's idiosyncratic, and it's filled with all sorts of knowledge about cooking — especially about eggs and breakfast — which I actually still follow, unlike most of the cookbooks I still collect." As Platt adds, "It's this Iliad of the short-order-cook oeuvre, which doesn't really exist. But he really was the great crazed poet of that genre."