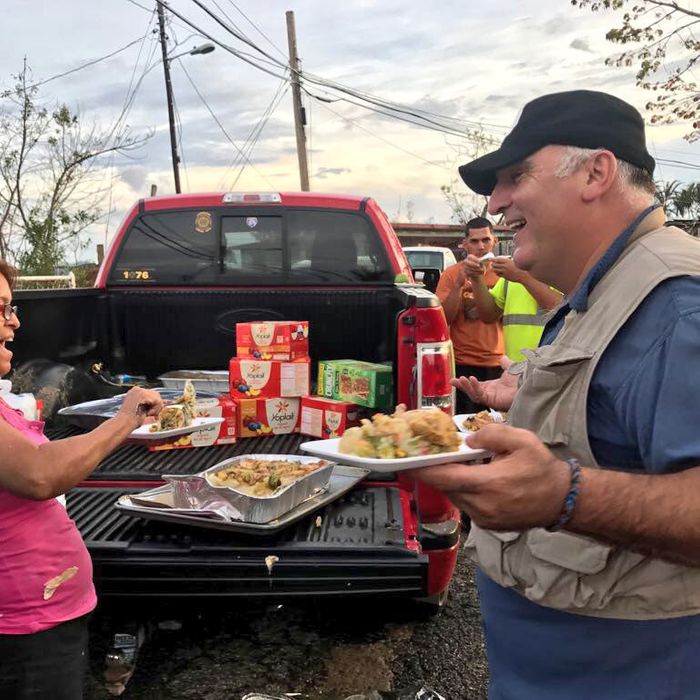 Andrés serves meals in Puerto Rico in 2017.
Photo: World Central Kitchen
While the Waffle House Storm Center is on high alert, chef José Andrés's World Central Kitchen has officially arrived to feed hot meals to victims of Hurricane Florence in North Carolina.
The News & Observer reports that members of Andrés's relief kitchen have already connected with local chefs and kitchens to serve up to 150,000 meals in the Raleigh and Wilmington areas. Each kitchen is equipped with satellite phones and backup generators and can serve as many as 25,000 to 40,000 meals, respectively. World Central Kitchen has also set up kitchens in Kinston, Jacksonville, and Charleston, South Carolina, but has yet to open them.
This is the first time the organization has arrived in the middle of a disaster — Florence made landfall less than 24 hours ago — rather than after the worst has passed, as they did in Puerto Rico last year and in Haiti in 2010. By arriving early, they hope to beat flood waters.
Andrés is currently promoting his new book, We Fed an Island, about his work in Puerto Rico after Hurricane Maria and appeared on The Daily Show's podcast this week to not only discuss his book, but President Trump's recent claim that the death-toll numbers for Puerto Rico are grossly inflated, which he obviously disputes.
According to World Central Kitchen, the chef will arrive in the Carolinas by Saturday to help with relief efforts.