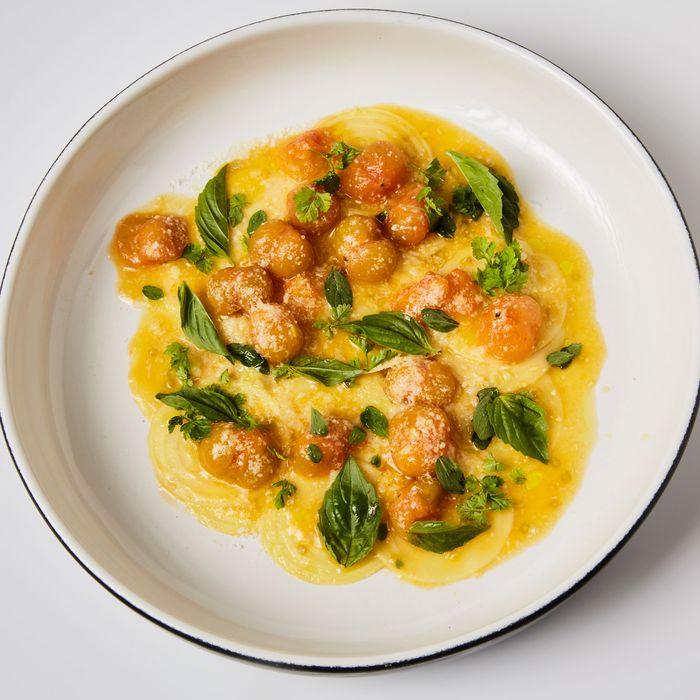 Corzetti with Sun Gold tomatoes.
Photo: Mackenzie Stroh
If you're the sort who sees no reason for Italian menus to extend past the primi course — and you might have a point there — you'll be glad to know about Misi, Missy Robbins's pasta-centric follow-up to her Williamsburg smash hit, Lilia. At Misi ("It looks more Italian than 'Missy,' " she says), opening this weekend on the park-facing ground floor of a new rental development at the old Domino Sugar Refinery site on the Southside waterfront, Robbins will focus on what she considers her most crowd-pleasing strengths: vegetables cooked every which way and pasta, both fresh and extruded.
"My business partner's daughter used to call me Missy Pasta when she was 2," says Robbins, whose recent coronation as the James Beard Foundation's Best New York City Chef owes more than a little to starchy Lilia signatures like pink-peppercorn-spiked mafaldini and saffron-scented agnolotti filled with sheep's-milk cheese. There will be no overlap at Misi, however; Robbins took inspiration for new dishes in part from her time spent in Italy, like a chickpea pappardelle with some chickpea flour in the dough, based on a bowl she used to linger over after work in a Tuscan enoteca to avoid having to return to her unheated room. ("I'd stay as long as I could every night, reading the International Herald Tribune, talking to the bar staff, eating that pasta.")
Included among the opening lineup are corzetti with marinated cherry tomatoes, tortelli filled with greens and mascarpone, bigoli with pork sugo, and fettuccini with buffalo butter and Parmigiano, all shaped and cut and stuffed in a glass-walled pasta room that converts at night into a private dining space. Rather than Lilia's soft-serve, Misi will offer gelato, plus Italian-inspired cocktails and wines from Italy and neighboring countries, and if you're the type for whom dinner isn't dinner without a main course, you can supplement (or replace) your carbs with an off-menu entrée. More than half the seating is at the bar or open-kitchen counter, and unlike Lilia, Misi will eventually be open all day long. "My dream," says Robbins, who moved to South Williamsburg two years ago and wanted her second restaurant within walking distance of the first, "is for locals to stop in for a beer and a bowl of pasta at 4 p.m. and be on their merry way."
329 Kent Ave., at S. 4th St., Williamsburg; 347-566-3262
*This article appears in the September 3, 2018, issue of New York Magazine. Subscribe Now!