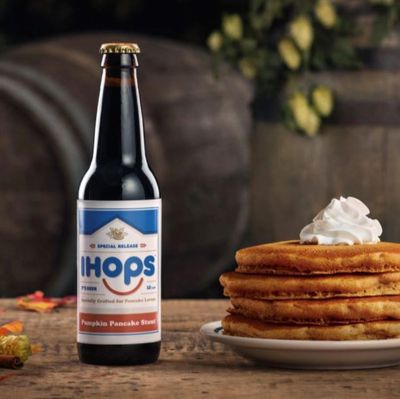 For the second time in three months, IHOP has gone too far. Not so long after the IHOb name-change aimed to draw attention to some new, unimpressive burgers, the chain's latest marketing gimmick is a new pumpkin pancake stout that the breakfast chain is producing in collaboration with Keegan Ales, the Hudson Valley brewer behind the popular Mother's Milk and Joe Mama's Milk stouts. Yes, you read that right: There is now IHOP beer and it is called — predictably enough — IHOPS.
Food Business News reports that the stout will be exclusively available in the New York tristate area through October, but you'll have to go to Beer Culture, Gebhard's Beer Culture, the Hilton Hotel in Brooklyn, and Top Hops to find it. It will not be available in IHOP restaurants, because apparently boozy brunch is a step too far for the family-friendly brand. (No word on the chain's BYO policy as it relates to IHOP-branded beer.)
Note that this isn't the first commercially-minded beer to hit the market this year: Back in June, Carvel introduced a Fudgie the Whale beer to celebrate Father's Day.