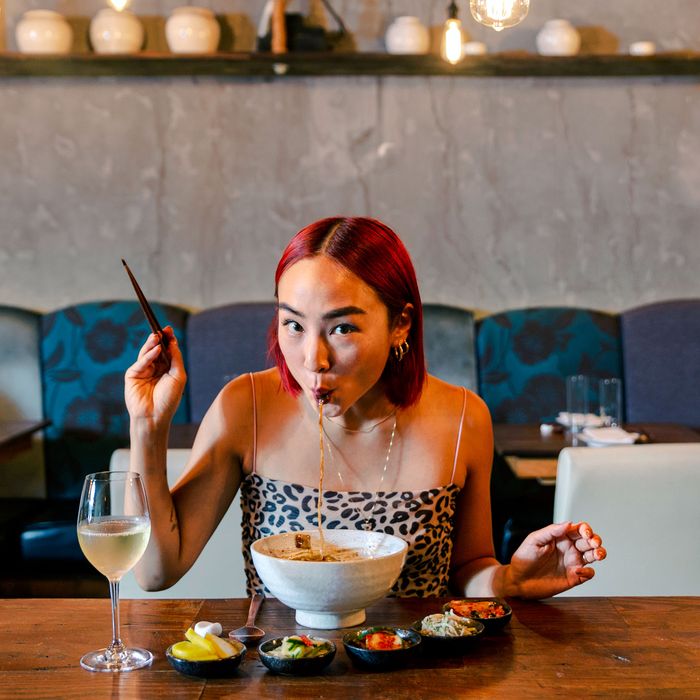 "I've become increasingly agitated about living in a jajangmyeon desert."
Photo: Mark Abramson
You may recognize Greta Lee from some of this decade's most acclaimed and popular TV shows. Maybe you were first introduced to her as High Maintenance fan favorite Homeless Heidi, or in shows like Girls, Broad City, New Girl, Inside Amy Schumer, and The Good Fight. (Next, she'll appear in Netflix's Russian Doll, and the new season of Search Party.) Now, Lee's ready to do her own thing: She and her writing partner Jason Kim are developing a series, with Annapurna Productions, which "will largely be about our families and take place in Koreatown in L.A." Before all of this, Lee was a server at the original Momofuku Ko, when "David Chang was first coming out on the scene." It might not surprise you, then, to learn that she thinks about food "constantly," hosting weekly dinner parties, checking in on the new Ko, and finally fulfilling her hot-pot ambitions. Read all about it in this week's Grub Street Diet.
Thursday, September 13
We've become the sort of people who eat oatmeal every single morning. But this morning was different. I had gone to H Mart in a panic the night before to buy Yakult (or "Korean yogurt smoothie") in bulk, after I heard that To All the Boys I've Loved Before had created a shortage. Along with a Yakult, I had canary melon and a slice of black-sesame milk-bread with Sqirl "seascape strawberry rose geranium" jam, which I buy in L.A. I always have it, I admit super reluctantly. It gets so much worse than this. I'm so sorry.
I dropped off my son at school, grabbed a cold brew from our neighborhood joint Golda, where I also clocked the miso-and-Aleppo-pepper biscuit. I held my ground and resisted panic-ordering a pastry. It was voting day in New York, so I voted. Then I tossed half of my coffee into the trash before it altered my personality for the worse. Basically, if you ever see me with an empty cold-brew cup, turn and run for your life.
I killed time before therapy at the Strand, where I bought some books and panic-purchased a Hi-Chew at checkout. I blame my Korean parents, who were born during a war when food was scarce, for my panic-based relationship with food.
After therapy, I always go to Sweetgreen because it's across the street, but also because I'm desperate to see Nipples Girl, a braless customer I've seen there before who wears a completely transparent shirt. She was so smiley! She ordered a Harvest Bowl!
I ate a kale Caesar while keeping my eyes peeled. (#freethenipple.) On my way home, I had to transfer at Fulton where there is a Shake Shack, and I had to remind myself that Sweetgreen is not an appetizer.
For dinner, my husband, Russ, and I split the Som Tom Tard Salad Tray from Look by Plant Love House. It's a family-style tom som (green-papaya salad) with an assortment of sides like Thai chicken wings, sticky rice, vermicelli noodles, housemade sausage, and pork cracklings.
I can't think of another place that does this. When we found it, we thought it was a mistake. It costs, like, $20. We didn't know what it was and ordered it by accident. There's so much food and variety, which is great now that we're a family and not just two young things.
It's kind of like banchan, I guess, where everyone can choose their own adventure and I don't have to make a different thing for everyone. I think of how much my mom was cooking for us. She was one of those moms who would make a Western dish like spaghetti and meatballs and then a very traditional Korean fish stew or pig's feet for my dad. She cooked so much and so much variety.
Friday, September 14
That morning while we enjoyed our austere cold slop — I mean the overnight oats Russ makes nightly — we somehow missed our delivery of the Sonya Shabu Shabu Electric Hot Pot With Bonus Package soup divider and six mini–spider strainers. The shabu-shabu dinner we had planned to cook for our friends Emily and John that night had to be canceled.
Later that day at the Rachel Comey showroom, a model offered me some chocolate-covered pretzels. Lunch was a sad affair from somewhere called Honey and Brains? Honeybrains? I've blocked out the name because I don't intend to go back there. I move bad meals to trash.
That afternoon, I was still hung up on the botched shabu-shabu night and considered building a hot plate with leftover electrical wires from a DIY Lindsey Adelman chandelier kit. But I decided to chill out and not jury-rig a DIY hot pot. Everyone agreed to meet up at the walk-in-only bar at Momofuku Ko.
I was a server at Ko when I first started out in New York, so I felt a little triggered when I thought about the mise en place. We ate the sourdough crêpe, pickle sandwich, cold fried chicken, rice with nori and smoked duck, the animal sausage encased in a chicken neck, foie gras potpie, and both desserts. Those little dishes are so good and aren't expensive. The pickle sandwich is just a hot-dog bun with a pickle in it, and there is no reason it should taste so good. But it does! The animal sausage stuffed inside the chicken neck, though, really colors your entire dining experience almost immediately. We were talking about Charlotte's Web and mortality. That's kind of cool for a dish.
The wine I had was a Riesling from Mosel. I like German wines that taste like a rocky beach that's hard to enjoy. I also had a very romantic fermented Korean tea that was hydrated by morning dew.
Saturday, September 15
I woke up feeling like the Momofuku animal sausage stuffed inside the chicken neck. So I had some strawberries and toast for breakfast, even though I probably needed something more substantial to keep up with my son, who asked existential questions like, "Where's the bread's, Mommy?"
Lunch was a chicken burrito from Nacho Macho Taco, which I wished was a Baja burrito from Baja Fresh. If you don't know what Baja Fresh is, you're the reason the closest location since 2014 is Ocean Township, New Jersey. It's not good, but I grew up eating it in L.A. When I'm eating a burrito, I'm trying to re-create the Baja burrito. It just checks the box. Sometimes you just need something normcore and relaxing.
The afternoon flew by, and I couldn't pick up the hot pot at the post office before the David Byrne concert. At Forest Hills Stadium, Russ and I shared mozzarella sticks and a "premium chicken basket." We drank Renegade Lemonade — there are like 20 flavors — and $10 cans of Heineken.
Sunday, September 16
Gorgeous cold slop again for breakfast. Then I squeezed in some Tracy Anderson arms before hitting the Brooklyn Book Festival.
Lunch was a Shake Shack burger because I read somewhere that you have to shock your body's metabolism with trans fats. I want Shake Shack to be In-n-Out, but it's not. It's the closest thing to that West Coast burger, though, so I go there. I have to reengineer it a little bit. I have to ask to make sure they put in pickles and raw onions.
When I'm in town on Sunday nights, we have a sort of Sunday supper. We got the idea from when I lived in London, acting in a play that no one saw, and had my first Sunday roast. Our version isn't on full blast with Yorkshire pudding until it gets colder out.
The summer version of Sunday supper is inviting neighborhood buds over for a long, drawn-out bbq, grilling whatever meat and vegetables are leftover in the fridge from the week and turning them into some sort of taco bar. It helps us clean out our fridge, pretty much. People can come and go. It's very casual.
On this night, Russ put out different tinned fish, fancy butters, pickles, and baguettes. And my friend Alison, who wrote the cookbook Dining In, came over to test recipes for her second one: She made dragon beans; Sun Gold tomato pasta with anchovies; charred eggplant with preserved lemon and chili bread crumbs; tomatoes with toasted fennel, anchovy, garlic, and chili; and a mizuna salad. She is the worst sort of friend to have. And we continue to find it in our hearts to let her cook for us.
Also, we drank four bottles of pét-nat. For dessert, our friend Seth made a berry pie with whipped cream that was super flaky and buttery and suspiciously too well-made for a comedy writer. We were grilling him on his crust recipe. I have spent time on pie crust, let me tell you, trying to figure it out. I respected the whole process. Seth said he used Thomas Keller's recipe, which totally checked out.
Monday, September 17
Beautiful cold slop with dried currants for breakfast. I dropped off Apollo with his gourmand's lunch, which I knew he probably wouldn't touch, and went home to do Tracy Anderson. It was hard to work out because I felt like if you pricked my skin, foie gras pie would come out. But I pushed through and thought about what a good detox shabu-shabu would finally be!
An audition in Soho put me in the wrong part of town for lunch, but I kept my cool and took the train to Woorijip Authentic Korean Food in K-Town. I had kimchee fried rice and a Sac Sac grape drink for five bucks.
Hot tip: Skip the buffet if you know what you're doing and go straight to the prepared to-go foods. Those come with a free soup, miyuk (seaweed) or kong-namul (bean sprout), or salad on the side. If you're new to Korean food, the buffet is overpriced, go easy on the heavy items, but it's a low-risk way of getting to try a lot of different things.
One of my favorite things to do there is to eavesdrop on people trying Korean food for the first time: Grown men in business suits having full-blown nervy-B's over acorn jelly. It's a beautiful thing.
On my way home, I stopped at H Mart to buy thinly sliced brisket and pork loin for shabu-shabu. But then I got to the post office six minutes too late. One of the perks of acting is that you can cry on cue, but after a moment of consideration, this felt like an abuse of power.
Dinner was white rice, banchan from H Mart, and my fake tears because all I thought about was hot pot. I went to bed more determined than ever to have it.
Tuesday, September 18
Apollo FaceTimed with harlmoni (grandma) or "honey-money" while we ate various duuk, Korean rice cakes, including the one that looks and tastes like a delicious bath towel. All the Koreans know which one I'm talking about.
After school drop-off, I went home, squeezed in writing, and learned lines for my next shoot. I also ate more duuk, but only the ones covered in 20 kinds of beans, the ones Apollo doesn't like.
I scooped up some danishes at Golda to take to Sandy Liang's studio. On my way out, Sandy mentioned getting together for hot pot at Zhen Wei Fang! My jaw must have dropped because she felt compelled to explain, "You know, hot pot, it's what all the young kids are talking about?" I couldn't believe what I heard. This was exactly the kind of shabu-shabu affirmation I needed. This was my hot-pot destiny.
Lunch, though, was at Hanjan. I went specifically to try the jajangmyeon, a Korean-Chinese dish I grew up eating in L.A. I've become increasingly agitated about living in a jajangmyeon desert. After I aired my grievances on social media, Hanjan came highly recommended. Instagram will kill us all, but on the flip side, it's so nice to have found all the Koreans.
Anyway, I was skeptical of Hanjan's jajangmyeon because the kind I had growing up was full of MSG, and the meat was most definitely not from Niman Ranch. But. It. Was. So. Good. The sauce-to-noodle ratio, the onion matrix, the right amount of julienned cucumber, and the delicious pork tasted super hormone-free. And a shout-out for the takuan because jajangmyeon is inedible without yellow pickled radish. I had a glass of Chardonnay to celebrate.
But back to my other love, hot pot. After the day's fittings and meetings, I finally made it to the post office with seven minutes to spare! The 15000W 5L Sonya Electric was even more beautiful in person.
I threw in a piece of kombu dashi into the large pot of water and raced to pick up Apollo at school. Back at home, he "helped" make the dipping sauces, sesame and ponzu with grated daikon. Mostly he screamed, "Wheels on the bus." I tried to teach him how to sing with vibrato, which was the hardest I've made him laugh to date.
Finally, we had hot pot: paper-thin meat and a ginormous mountain of vegetables I'd been amassing since last Friday. I'd be in the city and pass by different places. "Oh, this Japanese market has presliced acorn squash," or "This is where the special enoki mushrooms I want are!" It was an adventure.