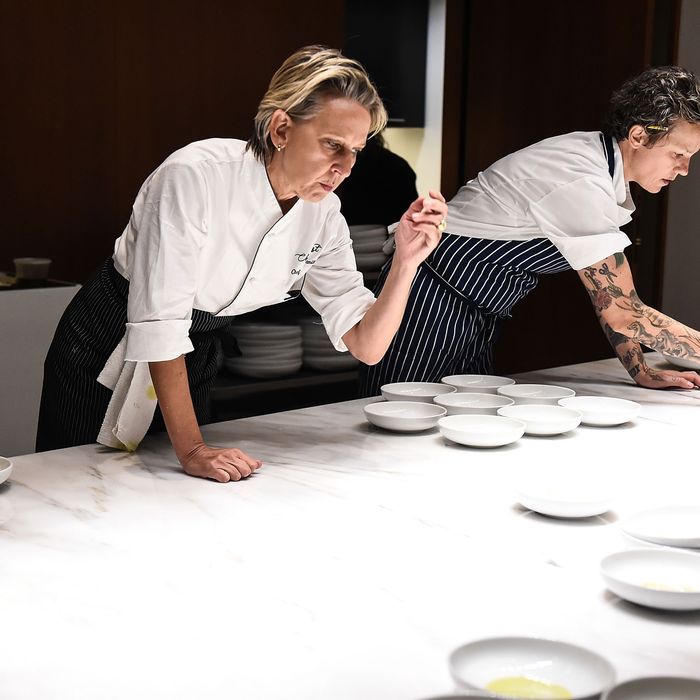 Hamilton and her partner, Ashley Merriman.
Photo: Daniel Zuchnik/Getty Images
Gabrielle Hamilton, the chef and owner of Prune in the East Village, and her partner Ashley Merriman will scrap their controversial plan to take over the Spotted Pig, the once-acclaimed West Village restaurant that became mired in controversy after ten women provided detailed accounts of sexual advances initiated by co-owner Ken Friedman.
Eater reports that Hamilton sent an email to Pig staff last week detailing that she and Friedman could not agree on terms for a deal, writing, in part, "[W]e have come to the final impasse of our ability to move forward as operators of the spotted pig; we felt we needed to be the actual owners and final decision makers of the day-to-day decisions of the restaurant, and we couldn't make our case persuasively enough for ken to agree to that." (Hamilton did not respond when we reached out for more information on the situation.)
It was surprising that the arrangement was announced at all before a final deal was in place, and the original June news was met with immediate criticism. At the time, a source close to daily operations at Hamilton's Prune characterized the mood among front-of-house staff members as "soooo against" the duo's impending takeover of the Spotted Pig, and in a direct message sent this morning, another source indicated that the East Village restaurant and brunch destination had recently become less busy. Some staffers have seemingly come to believe the drop in business is related to Hamilton and Merriman's newfound alliance. "I love them and Prune," wrote one source. "But this is going to come back around to them."
Given the specifics of the report and serial nature of the allegations against Friedman, many people also expressed frustration that he would nevertheless end up in a position to profit from his newfound association with a new, highly respected kitchen team.
In August, the office of New York State attorney general Barbara Underwood issued a subpoena to Ken Friedman and the restaurant's holding company with regard to a civil-rights investigation. The subpoena includes communications from Friedman related to "nude photos or descriptions of the attractiveness or sexual availability of employees and job applicants," the Times reported.
The subpoena also seeks CCTV images of Mario Batali, who is another subject of multiple allegations of sexual misconduct. The celebrity chef was an early investor at the Spotted Pig and "frequent visitor" of a semi-private third-floor space, once dubbed the "rape room," staff say. The NYPD confirmed in May that it was investigating two complaints made by women who say Batali sexually assaulted them. One alleged assault took place at the Spotted Pig, and since that report, other women have come forward, resulting in one lawsuit.