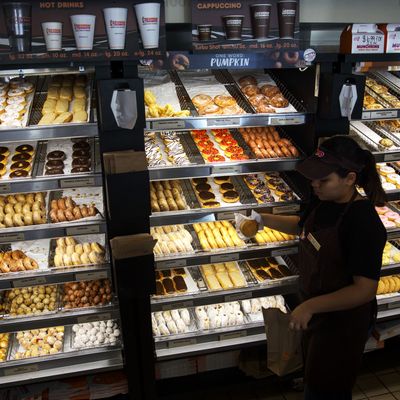 End of an era.
Photo: Patrick T. Fallon/Bloomberg via Getty Images
Norms keep eroding, and the America we all knew continues to disappear. Dunkin' Donuts has officially declared that come January it will be known only as Dunkin' (not the artist formerly known as Dunkin' Donuts). The 12,500-location international chain will then conduct a campaign to erase history, removing "Donuts" from store signs as well as napkins and boxes. It will be replaced with a similar looking logo that will simply read: Dunkin'.
Despite the name change, Dunkin' will still serve the same sugary doughnuts alongside the best terrible coffee in America. According to AP, the chain made this decision in order to — uh? — "stay relevant to younger customers."
It's a big shift for the Massachusetts–based company, and the news comes during a particularly trying week for New England, which is also reeling from a second consecutive Patriots loss. Grub has reached out to Boston for comment and will update this post if we hear back.