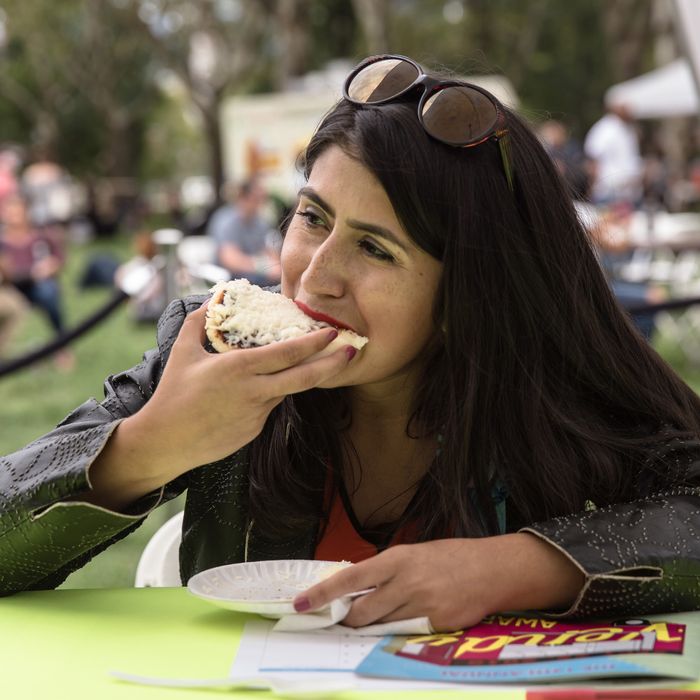 Jessica Ramos, at the Vendy's judges' tables.
Photo: Scott Heins
Luis Alfonso Marin Valencia has sold Colombian arepas from his food cart, El Sabroso de Aracataca, for 30 years. His signature is the arepa de queso, a plump corn cake griddled until golden brown and stuffed with oozing, melted cheese. On any weekend nights, you'll see fans gathered around his cart. Yet for most of his career, he was forced to sell his food illegally. "I worked 20 years without a license," he says. "I applied for a permit 15 years ago and spent eight years on the waiting list. I worried. The police, sanitation workers — they're all asking for your permits, but the city doesn't want to give them."
We were talking at the 14th annual Vendy Awards, the annual celebration of street food, and fundraiser, put on by the Street Vendors Project. On a lawn on Governor's Island, attendees mosied by with food in hand: crunchy homemade wafers with dulce de leche from Delmy's Obleas, spongy injera from Makina Cafe, sample-sized portions of outrageously tasty keema palta and coconut soup from Burmese Bites. Malai Ice Cream and Saravanaa Bhavan both sold out before 2:50 p.m., while El Sabroso de Aracataca maintained a Cronut-worthy line for the whole afternoon. Valencia was up for the night's biggest award, the Vendy Cup — recognition that was as much about the quality of his food as it was a testament to his three decades of perseverance.
New York's street vendors are an invaluable part of city life, yet the city has never done much to make their lives easier. Most are people of color and immigrants, many of whom are undocumented. They hold little to no political clout, and brick-and-mortar business owners are often hostile to the sidewalk workers. Vendors can be perceived as unscrupulous, unsanitary, and blights on their communities. A 2014 Daily News report makes the entire industry sound like a lawless public-hazard. Vendors have accused police of harassment for years, and dealt with historically unfriendly BID campaigns. In 2016, the president of the 34th Street Partnership told Metro that New York's vendors are "the worst collection of ugly and poorly run food carts in any city in the country." Vendors also have to contend with ongoing efforts to limit where they can operate: In June, for example, a City Council bill was proposed that would expand the no-vending zone around the World Trade Center.
The city's government, it seems, isn't interested in helping more workers become vendors, either. The city capped food-vendor permits in the early 1980s; there are currently just over 4,000 available, often only on the black market, where they might cost $25,000 (the city, by comparison, charges $200 for two-year permits, which can be renewed indefinitely). And yet a 2015 report found that as recently as 2012, New York's vendors contributed an estimated $293 million to the city's economy and $71.2 million in taxes. Dick Carpenter, from the Institute for Justice, told Civil Eats at the time, street vendors are "a very vital, dynamic sector of the economy."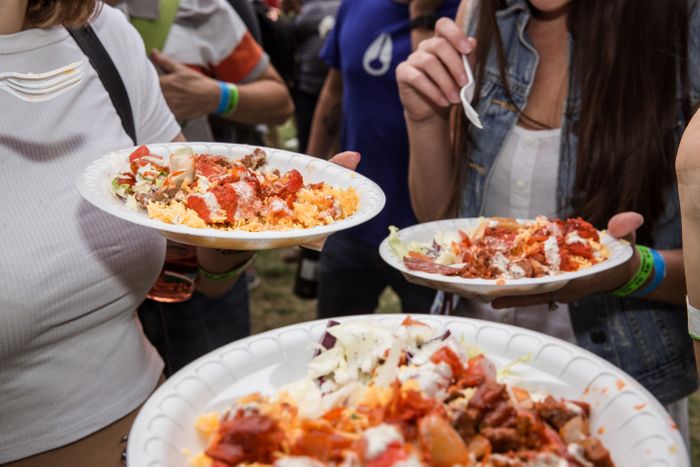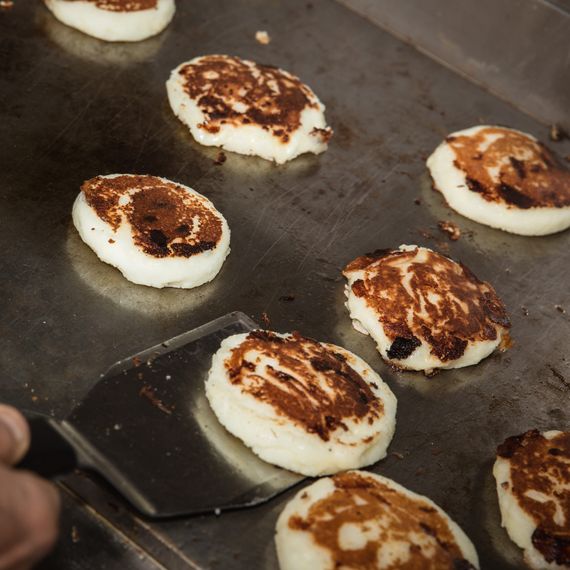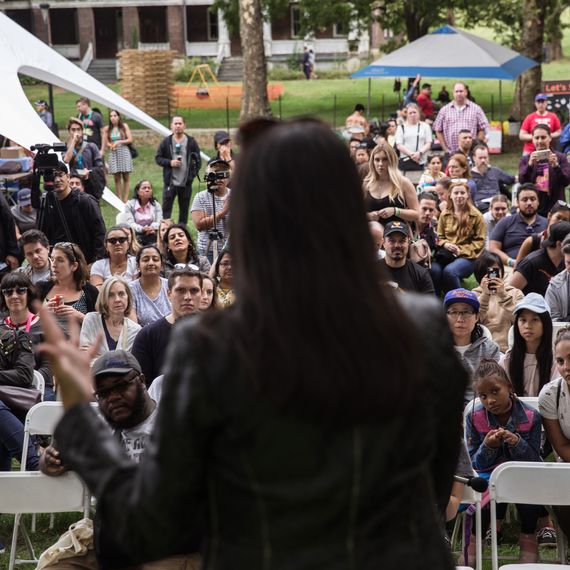 Yet if the city's vendors are so important to both the culture and the economy of New York, why won't people do more to help them simply work? Jessica Ramos, a Democratic nominee for State Senate, has made this exact question a focal point of her campaign. She's running in District 13 in Queens, after defeating incumbent Jose Peralta in the Democratic primary. The district includes a stretch of Roosevelt Avenue that's the center of New York's street-food world, and houses our only sidewalk night-market. "Look, the level of neglect of Roosevelt Avenue from pretty much every level of government is astounding," Ramos says. "We actually should be investing in these small businesses."
To offer her support, Ramos had arrived at the Vendys as a guest of Sean Basinski, the founder of the Street Vendors Project. She'd agreed to be a judge and it soon became clear that the demands of the role might require Ramos — not exactly a professional eater — to call in some backup. After getting a platter of Franky's Souvlaki's skewers, rice, and pita, she looked at a campaign aide, and asked about her husband: "Brendan needs to get over here — this is a lot of food." Ramos's two kids, meanwhile, offered their own support with a chant of "Pizza, pizza, pizza" for Jianetto's Pizza and Catering.
The street vendors in District 13 are, by and large, different from the purveyors that rose to prominence during the food-truck boom of the early-'00s. Not all of them have permits, and some of the best food on the streets is made by people with complicated, harrowing stories. "They just do such hard work; they don't deserve to have it so hard," Ramos says. Even Maria Cano, the (now retired) Arepa Lady, was undocumented and un-permitted when she started. She was also a refugee of Colombia's drug war, a judge in Medellín in the '80s who turned to food to survive in New York.
"Street vending is an inherently New York City thing," Ramos said to me. "I don't know why there needs to be a cap on permits." She offered an example, another contender for a Vendy award: "Royal Grill Halal Food rents their license from another person, and pays $18,000 — this is like the taxi situation in many ways." A City Council bill that would have gradually doubled the cap died in December, a bitter defeat. "They just make enough to live," Ramos says. "It's not an easy way of life."
Ramos wants state government to "be doing more to protect people, including food vendors." This means advocating for making New York a sanctuary state, limiting interactions between local law enforcement and ICE (which she supports abolishing), and providing undocumented immigrants with legal representation. She also wants to introduce legislation that would eliminate unsubstantiated 311 and 911 complaints  from businesses' records. And she's critical of what she sees as police prioritizing ticketing vendors. "Bringing more police officers to Roosevelt Avenue isn't exactly the way we avoid the separation of families," she told me.
As the Vendys wore on, a crowd gathered by a stage for the awards ceremony. The night's biggest prize would go to Royal Grill Halal Food, but before that happened, Basinski invited Ramos up onstage. "It's not so often that an elected official supports the most marginalized people," he said.
Ramos quickly got to work, telling the crowd, "Roosevelt Avenue is all about great food. I always thought it was important to put our food vendors, our street vendors, front and center in our campaign — it's important that we keep Queens affordable for working families, and that's exactly why it's important to protect street vendors."