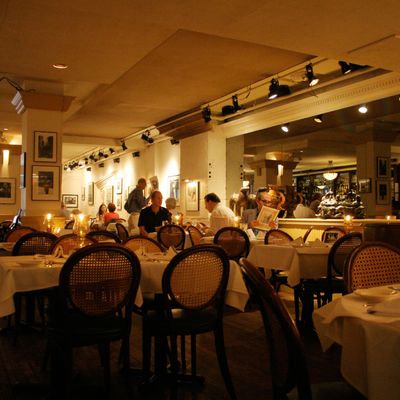 Café Loup, back in the day.
Photo: Shanna Ravindra
At 7:45 last night — the humid air as thick as French onion soup — the West Village's Café Loup was bustling, alive with the titter of laughter and clinking of cutlery. "Two Manhattans," a blazer-donned man requested above the cheery din. All but two larger tables in the main dining room's sprawl were taken and the barstools, while not two-deep, were filled. The reservation book was filled for multiple seatings to come.
An uninitiated popping in might think they'd fallen upon some elusive modern-day Café Society owned by "in-the-know."
It was a stark contrast from one week ago, when locks hung on doors and a tax department "SEIZED" placard overshadowed the café's shadow-puppet logo of a wolf's head. At that time the tables remained set but eerily vacant like a private banquet room at the Overlook Hotel.
There were no recognizable boldfaced names in the mix of some 100 customers. Café Loup, after all, has been known since the '80s as a favorite of boisterous literati-and–Hollywood East notables, but the room last night was filled with well-dressed couples and four-tops engaged in pleasant conversation and French comfort food, which looked, well, yum (including some French onion soup).
In short, it was business as usual — with one noticeable variation. While patrons over the past decade to this West Village stalwart leaned toward graying temples, there were now pretty young things, chicly attired and glancing at their Instagrams while a spritely hostess, perhaps in her early 20s, stood at the entrance. A very good thing, perhaps a result of widespread social media bringing attention to the alleged demise of this hallowed downtown spot, and why that was not a good thing.
As it happens, the owners managed to bang out a payment plan with the New York State Department of Taxation and Finance, and let the games begin again. To this 25-year regular, it's not nothing. Another one, it seems, hasn't bitten the dust.
I also noticed that, within the powder room of Café Loup, there now hangs a spanking new, handsomely framed scrawl of the so-called "Wolf Credo," long the restaurant's adopted mission statement. There may be life, and a new crowd, for years to come. As the credo goes: "Respect the elders. Teach the young."