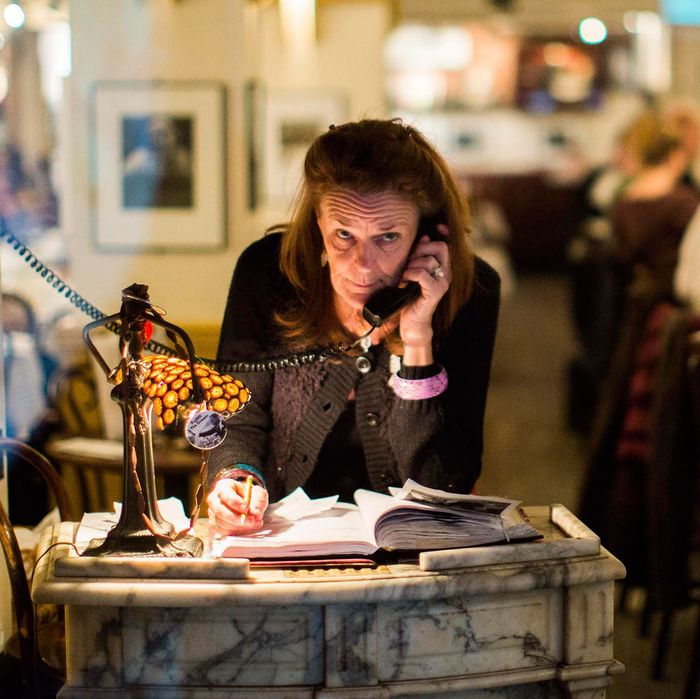 Ardes Quinn, taking reservations in 2012.
Photo: Piotr Redlinski/The New York Times/Redux
Update: After a temporary closing, it was announced that Café Loup will reopen for business on September 26.
Up until a few years ago, when it changed ownership, Café Loup's adopted credo was printed and hung over the stand-up urinal in the Port-o-Let–size men's room. If you asked the bartender, he'd even give you a copy-shop scrawl, rolled up in a tube:
Respect the elders, teach the young, cooperate with the pack, play when you can, hunt when you must, rest in between, share your affection, voice your feelings, leave your mark.
Alas, those words have now been flushed. As it has been feverishly reported this week, the deceptively sprawling space — a French bistro favored by the literary set and old-school bohemia, located on West 13th Street near Sixth Avenue — lost its legs, seized and shut down by the New York State Department of Taxation and Finance for open warrants ka-chinging to a balance of hundreds of thousands of dollars. (The new proprietor isn't solely to blame. For nearly a decade, the restaurant's façade has been blocked by scaffolding beams, the result of some ongoing street infrastructure that was apparently non-fixable, like an art installation that was forever in the works.) The tax issue could be resolved, or Café Loup may be gone for good, but either way, the news was no shocker.
As a twice-a-week regular for over 25 years, I've seen the writing on the wall. During my last visit, a month ago, when I asked the new owners why they had taken down the "Wolf Credo" placard, as well as the vanity mirror, they shrugged me off. A big what-ev. A friend says the placard had recently returned, but when I was there, only the smeary markings of the sign remained, a reflection of neglect that had set in at a place that had once meant so much more to its vast array of committed regulars.
Graydon Carter, a longtime West Village resident, says he initially went to Loup because it was there. "My first apartment in New York was on 13th between Fifth and University. There were two bars, Café Loup and the Lone Star Café. Loup was closer, so that became my first local," the former Vanity Fair editor says. "I would drop in from time to time over the years and each time it was a bit like Proust's madeleine — a moment in there just transported me back to my days as a goofy kid from Canada trying to make it as a writer at Time magazine."
Sloane Crosley, the essayist, novelist, and book critic, lives mere blocks away. "Loup drew a lot of different crowds and a lot of different brands of hearing aid, but it was book-publishing central," she says. "You didn't go to see business being done; you went to see publishing unwind. And you sure as shit didn't go for the food."
Yours truly loved it because its two house cats freely sauntered the bar like off-duty strippers, sniffing, but never eating, your dinner. The Continental-cuisine-leaning fare was marginal, the bread basket often stale. Best to stick to the salade verte (with garlic-anchovy dressing) and a massive burger with fries to split, mayonnaise schooner request, with a date or a wife.
The place had what you call class. The Chet Baker soundtrack and original Irving Penns on the wainscoted walls didn't hurt. A downtown haven for book editors, authors, poets, academics, and journalists, it was like a kinder, gentler Elaine's, though it never received the attention of that fallen Lit Lion clubhouse on the Upper East Side. Yet Café Loup nonetheless packed them in. Regulars that "the Wolf" hosted over the years: the likes of essayists and authors such as Paul Auster (I sat next to him but was afraid to catch his Turner-sea, brooding eyes), Fran Lebowitz (cool and amiable), Susan Sontag, the novelist Lucinda Rosenfeld, Elaine's regulars George Plimpton and Gay Talese (reverse nosebleeds, we dragged them down), as well as journalist-authors who didn't drink because they couldn't (Walter Kirn, the late David Carr). Playwrights like puckish Jonathan Marc Sherman and film director-screenwriters like snob-nerd Whit Stillman (Metropolitan, The Last Days of Disco) held court. Peter Dinklage often sidled up to the bar alongside pals like Ethan Hawke.
Another longtime Loup neighbor, former Post nightlife chronicler turned lifestyle reporter Jared Stern, utilized the bistro for both business and pleasure, often conducting interviews with Hollywood celebrities. It was like the also-closed Temple Bar, a place that put the precious at ease. "I took Annabella Sciorra there, and Kate Winslet, for interviews, long before anyone knew who they were, and you were as likely to see Fran Lebowitz as Faye Dunaway any night of the week, but it wasn't a 'sighting' — they were just there," he says. "It was a refuge from all the assholes who made every other place in New York unbearable."
The late Vanity Fair columnist and author Christopher Hitchens was an early champion of Loup. An America Spectator column, published in 2001, was laminated and displayed in its front window. Calling it his "true bar," he furthered that a watering hole "should have an element of café-society to it; a place for newspapers and espresso as well as cocktails and basic food, and a place where you could bring your mother, if you had a mother, for a light lunch as well as your mistress or male lover, if you had a mistress or male lover, for a late-ish nightcap."
As I await the verdict on the euthanization or resuscitation of Café Loup, I decided to dig through my boxes of weathered clips and journalistic memorabilia, and found my own "Wolf Credo" scrawl. Regardless of what happens to the café, I'm going to the shop tomorrow to get this framed, so I can hang it properly, in my own undersized bathroom.