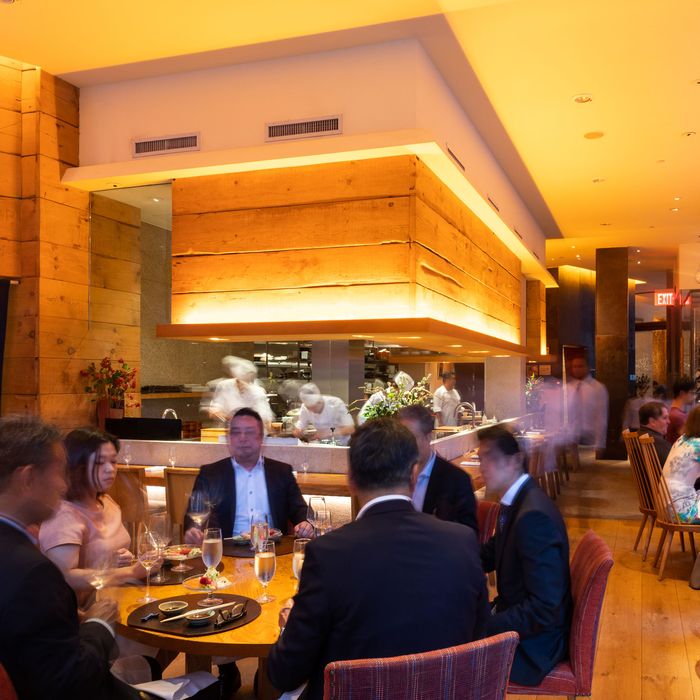 An August afternoon at Brushstroke.
Photo: Nitzan Rubin
Kaiseki is canceled. The Tribeca restaurant Brushstroke will close after this Saturday, September 29, after seven years. Originally opened by David Bouley and Isao Yamada, it was well-received if not fawned over by fans, getting two-star reviews from the New York Times and New York's Adam Platt. From 2012 through 2016, it was also home to Ichimura at Brushstroke, an eight-seat, highly traditional sushi counter that was one of the city's priciest and was also considered one of its best. Bouley had not been involved with the restaurant for some months, according to a restaurant manager, who wrote that the chef ended his partnership with the Tsuji Culinary Institute in the late spring.
A message posted to the restaurant's website and first noted by Tribeca Citizen reads, "We will be moving on to further educate about the Japanese food culture and what we call WASHOKU." It did not indicate what's next for the space, if anything, but it sounds like they're trying to get rid of inventory. All sake and wine will be offered half-off through September 29.
Bouley never built the international business empire of Jean-Georges Vongerichten or developed the public persona of Daniel Boulud. He was so much synonymous with Tribeca, however, that Platt, in his review of Brushstroke, wrote that the chef's corner of the neighborhood was "known to my gourmet friends as Bouley Land." The chef's only current business in the neighborhood is the events space Bouley Botanical. However, Bouley says he will reopen his flagship Bouley Restaurant at 17 Harrison Street in 2019.
This post has been updated with new information about David Bouley.