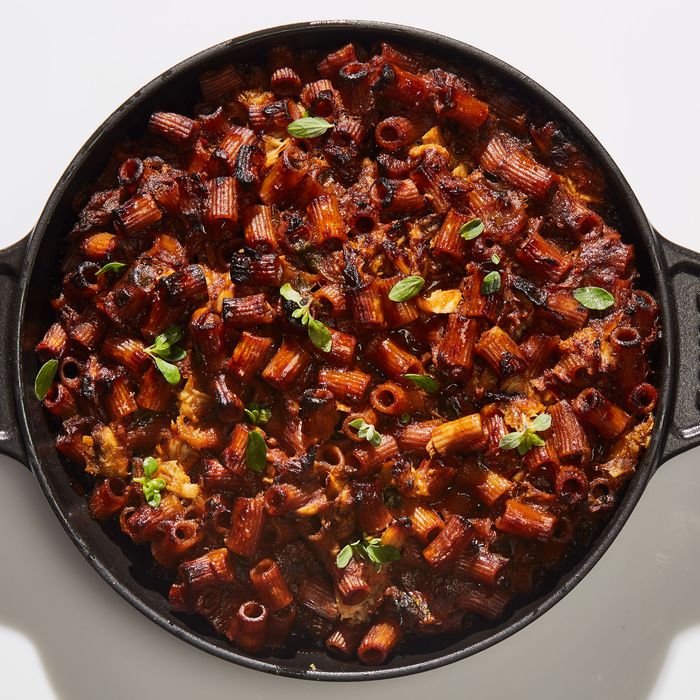 Saint Julivert Fisherie's individual tuna casserole.
Photo: Hannah Whitaker
In a virtual foodscape dominated by Technicolor Frankenpastries and stunt burgers, seafood gets no respect. "Cooking fish requires restraint," says Alex Raij, co-chef-owner with her husband, Eder Montero, of El Quinto Pino, Txikito, and La Vara. "It becomes very modest, and people don't notice." Raij sees this circumstance not as a hindrance but as an opportunity. "We do seafood well, and we want to draw attention to it."
Their stage for this new endeavor, Saint Julivert Fisherie, is on the Cobble Hill corner previously inhabited by their coffee shop, Tekoá, which has undergone a gut renovation inspired by Paris's modernist Maison de Verre. Where there had been pastry cases and quaint wall murals, there are now glass bricks, a stainless-steel bar, high seating, and industrial rubber tile. There's also a name that requires translation. "When you open a restaurant in Spain, someone gives you a statue of Saint Pancras with a sprig of parsley for good luck," says Raij, who tweaked that notion by substituting the Catalan word for parsley, julivert. Derivation notwithstanding, Raij and Montero have ventured beyond their Iberian wheelhouse, borrowing flavors from Japan, Peru, Puerto Rico, Mexico, Jamaica, and, in the case of their individual tuna casseroles, even India. The homey gratin has multiple influences: Raij's love of a particular Italian pasta dish; a curry-leaf-seasoned tomato sauce she invented for a La Vara egg dish; and, not least, her compulsion to perfect an iconic (if often maligned) American classic. In her two-fingers-thick rendition, says Raij, "every bit of it tastes like the edge of lasagna."
Although the menu reserves a section for chilled seafood, it's just as often cooked as raw: things like mussel conserva escabèche with carrot and mint, Jonah crab-avocado spoon salad with ikura and yuzu, and the octopus carpaccio the couple first served at Txikito. Part of what defines their style are the connections they make between cultures and cuisines. "I like the travelogue part of it, the migration of ideas and ingredients from one place to another in not-always-pretty ways," says Raij, who considers a restaurant's narrative as defining as its menu. In this sense, Saint Julivert will be the embodiment of a simple goal: "Let's tell a story just about fish."
264 Clinton St., at Verandah Pl., Cobble Hill; 347-987-3710; Sept.
*This article appears in the September 3, 2018, issue of New York Magazine. Subscribe Now!