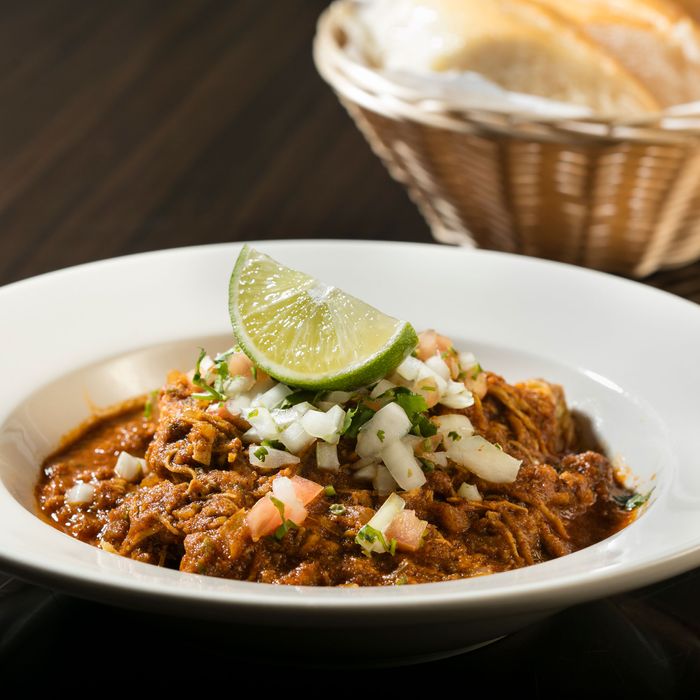 Bombay to Goa's ros omelette.
Photo: Melissa Hom
New Yorkers love their eggs (consider the cult of the bacon, egg, and cheese), and so does Instagram. Or, rather, the platform loves Instagram-y eggs: jammy and soft-boiled, cheesy and scrambled, sunny yolks split open over bread. Put an egg on it, because you'll get more likes. Great dishes though, don't always scream delicious. Take the classic Goan dish ros omelette, an egg thing served in an earthy-looking gravy that doesn't look great — and also tastes leagues better than the sunny-side up egg on avocado toast you eat because it's there. Ros omelette is a dish you'll want to seek out when it's not there.
Ros omelette is a favorite street food of the coastal Indian state of Goa, where the cuisine bears the marks of the former Portuguese colonizers. To find it in New York, well, you won't readily find it in New York. Instead, you'll have to cross the Hudson River, head to Jersey City, and make a beeline for Bombay to Goa, which just opened in Journal Square last month. It's a short walk from the nearest PATH station, but even if it wasn't it wouldn't matter. If you didn't grow up on it, ros omelette will make you wonder why everyone doesn't douse their eggs in gravy.
At this snug, square restaurant decorated with photos of beaches and street-style signs with names of Goan locales, the dish is listed in the "Early Riser's Choice" section. Don't let that deter you from ordering it after dark; it should always be your choice. Punched up with green peppers, onion, and cilantro, the omelette itself is sturdy and fat so that it doesn't disappear into the gravy, like one of those dainty French ones would. What makes the dish is that gravy of chicken and, most importantly, coconut, which gives it a distinct richness. That quality doesn't go unchecked; the chorus of onions, curry leaves, black mustard seeds, and dried red chilies make sure of that. The result is a sauce that's thick, heady, and sultry, and makes your everyday omelette something more irresistible. Even after you've declared yourself too full to eat and all your dishes have gone cold, you'll find yourself sneaking a few more spoonfuls. It's what certain of my friends like to call saucy food, made for being soaked up by carbs (good thing there's bread on the side for mopping it up) and nourishing.
Regional Indian food isn't all that easy to find in New York City, Goa's coconut and seafood heavy cuisine being no exception. At Bombay Bread Bar, Floyd Cardoz nods to his Goan heritage with dishes like Goan crab cakes and caldin curry. Another restaurant, Cardamom, opened this month in Sunnyside and serves a few of the state's specialties. Bombay to Goa puts it focus squarely on the cuisine, with a few dishes (hence its name) from Mumbai. These include xacuti, a coconut gravy served with paneer or mushroom; the state's signature fish coconut curry; and galinha cafreal, the spicy chicken dish that, the story goes, came from the Portuguese by way of Africa. Just don't forget why you came here: the delicious eggs in brown sauce.