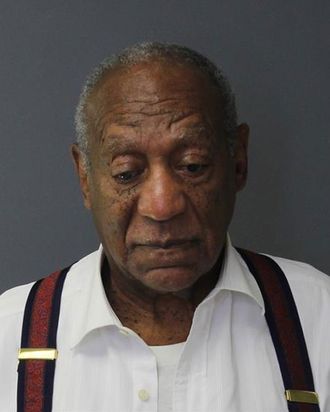 Bill Cosby's mugshot.
Photo: Montgomery County Correctional Facility
This week, Bill Cosby was classified as a "sexually violent predator" and immediately sent to a state prison in Pennsylvania to serve out his three-to-ten sentence for the 2004 sexual assault of Andrea Constand. (Constand is one of more than 60 women who have accused Cosby of sexual assault.)
The New York Times has looked at what Cosby's life inside the prison will be like, including his food options:
Meals vary depending on the day and the week. For breakfast, Mr. Cosby will have access to fruit and cereal every day, as well as milk, coffee and sugar. On Saturdays, on the current rotation, there are pancakes. For lunch and dinner, the menu is more varied. On Mondays, lunch could be a cheese pizza or a garden burger with bread. This coming Monday, the dinner entrees are roast pork or a tofu oat burger, according to a menu provided by Ms. Worden. At lunch that day, the prison is serving chocolate pudding, a product Mr. Cosby was associated with as a pitchman for Jell-O.




Ms. Worden said the pudding on the menu is simply a "gelatin product," not Jell-O brand.
Cosby famously promoted Jell-O products starting in 1974, with his work talking up Jell-O Pudding Pops in 1979 attaining iconic status. Pudding Pops were discontinued in the late '90s. Cosby was discontinued in 2018.