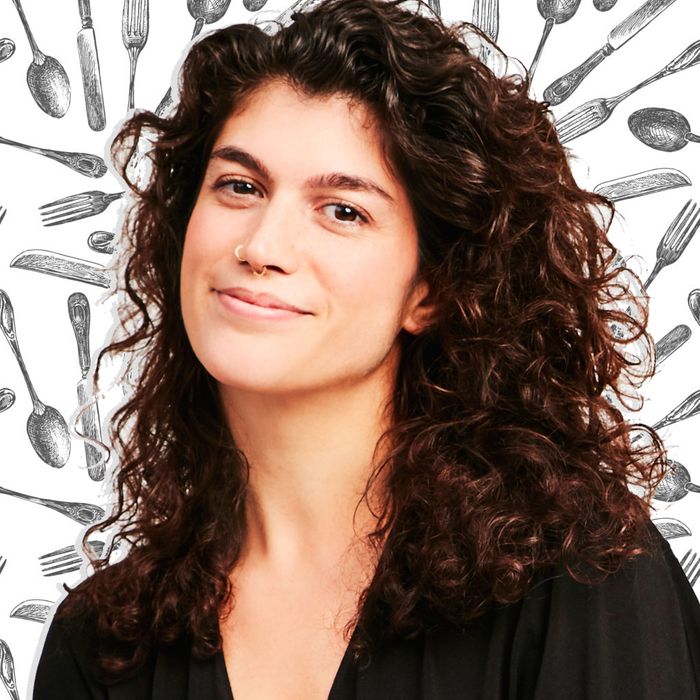 Erika Vonie, the director of coffee at Trade.
Photo: Courtesy of Trade
It isn't hard to find a good cup of coffee in New York City, but if you're on the lookout for a cup of joe that tastes like the beans were picked yesterday and shipped to the coffee shop this morning, you'll need to ask an expert. Erika Vonie, the first woman to win the New York Coffee Masters competition and the director of coffee at roast-to-order start-up Trade is here to help. (She's also a certified Q grader, which is something like a coffee sommelier.)
"I hustle really hard and always try to be the best at what I do," Vonie says. "I'm still learning now and there's still things about coffee that keep me excited." Vonie is always happy to share her knowledge, especially in the midst of Pumpkin Spice Latte season. "I want to be like, 'Hey, here's where you can get coffee that actually tastes good and doesn't just taste like orange sugar,'" she says. Here are her recommendations for where to get a super-fresh cup of coffee in NYC.
Gimme! Coffee
Multiple locations
"This shop has been around for, like, 20 years. It started in Ithaca and they deliver multiple times a week on refrigerated trucks from where they roast. The refrigerated truck helps slow down the aging of the coffee, so it arrives just as fresh as it left the roastery, which is pretty cool. That little extra effort is so nice and thoughtful."
Parlor Coffee
11 Vanderbilt Ave., nr. Flushing Ave.; 917-966-6070
"They got their start in the back of a barbershop in Williamsburg called Persons of Interest, but they moved to their roastery in Navy Yard–adjacent Clinton Hill a couple of years ago. You can watch them work, see all of the green coffee, and they roast it right there. And the team at Parlor is so thoughtful and kind. Going there is a loving experience."
Joe Pro Shop
131 W. 21st St., nr. Sixth Ave.; 212-924-7400
"This is the headquarters of the Joe Coffee chain. They roast out of the Pulley Collective in Red Hook, so they're just roasting across the river in Brooklyn. The thing that I really love about the Pro Shop is not only are they managed by and employ some of the best baristas in the business, in my opinion, but they also feature other roasters aside from theirs. They have a line called Top Shelf that you can pretty much only get at the Pro Shop, and then one of my favorite roasters of all time is featured there. It's called Passenger Coffee out of Lancaster, Pennsylvania."
Mekelburg's
Multiple locations
"They're known as a beer shop, but they just partnered with Equator Coffees, a San Francisco roastery that just opened up East Coast operations. And the head roaster on the East Coast is James McCarthy. He's a former World Brewers Cup champion and one of the nicest guys ever. It's a cool spot where you can get freshly roasted coffee and get a beer and good vibes. They also roast out of the Pulley Collective."
Stumptown at the Ace Hotel
20 W. 29th St., nr. Broadway; 212-679-2222
"A lot of people don't know that Stumptown roasts in Brooklyn as well. Their delivery times are super efficient. And I just love the workflow, the design, and the fact that you can hang out in the lobby at the Ace. It's one of the most decadent places to get coffee in the city."
Irving Farm Coffee Roasters
71 Irving Pl., nr. 19th St.; 212-995-5252
"This is another local New York chain. They actually roast in Millerton, New York. Their roaster is Q-certified. Only 9 percent of people pass their Q certification the first time they take the test, and their head roaster, Clyde Miller, passed on his very first go-around. Their food program is also so thoughtful and intentional. I always get the pastries. Anything that is a fluffy bread stuffed with anything is what I go for."