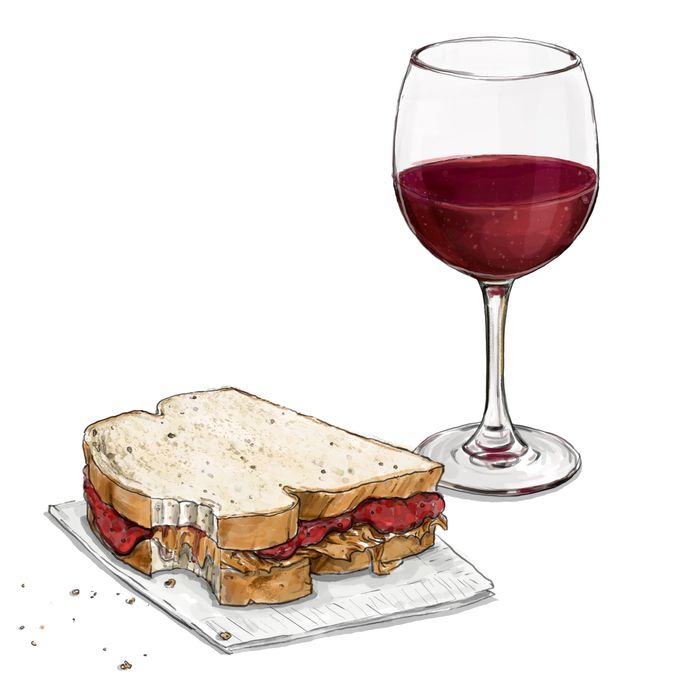 Illustration: The Ellaphant In The Room
School is back, which means that if you have kids — possibly even if you don't — peanut-butter-and-jelly-sandwich season is in full swing. Whether you go for the supersmooth, fakey peanut butter or organic, vaguely European jelly, the salty-sweet combo is unimpeachable. For parents, who are no doubt destined to eat a few lingering PB&Js of their own this time of year, the combination has yet one more appealing characteristic: It is very good with Lambrusco.
Lambrusco is from the rare category of red frizzante, or lightly sparkling wine from Northern Italy. First let's demystify this largely misunderstood style of wine. There are two regions — Emilia-Romagna and Lombardy — that are responsible for its production. Within these two regions, there are eight smaller areas that create subtly varying styles, typically identified on the label of the bottles. They are Colli di Parma Lambrusco, Lambrusco Grasparossa di Castelvetro, Lambrusco di Sorbara, Lambrusco Salamino di Santa Croce, Reggiano Lambrusco, Colli di Scandiano e Canossa Lambrusco, Modena Lambrusco, and Lambrusco Mantovano. (Don't worry, this won't be on the quiz.) There are also three levels of dryness: secco (dry), amabile (off-dry or semi-sweet) and dolce (dessert sweet).
Lambrusco is the name of both the wine and the majority of the grapes used to make the wine. There are a number of grapes allowed by law to be a part of the wine, and the main six all have Lambrusco in their name. What they share in common is that they are red grapes that have bright berry notes, acidity for days, and a pleasant, slightly bitter tinge. The best versions are made in a way that are dry or let their light sweetness shine through subtly. Crucially, the ripe, brambly flavors of the Lambrusco will complement the sweetness of the jelly, while that bitter tinge will ride right alongside a good peanut butter. And the light, bubbly edge will wash your mouth clean.
Here are a few bottles to grab before the next lunch hour:
Lambrusco Amabile, Nettare di Bacco NV ($12)
This off-dry wine is a blend of Lambrusco Salamino, Lambrusco Marani, and Lambrusco Grasparossa grapes. It will have an explosion of sweet, frothy fruitiness and will be great with any savory food that has a sweet sauce (PB&J, BBQ, etc.).
Lambrusco "Vecchia Modena," Cleto Chiarli ($16)
A popular choice among the Lambrusco enlightened, this will be drier and a bit more sophisticated. Still plenty of fruit and juice and bubbly fun, but dry, not sweet.
Saetti, Vigneto Lambrusco Salamino di S.Croce ($19)
A sophisticated, bone-dry style that is made with the same method as Champagne, with the second fermentation happening in the bottle. This means the bubbles will be smaller, more tightly grained, and more refined.