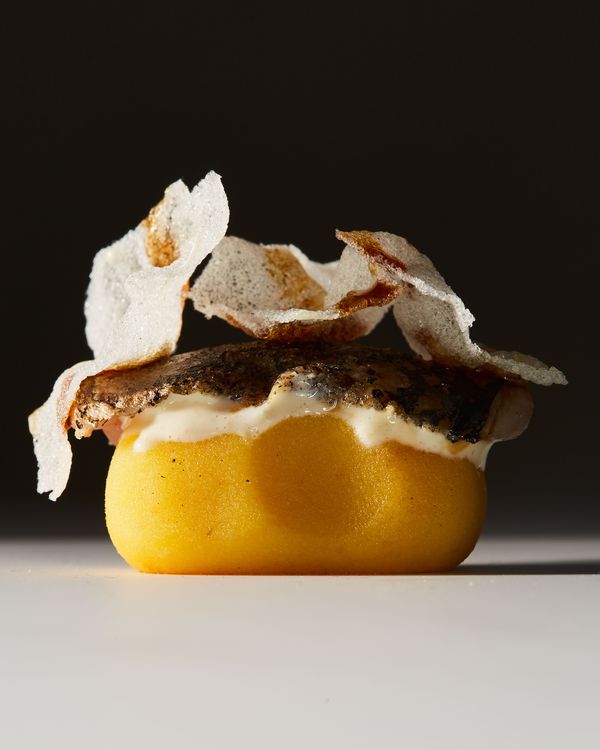 Causa "sushi" from Llama-San.
Photo: Hannah Whitaker/New York Magazine
A glimpse into New York's new crop of restaurants reveals pedigreed pasta, untraditional pizza, Asian-infused diner fare, and even a tuna casserole to look forward to. From Harlem to Ridgewood, here's where to eat and drink next.
September
Bluebird London
10 Columbus Cir., third fl.
Two decades after Sir Terence Conran opened the London landmark, Bluebird has entered an expansionist mode under current owner D&D London, which has installed an outpost in the former A Voce space at Time Warner Center. The bill of fare: modern British cuisine (yes, that's a thing), including fish and chips, Cornish chicken pie, and Chelsea buns, with service extending from breakfast to dinner, and a serious afternoon tea.
Joya Loves Louie
41 St. Marks Pl.
In tribute to its predecessor, the neighborhood standby Café Orlin, this all-day restaurant, bar, and store next door has christened a dish "The Orlin": berbere-roasted cauliflower with rosehip harissa, olive tapenade, labne, eggs, and greens. It's not only a nod to Orlin's North African roots, but an example of the multicultural inspirations on chef Joya Carlton's vegetarian menu. There's falafel waffles with whipped maple and fruit, jackfruit osso buco with polenta and coconut gremolata, and an eggs Benedict served with the carrot "lox" Carlton devised during her tenure at Orchard Grocer. Louie, in case you're wondering, was Carlton's Italian grandfather and culinary role model.
Laoma Malatang
58 E. 8th St.
You never know what you'll find next on Greenwich Village's mercurial Eighth Street, be it a collectively-run Persian café, a California-based chocolate shop, or a modernist cocktail bar. The latest arrival is this Chinese hot-pot and dry-pot specialist, the first Manhattan branch of a chainlet born in the food courts of Flushing, Queens. The basic procedure is to build your meal from a seemingly endless array of proteins and vegetables, have it stir-fried to order and served in an oversized wooden salad bowl. The key, though, is the signature chile sauce, a blend so prized the owners accused rival Philly restaurateurs of stealing it.
Misi
329 Kent Ave., Williamsburg
At her second Brooklyn restaurant, Missy Robbins puts housemade fresh and dried pasta (and vegetables) in the spotlight. [Read more.]
Mission Chinese Food
599 Johnson Ave., East Williamsburg
The country's most thrillingly untraditional Chinese restaurant continues its trajectory from San Francisco to the Lower East Side and now to the postindustrial landscape of Brooklyn, where it shares space with the music and arts venue Elsewhere. Danny Bowien envisions the new location as a democratization of the brand, with a menu that expands upon the Sichuan-inspired signatures with some Northern Chinese and "not so numbing and tingly" options, plus casual combination lunches, a takeout window for pre- and post-show grub, and a new bread service that might involve a tandoori oven, an assist from Tartine's Chad Robertson, and sourdough buckwheat injera.
Morgenstern's Finest Ice Cream
88 W. Houston St.
As it turns out, when that master of the cups and cones Nick Morgenstern opened his innovative ice cream parlor on the Lower East Side four years ago, he was only warming up. His new flagship branch is about four times the size and twice as ambitious as the original. [Read more.]
Recreation
26 Ann St.
Co-working space by day, retro bar with video games and Twister by night: It seems like the Moxy NYC Downtown hotel is trying to cultivate a captive audience and keep them occupied once the laptops close. As the venue's name sounds, the theme is rec room, and the drinks (spiked punch bowls, keg-tapped cocktails, housemade tonics and sodas) are by Jim Kearns of the Happiest Hour and Slowly Shirley.
Saint Julivert Fisherie
264 Clinton St., Cobble Hill
The couple responsible for some of New York's most delicious Spanish food charts international waters for this globally-inspired seafood showcase. [Read more.]
Shake Shack
225 Varick St.
Apparently, Mark Rosati, the guy who, along with his culinary team, comes up with new menu items for Danny Meyer's gazillion-dollar cheeseburger business, has been working like a galley slave out of a tiny windowless basement kitchen in midtown. Now, he gets a spacious state-of-the-art "Innovation Kitchen" attached to this new flagship Shake Shack in Greenwich Village. Look out for all your Shack favorites and some trial-run exclusives, plus a revitalized Rosati bounding about the place looking like a new man.
Shelsky's Brooklyn Bagels
453 Fourth Ave., Park Slope 
From Peter Shelsky, proud upholder of the appetizing tradition of his forebears, a bagel-and-bialy shop is the logical progression. In addition to the bagels of yore — small, dense, and chewy — in classic and newfangled flavors (cracked-pepper-and-salt, Sichuan peppercorn), Shelsky will make regional specialties like an egg sandwich with Pennsylvania scrapple and maple syrup, and a hometown chopped-cheese.
Sushi Inoue Lincoln Center
35 W. 64th St.
Harlem sushi master Shinichi Inoue brings his fish-sourcing know-how and considerable knife skills (you know, he's descended from Samurai) down to the old Picholine space. It's omakase or à la carte in a space triple the size of the tiny uptown Inoue, plus private dining and lunch service for sushiphile matinee-goers.
Teo
321 Starr St., Bushwick
Odd as it may sound, this izakaya is not so much a departure as it is a return to form for Texas native Joaquin Baca, who closed his southern-style restaurant, Brooklyn Star, last May. Now he's going from Dr Pepper ribs and buttermilk biscuits to chicken-skin skewers and duck-leg ramen. Why we're excited: because Baca was the original co-chef of the original Momofuku Noodle Bar and is a great intuitive cook. It's an unexpected pleasure to have him stirring the ramen pot again.
Teranga
1280 Fifth Ave.
What the world could use right now is more teranga. Translated from Wolof, the most widely spoken language throughout Senegal, teranga means "hospitality" or "welcoming generosity." But that doesn't really cover it, says the Senegal-born chef and author Pierre Thiam. He explained the term in his 2015 cookbook, Senegal, as an exceptionally high regard for guests and strangers alike, best "expressed in the way we share our food, welcoming others to sit around the bowl and eat." Fittingly, Thiam has chosen the word as the name of the restaurant he'll open in Harlem's Africa Center this month. Modern takes on traditional West African dishes made with imported ingredients and an emphasis on the ancient, overlooked grain fonio, of which Thiam might be the world's biggest booster, will be the kitchen's raison d'être.
24:21'
171 Ave. A.
Popular though it may be, Sichuan food has been misunderstood in New York–or so say the two young owners of this addition to the East Village's booming Chinese-food scene, who aim to present the venerable culinary tradition in all its varied, nuanced (and not stereotypically tongue-scorching) glory. Beyond the ma and the la, expect dishes like Steamed Cabbage in Supreme Soup, Silky Chicken Tofu, and Ms. Dong, an osmanthus cake named after an especially deft master of the jellied confection in Chengdu.
Uncle Chop Chop
7 Cornelia St.
The namesake of this Southeast Asian restaurant is a legendary underworld figure in Australia, where two of its owners, brothers Morgan and Callum Sigg, and its chef, Chris Rendell, late of Flinders Lane, grew up. They've joined forces with the Grey Lady's Callum McLaughlin and plan to eventually serve all day, from spanner-crab omelets at breakfast and caramelized sticky pork at lunch to dinner dishes like kingfish sashimi and rendang curry of Wagyu beef.
Undercote
16 W. 22nd St.
Located, that's right, beneath the Korean steakhouse Cote, this bar and lounge will serve the kind of food you might want to nibble alongside a glass of "Special Club" grower Champagne, a designation marking a highly select group of producers and vintages. To wit: a steak-and-egg sandwich featuring a thick Wagyu cutlet and golden Osetra caviar.
October
Devon
252-254 Broome St.
Somehow we're not surprised that when Oliver Zabar opens his restaurant and bar on the Lower East Side, there will be an adjacent bakery. The scion of the famed Eli's empire must have sourdough starter coursing through his veins. But Devon — the clan's first foray downtown — will have more of a nightlifey vibe, thanks in large part to a cocktail menu created by Happiest Hour veteran Sean Saunders, featuring large-format drinks, a house punch, and an amalgam of coconut fat-washed vodka, rum, and pineapple called True Blue. Chef Ken Addington, late of Five Leaves, provides ballast in the form of "lambs in blankets" and a burger.
Momofuku Noodle Bar
10 Columbus Cir., third fl.
It's become de rigueur in the realm of high-powered real estate to sprinkle Momofuku restaurants around new megadevelopments like David Chang fairy dust. The Seaport and Hudson Yards are on the horizon, but first comes this Time Warner Center reinvention of the East Village nook where it all began 14 years ago. Expect a new roster of bowls, large-format dishes, and seasonal and daily additions, courtesy of executive chef Tony Kim. Plus highballs.
Ole & Steen
873 Broadway
Hygge alert: This Scandi bakery chain and café opens its first U.S. location off Union Square with all manner of open-face sandwiches, cinnamon swirly things, rye breads, thick porridge, and chocolate puffs. We're thinking Maison Kayser meets Great Northern Food Hall. 
November
Benno
7 E. 27th St.
Jonathan Benno, the Per Se and Lincoln vet and all-around chef's chef, has recently provided the Evelyn Hotel in Nomad with a Roman bakery (Leonelli Focacceria e Pasticceria) and a casual Italian restaurant (Taberna). With this third, more upscale spot, he completes his quest to attract gastronomes from every corner of the city, while providing Evelyn guests no reason whatsoever to leave the premises. The focus here is the Mediterranean — the culinary intersection of Liguria and Provence, if you want to get specific — and a bit of a departure for the chef.  
Coast and Valley
587 Manhattan Ave., Greenpoint.
If you had any doubt that California wine is cool again, just read Jon Bonné's The New California Wine. Then test the hypothesis at this shrine to Golden State grapes (and small-plate food and design), where all 80-odd labels will be available by the taste, glass, or bottle.
Donut Pub
740 Broadway
Wall Street is fickle, doughnuts are forever. That must be why even after Merrill Lynch acquired his trading company for a cool 900 million, and even after he launched his own hedge fund, the Sheepshead Bay-born septuagenarian Buzzy Geduld continues to operate the old-school sinker shop he opened on West 14th Street in 1964. And that's not all: This fall, Geduld expands eastward into a space he tells us he couldn't resist for three compelling reasons: incredible foot traffic; his enduring passion for the product, especially the black-and-white Boston Kreme variety; and the opportunity to partner with his daughter, Nancy, who seems to have inherited the doughnut-shop gene. Expect to find all the familiar trappings, from lots of neon signage and swivel-seat stools to beat cops on break.
Essex Street Market
88 Essex St.
Created in the 40s as part of Mayor La Guardia's campaign to rid the streets of vendors and pushcarts, the city-run market both succumbs to developmental pressures and exploits them. This fall, it vacates its bunker-like premises and moves into much larger, sun-splashed quarters across the street, where it will anchor the first two floors of a new apartment building in the massive Essex Crossing complex. All but one of the current tenants, including Saxelby Cheesemongers and the inimitable Shopsin's, are making the move, and what the institution loses in worn-in, pre-gentrified Lower East Side charm, it gains in two full-service restaurants, a demo kitchen, expanded public seating, and space for 14 new vendors arriving next year.
Evil Twin Brewing New York City
1616 George St., Ridgewood
For years, the gypsy beer brewer and Denmark native Jeppe Jarnit-Bjergso has been flitting about like a hops-addled Celastrina butterfly, crafting his quirky brews in other people's breweries. Come November, he'll finally unveil his long-delayed Evil Twin Brewing complex in an old ballroom in Ridgewood, Queens. There's room at this beer-drinker's Shangri-la for an outdoor garden, a Fette Sau-run barbecue truck, and a greenhouse with a bar inside it.
Fieldtrip
109 Lenox Ave.
There are 8,000 or so varieties of rice grown to feed, oh, roughly half of humanity, yet you wouldn't know it judging by the few types you find on grocery-store shelves and restaurant menus. JJ Johnson, late of the Cecil and Minton's and recently ensconced as chef of Henry at the Life Hotel, wants to remedy that situation with this rice-centric fast-casual restaurant.
Sample dishes: Carolina Gold rice accompanying jerk chicken, and mountain violet sticky rice from the Philippines paired with grilled shrimp and jollof sauce. 
Golden Diner
123 Madison St.
Queens native Sam Yoo is a Torrisi Italian Specialties and Momofuku Ko vet who has a thing for diners. He hopes the one he's building on the fringes of Chinatown will appeal to both the whiskey-down crowd and the eclectic-comfort-food contingent. [Read more.]
Pisellino
100 Seventh Ave. S.
Discerning readers of "Fall Preview" will have noticed that this place, a love letter to the classic all-day bars of Italy by Jody Williams and Rita Sodi of Via Carota, actually appeared in last year's issue but has yet to open. Well, don't blame us. These spuntini artists cannot be hurried. The good news is that Williams says to hold our horses and give it three months, then everyone can start washing down stuzzichini with aperitivi and treating the joint as an all-purpose social center, from that first caffè in the morning to that last digestivo at night. If there's anything worth waiting for in this world, it's a Williams-Sodi production.
Unamed Restaurant from the Emily Pizza Team
511 E. 5th St.
The folks who made Detroit-style pizza a boffo sensation in the home of the regular slice turn their attention to another undersung pizza species: the grilled variety popularized at Providence's Al Forno. [Read more.]
Unnamed Something-or-Other From the Cheeky Sandwiches People
36 Allen St.
New Orleans native and sandwich genius Din Yates is clearing out the back of Cheeky's, formerly a separate-entrance storage shed for motorcycles, and turning it into a test kitchen of sorts. The idea is to bake bread for all those delicious Cheeky sandwiches, says Yates, including the po'boy loaves — no easy feat — and also work up some breakfast and dessert options. With even less seating space than the diminutive Cheeky's, it will function primarily as takeout.
December
Babs
72 Macdougal St.
Having achieved that rare confluence of critical acclaim and effortlessly stylish scene, the young owners of Greenwich Village's Mimi branch out with an American steakhouse and raw bar in the former Chez Jacqueline space. Since chef Efrén Hernández is overseeing both kitchens, good thing it's right around the corner.  
Daily Provisions West Village
29 Bedford St.
Brainstormed by Danny Meyer & Co. to exploit some excess square footage in the relocated Union Square Cafe's lease, Daily Provisions established its own identity with excellent breakfast and lunch sandwiches, Joe Coffee drinks, and the rich, eggy super-doughnut known as the French cruller.
All of these things will soon be found at the shop's second location, on the South Village corner previously occupied by Ditch Plains.   
Llama-San
359 Sixth Ave.
The Japanese influence on Peruvian cooking that chef Erik Ramirez first plumbed at his Tuesday-night tasting-menu series at Llama Inn gets a Greenwich Village stage of its own. In his interpretation of Nikkei cuisine, as the style is known in its Andean homeland, there is Japanese citrus and seaweed in the sashimi-grade-tuna ceviche, and mashed-potato causa standing in for sushi rice.
*A version of this article appears in the September 3, 2018, issue of New York Magazine. Subscribe Now!