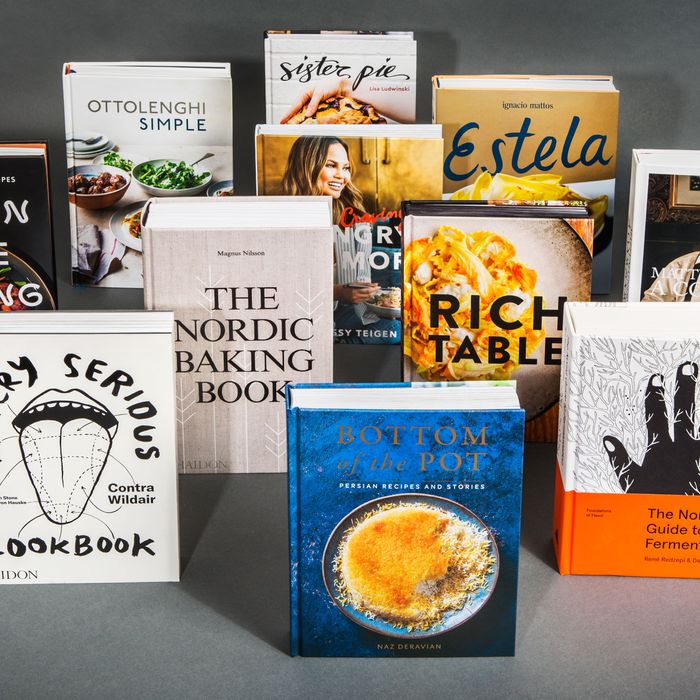 Photo: Konstantin Sergeyev and Jed Egan
Fall is here, and that means a proverbial cornucopia of new cookbooks will soon be here, too. Grub has sifted through the season's biggest releases to figure out which recipes we'll want to cook again and again. The good news: There are a lot of good ideas in this year's collection of wildly original, slightly aspirational, and even just plain practical odes to the joys of cooking. Here are the fall-cookbook recipes we're most excited to whip up in the coming months.
Photo: Flatiron Books
Sour chicken stew with yellow split peas from Bottom of the Pot: Persian Recipes and Stories
Why: Because Persian cooking is on the map now and from Naz Deravian's book a perfect guide to the basics.
Naz Deravian's blog Bottom of the Pot is the inspiration behind this part-memoir, part-literary magazine. Between pages of florid prose — "Memory is an elusive seductress, hard to pin down," reads one passage —  is an impressively sensible beginner's guide to Persian cooking, with easy-to-follow recipes for staples of the Iranian diet like barbari bread, kookoo sabzi (a herb-forward egg dish), and tahdig. The recipes that make us most excited are the ones like this saffron-scented chicken stew, which will hopefully push anyone who picks up this book to discover a wide variety of new ingredients. Out now.
Photo: Knopf
Stir-fried pork belly and kimchee with egg from Solo: A Modern Cookbook for a Party of One
Why: Because chef and author Anita Lo is exactly the person we want teaching us to cook at home for ourselves.
Anita Lo, the owner and chef behind the late, great Greenwich Village restaurant Annisa, opens Solo with the proclamation that "she puts the 'Lo' in "solo." Though she pokes plenty of fun at herself, Lo still frames Solo as a celebration of the increasingly normal and noble act of cooking for oneself with little lessons about cutting food waste tucked throughout. The recipes are downsized and oh-so-practical — this one calls for just five ounces of pork belly, an egg, cooked rice, and pantry ingredients —though they can easily be doubled (or tripled) should guests suddenly show up once they hear about the meals you're making for yourself. Out November 1.
Photo: Houghton Mifflin Harcourt
Caramel-pear and five-spice upside down cake from Everyday Dorie: The Way I Cook
Why: Because even if we don't spend as much time in Paris as author Dorie Greenspan, this cake will at least help us pretend.
Greenspan famously splits her time between Connecticut, New York City, and Paris and her signature mix of worldliness and hominess is on full display in Everyday Dorie: the pages are filled with recipes like ponzu chicken with Thai red curry paste and a roasted squash hummus featuring pomegranate molasses, za'atar, and tahini. But at the end of the day, Dorie Greenspan is a queen of desserts and we suspect this five-spice–perfumed cake will be the thing we find ourselves craving from time to time. Out October 23.
Photo: Artisan Books
Elderberry wine balsamic from The Noma Guide to Fermentation
Why: Because if anyone can make us excited about at-home fermentation, it's the team from Noma.
At first glance, The Noma Guide to Fermentation intimidates. It's nearly 500 pages long and comes from a restaurant known for hiring people with Ph.D.'s in food chemistry. So it's surprising that this book turns out to be refreshingly accessible, with co-authors Rene Redzepi and David Zilber aiming recipes at professional chefs and weekend warriors alike. Each chapter centers around fermented foods that most of us have heard of, like kombucha, vinegar, shoyu, and miso, and features time-lapse photos of the fermentation process as well as real-world applications for each of the recipes. We think the quintessentially Scandinavian elderberry wine balsamic, in particular, is the perfect place to start. Out October 16.
Photo: Chronicle Books
Steakhouse dinner for vegetarians from Now & Again
Why: Because of course Julia Turshen would think to make her dinner parties as inclusive as possible.
In the last year alone, Turshen wrote a new cookbook (less than a year after the release of her breakout book, Feed the Resistance) and founded Equity at the Table, an organization focused on bringing diverse voices and perspectives into the food world. But even Turshen knows that freedom fighters need a hot meal. Now & Again is an ode to the inherent charm of domestic life and features meals whose leftovers can be remixed and made new again. (For example, Thanksgiving stuffing with sausage and spinach becomes crispy stuffing with fried egg the morning after.) Turshen's dinner-party menus are particularly inspired, including a "steakhouse" dinner for vegetarians, featuring maple syrup old-fashioneds; stuffed mushrooms with walnuts, garlic, and parsley; and double-baked potatoes with horseradish and cheddar. Out now.
Photo: Phaidon
Cardamom buns from The Nordic Baking Book
Why: Because cinnamon buns are delicious, but tired.
The Nordic Baking Book is a book for people who want to get down to business: There aren't very many pictures and it forgoes the usual cookbook narrative story of transforming struggle into triumph. But what it lacks in gloss, it more than makes up for in exhaustive attention to detail. Magnus Nilsson, the chef behind Sweden's revered Fäviken, has turned out a 600-page monster filled to the brim with breads and pastries that will no doubt make home feel a little warmer, even once the weather cools off. Out October 15.
Photo: Chronicle Books
Turmeric and lime mussel broth from Season: Big Flavors, Beautiful Food
Why: Because we love a recipe that's easy-to-make and delivers on flavor.
Nik Sharma's Season has all the makings of a book that's about to break out: recipes that are high on flavor, but low on laborious techniques; gorgeous photography that Sharma shot himself on the days he wasn't writing columns for The San Francisco Chronicle; and the compelling narrative of "a gay immigrant, told through food" that ties everything together. Out October 2.
Photo: Artisan Books
Ricotta dumplings with mushrooms and Pecorino sardo from Estela
Why: Because this dish is a modern classic that we can finally make at home.
Some restaurant cookbooks are nothing more than testaments to their chef-authors' egos. But the Estela cookbook from Ignacio Mattos (and co-writer Gabe Ulla) is an exception. Mattos's deceptively simple dishes are also surprisingly straightforward to make, which means you'll have a very good chance at impressing all of your friends without breaking much of a sweat the next time you invite them over for dinner. Out October 23.
Photo: Houghton Mifflin Harcourt
Zucchini schnitzel from Israeli Soul: Easy, Essential, Delicious
Why: Because co-authors Michael Solomonov and Steven Cook aren't afraid to completely turn traditional Jewish recipes on their heads.
This follow-up to 2015's ultra-successful Zahav: A World of Israeli Cooking is equal parts cookbook and guide book. Each section focuses on staples of the Israeli diet like falafel, pita bread, and hummus. Best of all, Solomonov and Cook put modern American twists on Israeli classics like a tehini ketchup, potato-leek latkes, and this super-simple vegetable schnitzel that will hopefully make everyone appreciate zucchini just a little bit more. Out October 16.
Photo: Chronicle Books
Mezcal gimlet with Aperol from A Woman's Drink: Bold Recipes for Bold Women
Why: Because it mashes up about three different cocktail trends and still sounds delicious.
Authors Natalka Burian and Scott Schneider run New York's popular Elsa and Ramona bars, and this book covers all the basics (old fashioneds, negronis, sangria), but it manages to stand out from the pack with recipes that tweak classic ideas just enough to keep things exciting. Out October 23.
Photo: Ten Speed Press
Roasted eggplant with curried yogurt from Ottolenghi Simple: A Cookbook
Why: Because Yotam Ottolenghi has proven he knows how to write recipes that anyone will love.
The best way to sum up Yotam Ottolenghi's Simple, the London chef's seventh cookbook, might be "Ottolenghi Lite." Unlike previous books that even Ottolenghi admits demand much from home cooks and require hard-to-find ingredients, the aim here is really to deliver on every definition of "simple" cooking. Out October 16.
Photo: Ten Speed Press
Maple coffee cream paczki from Sister Pie: The Recipes and Stories of a Big-Hearted Bakery in Detroit
Why: Because this recipe from author Lisa Ludwinski will be a perfect weekend project.
The fall's premiere pie book comes from Detroit's Sister Pie shop. In addition to the gonzo pie recipes (cardamom tahini squash pie), the non-pie sections include Ludwinski's over-the-top cookie recipes (salted rosemary shortbread), her impressive breakfast lineup (three jasmine crème fraîche scones, please), and if you really want a taste of the Motor City, maple coffee cream paczkis, an outré riff on the area's very best style of doughnut. Out October 2.
Photo: Phaidon
Sumac crackers from A Very Serious Cookbook: Contra Wildair
Why: Because this recipe from chefs Jeremiah Stone and Fabian von Hauske also calls for making coffee mayonnaise and we're always interested in new methods of caffeination.
Great restaurants need a cookbook-cum-greatest-hits record and A Very Serious Cookbook is that for chefs Jeremiah Stone and Fabian von Hauske, the guys behind Lower East Side gems Contra and Wildair. For their debut cookbook, Jeremiah Stone and Fabian von Hauske tapped Alison Roman — the author behind last year's ultratrendy Dining In, — to help make sense of the duo's very restaurant-y recipes (like a pairing of clams with almond milk and XO sauce). If you want to push yourself, it's worth trying out the more complicated recipes like these sumac crackers with a coffee mayonnaise because, after all, what's the worst that could happen? Out October 15.
Photo: Chronicle Books
Sweet-potato pancakes with dried apricot, salsa verde, and sprouted broccoli from Rich Table
Why: Because chefs Sarah and Evan Rich clearly know there's more to sweet potatoes than pie.
This book tells the part love story, part tale of struggle, part diary of self-doubt that has made the couple's San Francisco restaurant Rich Table a runaway success. This savory pancake recipe in particular stands out for being an interesting update on a meal that Evan grew up eating and that, as Sarah points out, his mom made the first time their families met. Cute! Out now.
Photo: Clarkson Potter
Fried-chicken sandwiches from Cook Like a Pro: Recipes and Tips for Home Cooks
Why: Because it's a Shake Shack recipe from Ina Garten.
Garten's latest cookbook, her 11th, features her takes on some of the best meals she's eaten while living and working in New York, all through the lens of a cooking professional. The most exciting of these: Garten's riff on Shake Shack's fried-chicken sandwich, which is like some kind of recipe dream-team fantasy come to life. Out October 23.
Photo: Abrams
Snails on toast from Matty Matheson: A Cookbook
Why: Because the Canadian chef knows his way around a gutsy, deeply satisfying recipe.
Matty Matheson is best known for his Vice cooking shows — Dead Set on Life and It's Suppertime! — but his new cookbook is surprisingly … ornate? A Cookbook tells the story of Matheson's life in Canada before he became a TV personality, with half the recipes coming from his outdoorsy family and the other half from his time as a hard-partying chef. Out October 9.
Photo: Abrams
Gochujang-glazed baby back ribs from Korean Home Cooking
Why: Because sweet, smoky at-home ribs are exactly what we need right now.
Sohui Kim is the chef behind Brooklyn's Good Fork and Insa restaurants, but as the title makes clear, this cookbook is a straightforward guide to making Korean food at home, all of which could work its way into a home cook's repertoire. There's kimchee eight ways, an entire chapter on banchan, and these gochujang-glazed baby back ribs that get baked in the oven and should help scratch the itch of people who want to make barbecue but also live in a tiny apartment! Out October 16.
Photo: Clarkson Potter
Fluffy popovers with melted Brie and blackberry jam from Cravings: Hungry for More
Why: Because Chrissy Teigen clearly got the memo about modern breakfasts.
In her follow-up to 2016's Cravings, Chrissy Teigen shares details about her struggle with postpartum depression and how cooking helped her work through it. And of course the food sounds outright delicious, like a pork glass noodle salad and these fluffy popovers that Teigen fills with fruity jam and creamy Brie while they're still warm. Out now.