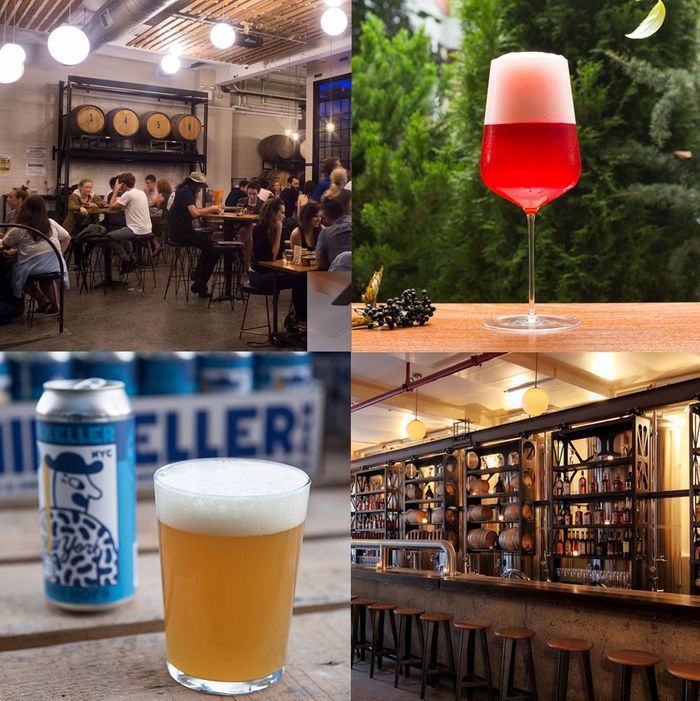 Photos: Melissa Hom; Camilo Fuentealba; Liz Clayman
New York is awash in hazy IPAs. Micro- (and nano-) breweries now litter the city, with many spots selling beer to-go as well as offering taprooms where fans have direct access to super-limited batches of sour ales and triple-strength IPAs. It's boom times for beer lovers, in other words, but with so many options, it's also easy to get lost in this sea of suds. Fear not, hopheads. Below, Grub Street's guide to 30 new, notable, and beloved breweries that should definitely be part of your next beer crawl.
Alewife (Long Island City)
The Rundown: There's ample space and ambitious food.
Long Island City is one of the neighborhoods that has seen a proliferation of brewers, taking advantage of old industrial spaces. A two-level pub, this bar serves beers from other breweries like Founders and KCBC, along with its own pale wheat ale, pilsner, and more.
Bridge & Tunnel (Ridgewood)
The Rundown: Smart spins on classic styles.
The cheekily named Queens brewery calls itself "nano-scale," and was opened by a Ridgewood native. There are 14 beers on tap at any time, with many excitingly original ones: the 20 Spot & A Switchblade coffee cream ale, the One Off sour stout; and the Three Sisters pumpkin ale.
Brooklyn Brewery (Williamsburg)
The Rundown: A Brooklyn fixture.
The granddad of New York's craft breweries, it opened in 1996, and has been a bona fide destination for years. The brewery is open for drinking daily, and offers tours and tastings.
Bronx Brewery (Port Morris)
The Rundown: Accessible beers, backyard parties.
A lot of New Yorkers go all-in on pushing boundaries with flavors; the Bronx Brewery seems more about getting the basics right. Located in a gentrifying area of the South Bronx, it serves a pale ale, Belgian triple, its heavy Fennel Irish stout, and a handful of other beers. With a large backyard, it also hosts summer concerts, a party for baseball's opening day, and other events.
Circa Brewing Co. (Downtown Brooklyn)
The Rundown: Find your two favorite things, pizza and beer.
A brewpub rather than a brewery, Circa distinguishes itself as a pizzeria with quality pies like a ham and pineapple, mushroom and goat milk, and bacon and eggs. The beer is worthy, too, and includes varieties like a peach wheat and dry Irish stout.
Death Ave (Chelsea)
The Rundown: Greek food and house-brewed beers near the Highline.
Manhattan is not the center of the world for New York's craft breweries. One brewpub in the borough, though, is this spot near the High Line, where they serve Greek food, wine and cocktails, and house beers like a brown Belgian.
Finback (Glendale)
The Rundown: Almost always something new to drink.
The barren industrial space matches the location in Glendale, near some residential streets, but not close to any subway. Still, the beer is well worth the trip. They're also creating new ones (the list of retired brews is long), with an emphasis on IPAs (ten are currently on tap) and sours.
Fifth Hammer (Long Island City)
The Rundown: A daily source for sours and IPAs.
Over in Hunters Point, the taproom is open seven days a week. Come here for a whole section of IPAs, an American sour with pineapple called the Pineappledactyl Sour, and others like a summer stout called Lil' Roasty.
Five Boroughs Brewing Co. (Sunset Park)
The Rundown: Family friend space, fun beers near Industry City.
A great big space near Industry City, this brewery is one that's family- and dog-friendly. You'll find suds like a Czech pilsner, a rosé saison, and a hoppy lager.
Flagship Brewing Company (Tompkinsville)
The Rundown: Classic beers near the Staten Island ferry.
If there is proof that craft beer is truly, really everywhere, it's that there's a brewery for every borough. The Tompkinsville brewery serves standards like an American pale ale and IPA, plus others like its Roggenfest, the love child of Germany's Roggenbier and Oktoberfest. You can also get delivery from Pier 76, a great pizzeria that's part of the Joe & Pat's family.
Folksbier Brewery (Carroll Gardens)
The Rundown: European-style brews and some of New York's very best.
New York's best taproom keeps it European, with a Berliner-style Weisse, Bavarian-style malt lager, and a Belgian-style white wheat ale. The space is big and warm, even though its design is more minimalist.
Greenpoint Beer (Greenpoint)
The Rundown: Lots of IPAs and pub-food.
There's some sidewalk seating here, when it's warm out, and a large space with a long bar. The beer menu is heavy on the IPAs, and the food is the stuff of pubs. Think chicken wings and soft-baked pretzels.
ICONYC (Astoria)
The Rundown: Your favorite styles with clever additions.
Near the edge of Astoria, you'll find a taproom with a smoked cream ale, peachy imperial saison, High Line IPA, and more.
Interboro (East Williamsburg)
The Rundown: Beer and booze, both made on premises.
A combination brewery and distillery has 20 taps at its bar, and makes enough styles of IPAs for you to drink nothing else. They brew less hoppy beers, too, like the Burial Alpine Style pilsner and the Summertime Glows shandy.
Island to Island Brewery (Lefferts Gardens)
The Rundown: Craft beer filtered through the Caribbean.
Down in Lefferts Gardens, Island to Island stands out both for taking its cues from Trinidad and brewing beer, hard cider, and kombucha. It pulls flavors from the Caribbean for beers like a Jerk Lager; the Trini Love, a session blonde ale with guava; and Soursop cream ale with guanabana.
Kings County Brewers Collective (Bushwick)
The Rundown: A laidback, small space that's very popular with locals.
A small but open space, KCBC is more laid-back than you might expect, with quality beers that explain why it's consistently packed: the tart Bride of Beach Zombie, a Berliner Weisse; the Helles Kitchen, a smoked helles lager; and the Oyster Bay Tourist Trap, a cream ale.
Keg & Lantern (Greenpoint)
The Rundown: Ideal for lager loons.
A brewpub with New York craft standards, like a barrel-aged sour, but also five kinds of lagers (including an oat and Mexican-style) plus a kölsch.
Kills Boro (Tompkinsville)
The Rundown: Creative beers for Staten Island.
The space here is sleeker and home to ten barrels, used to produce beers like an oat IPA, a passion-fruit-guava sour ale, and others.
Grimm Artisanal Ales (East Williamsburg)
The Rundown: An acclaimed gypsy brewer now has its own home.
The gypsy brewer planted roots over the summer, opening an east Williamsburg outpost for its award-winning beers. It's big, bright, and looks more like an all-day café than taproom (this isn't a complaint). There are 20 beers on tap, like the Tracery coupage, Zonk triple-IPA, and Future Days golden sour.
Gun Hill Brewing Co. (Williamsbridge)
The Rundown: Brewed with a Bronx state of mind.
This north Bronx spot creates beers like the Island Time IPA, which it describes as a like a pineapple-coconut fruit smoothie, and a sour IPA. A partner also operates Gun Hill Tavern further south in the borough.
LIC Beer Project (Long Island City)
The Rundown: Something for everyone.
A tall garage opens up into a large space with wood and barrels, located on an industrial block in an industrial stretch of Long Island City. The beers cover lots of styles popular right now: a Double Chocolate Malt Shake Imperial Stout, a Mexican-style lager, and lots of IPAs and Imperial IPAs.
Mikkeller (Willets Point)
The Rundown: One of the world's most acclaimed brewers.
A New York outpost of the cult Danish brewer known for its gonzo ideas and big flavors, there are 60 beers on tap. Mikkeller creates new beers at an astounding pace, but you'll certainly find the Say Hey Sally pilsner or something like a chipotle porter. There's also food from the likes of Great Northern Food Hall, and 10,000 square feet of space to stretch out in.
Other Half (Gowanus)
The Rundown: Hazy IPAs and cultishly followed can releases.
The Gowanus operation became known for placing a premium on freshness, producing in limited quantities, and only selling cans from its brewery. It belongs to that genre of brewers pushing the limits of hoppiness, with a strong focus on IPAs (of which 16 of 20 beers on its taproom's current menu are.)
Rockaway Brewing (Rockaway)
The Rundown: Top-quality beer, with the beach in reach.
Forgot to bring beers to the beach? Head to Rockaway Brewing, where you'll find a communal picnic table, Foosball, vinyl, beers like the Pharm (saison with anise) and the Aqua Melon (a pale ale with watermelon), and food, including tacos.
SingleCut Brewsmiths (Astoria)
The Rundown: Hoppy beers for the Queens set.
When it opened in 2012, the Astoria outfit was Queens' first brewery in decades. It's a popular, convivial place where you can see live music and drink Zeitgeist-y beers like a hibiscus sour lager and half-stack IPA.
Strong Rope Brewery
Right off the Union Street stop in a space with a neighborhood feel, this New York State farm brewery hosts events like Gowanus Suds and Sounds and serves beers like a dark cream ale.
Staten Island Beer Co. (Arlington)
The Rundown: Brewed with Staten Island pride.
Started by a home brewer who spent two decades making beer in his basement, they cover many of the basics (coffee stout, blonde ale, West Coast IPA, and so on).
Threes Brewing (Gowanus)
The Rundown: Large space, lots of variety, and plenty of events.
Threes Brewing is big and polished. There's a large backyard, and the inside's dim lighting and wood surfaces give it something of a beer-hall feel. There are wild ales like the Eternal Return, made with cherry; German lagers; and pale ales like the Gender Neutral, made with lemon zest. Food is as much of a draw, as it's cooked up by the Meat Hook. (They also have a bar in Greenpoint, with food from Purslane Catering.)
Transmitter Brewing
At this Long Island City spot, they're all about the barrel-aged sours, farmhouse ales, and the French and Belgian tradition. There's a gin barrel golden ale, a raspberry sour called the PH4, the gnarly Triple, and other such brews.
Queens Brewery
An unfinished space with large picnic tables, this Ridgewood spot opened with a trio of basics (a lager, ale, and IPA) and has since expanded its offerings to include styles like an imperial IPA, extra stout, and more.