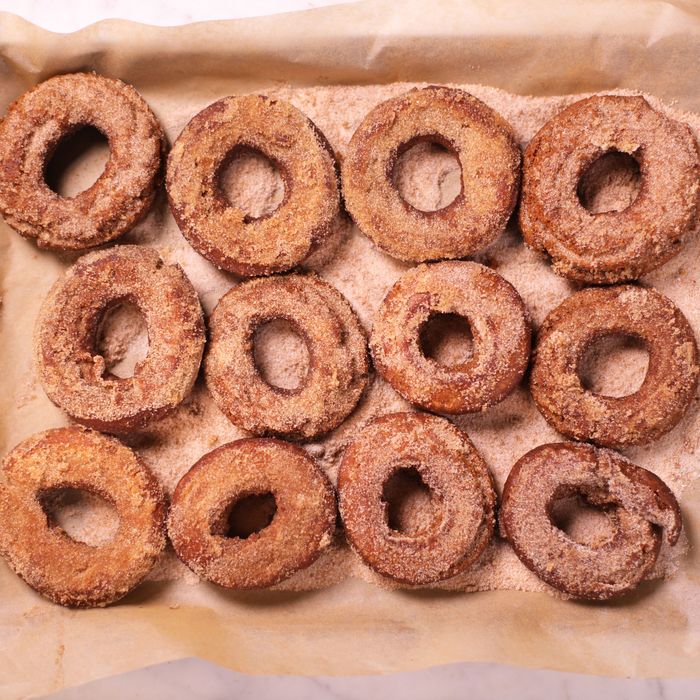 Meh.
Photo: Amy Brothers/Denver Post via Getty Images
There are many enjoyable fall traditions in New York: sweater weather, the Halloween parade, complaining about pumpkin spice lattes. Autumn is a wonderful time, but those changing leaves mask a lie, a seasonal specialty that is heralded as a much-loved custom when, in reality, it is nothing more than a festering, fall-time deception. I refer, of course, to the return of apple cider doughnuts.
Let's be clear: Apple cider doughnuts are not bad. They are simply not special. We get excited to see them because we think they are a nice way to welcome the colder weather and the looming winter. Even though apple cider is readily available all year long, it's as if federal law forbids the arrival of apple-cider doughnuts until the thermometer dips into the 60s. It's a trick to make us think they'll carry some taste of the crisp autumn air and late-summer apple harvest. Remove yourself from this facade however, and taste them on their own. They taste like … plain doughnuts, with maybe a little cinnamon thrown in.
What's the big deal?
I say this as a New Englander, an apple lover, a doughnut devotee, and someone so entrenched in autumnal splendor that cider may as well course through my veins. I want apple cider doughnuts to be special, just as we all do, but I know in my heart that it's time to confront reality once and for all: apple cider doughnuts are not special doughnuts. They are not pączki, the almost preposterously hefty egg- and lard-enriched Polish wonders that rightfully deserve their own day of celebration. Apple cider doughnuts are not the Donut Man's fresh fruit–stuffed glories that you find at the end of historic Route 66 in Glendora, California. They are not even the gently glazed, perfectly blistered crullers of Curiosity Doughnuts that true fans know to find along the New Jersey–Pennsylvania border.
In my entire life I have eaten exactly one very good apple cider doughnut. A small, plump round from Beardsley Cider Mill in Shelton, Connecticut, that finally delivered on the promise of a doughnut that tastes like bright, comforting apple. But instead of opening my eyes to the truest possibilities of apple cider doughnuts, they only made clear that all the versions I had eaten before, and all that I've (regrettably) eaten since, are nothing more than plain, otherwise-fine cake doughnuts tossed in spiced sugar and wrapped in a blanket of seasonal deception.
So this fall, when my friends drag me north to go look at turning leaves or whatever, and we inevitably stop at a quaint little cider mill somewhere in the Hudson Valley, I won't refrain from eating an apple cider doughnut — they're still doughnuts; they're still good — but I will know that what I am eating is merely as special as the same non-cider doughnuts I'll eat in December, or March, or any other time throughout the year.