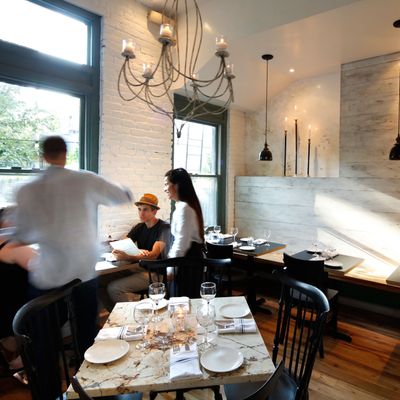 Will the numbers keep dropping?
Photo: Melissa Hom
I mean, who goes to restaurants anymore? Fewer and fewer Americans, apparently. The average American's restaurant visits reached a 28-year low this year, falling from an average of 215 a year in 2000 to 186 a year in 2018. Data gathered by the NPD Group shows a particular and precipitous decline since 2008. Today, 82 percent of meals in America are made at home.
While online grocery services, meal kits, and other services encouraging people to stay at home are no doubt factors, it's notable that the decline has been most significant — and steady — since the Great Recession. Going out to restaurants doesn't seem like such a good idea when you're saddled with student debt and contending with wage stagnation. (In fact, many Americans saw their wages decline over the last year.)
Meanwhile, restaurants are becoming increasingly more expensive compared to eating in. This is true even of fast-food chains. McDonald's, Jack in the Box, Shake Shack, and Wendy's have all raised prices during the last year. Even Chick-fil-A is testing out chicken meal packages at 150 of its restaurants, not that the nascent meal-kit industry is booming. Blue Apron stock hit a low of $1.80 in April, then rose to $3.89 in July, and has since fallen back down to around the $1.80 mark. People, though, don't need meal kits to cook, or to pay off their student loans a little faster by making that chicken cordon bleu at home.