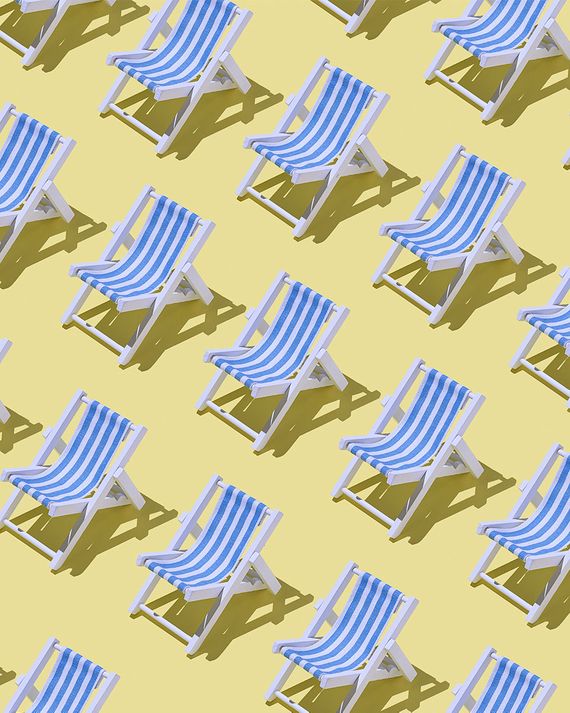 Photo: Westend61/Getty Images
Chefs pride themselves on their preposterous work ethic; they brag about going entire years without taking any breaks. Legend has it that in 34 years at Lutece, André Soltner took just two days off, both for funerals. Fifteen-hour workdays aren't uncommon. For many cooks, there's no such thing as a "sick day," and holidays can be some of the busiest of the year. But increasingly, chefs and operators are understanding the benefits of time off, and coming to the realization that shuttering an entire restaurant for a week or longer will make the entire team stronger in the long run.
Between their three New York restaurants Contra, Wildair, and Una Pizza Napoletana, Jeremiah Stone and Fabián von Hauske Valtierra employ about 50 people. These are crowded, full-throttle restaurants. There's little doubt that the successful restaurateurs can fill their dining rooms on any given night, which is why it's remarkable that von Hauske Valtierra and Stone shut down each place a week or more a year, giving everyone the same vacation days off. This includes a long weekend around Thanksgiving, a longer one at the end of the year, and a full seven days in the summer.
"It's about sustainability," von Hauske Valtierra says. "At places that do this in Europe, staff members come back and stay on longer. New York is not the easiest place to live in, and you can get really lost. We think it's good to see what's out there and to try to bring it back home." Stone adds, "It's pretty uncommon here."
In the U.S., the preeminent proponent of annual closures is Thomas Keller, who disbands his brigade for an annual recharge and regroup; Per Se's weeklong hiatus ended Monday. Elsewhere, San Francisco's two-starred Commis closes in June for nine days, and Manresa takes a week off in January.
It is not easy to power down an entire restaurant: Pans have to be emptied, stocks need to be frozen or discarded. As things tend to fester in a humid environment, walk-ins are scrubbed, pots and pans protected in layers of plastic wrap, grease traps thoroughly degreased. The practice is nevertheless far more common in Europe. This is partly due to the fact that in Spain and Italy, for example, restaurateurs are more likely to own their real estate, or restaurants are in hotels willing to absorb a loss when closing makes economic sense. France has a national holiday in mid-August that is a typical moment for all workers — not just those in the hospitality industry — to take time off. Most two- and three-Michelin-starred places in France shut down for a standardized six weeks of vacation, taken over two or more intervals.
Just last week, Alain Ducasse lifted a Champagne flute to toast his Plaza Athénée crew on the eve of four weeks off. Septime, commonly considered among the best restaurants in Paris, is in the midst of its own three-week hiatus. In the U.S., especially in the biggest cities where rent and labor costs continue to skyrocket, it's far more difficult for operators to see a benefit in closing for any period of time.
"In New York, it's so tough for chefs to get a break," says Kat Kinsman. "Margins are so thin and rents so high that no one is making any money — restaurants or chefs — so time off feels unfathomable." Kinsman is a writer and the founder of Chefs With Issues, which advocates for greater focus on mental-health issues in the community. "People who work in New York City restaurants are so incredibly driven that they tell themselves they wouldn't even know what to do with time off," she says. The mentality is often upheld throughout the kitchen. "They're not encouraged to have a life outside of the kitchen, and they're made to feel as if they're letting down the line when they're even out for a day."
Yet when they opened five years ago, Stone and von Hauske Valtierra intentionally built Contra around the premise of being open five days a week and having bigger blocks of time off, almost like a steam-release valve. The chefs wouldn't discuss how much money they leave on the table during their weeklong summer closing, but some quick math — the 44-seat restaurant offers a set menu at $78, with an optional $60 wine pairing — indicates that the number might hover around a $60,000 gross in any given week.
According to vacation proponents, any "lost" money is more like an investment that makes the restaurant better. Matthew Kirkley, who will represent the United States in 2019 at the Bocuse d'Or, had rewarding experiences with temporary closures. Kirkley's credentials include Restaurant Joël Robuchon in Las Vegas, as well as at L2O in Chicago, which received two Michelin stars for three consecutive years while Kirkley was the chef. Most recently at Coi in San Francisco, his cooking garnered three stars. All three restaurants took breaks. "It can be a substantial hit all at once, when staff is salaried, and fixed costs like rent and electrically are still there," he says, "but the advantages far outweigh the cons."
"We tell them they're going to have a week off in July and a week off in January, and other than that, to plan on being here," Kirkley explains. Shutdowns also preclude the need to carry extra staff on payroll, which can be a challenge in a kitchen with around 30 kitchen personnel. "If everyone has off two weeks a year, that means you're just covering time off in perpetuity," Kirkley says. "It certainly simplifies your operations."
Echoing Stone and von Hauske Valtierra's findings, Kirkley says the practice refocuses the kitchen. "It gives the guys something to push toward: We're all in it together, and we're all working hard, but you only gotta hang in there for three more months and then we all get a week off."
General workplace studies demonstrate an obvious beneficial role of vacations on mental health, and while the reduction of stress isn't permanent, there are indications that time off lowers burnout over longer periods. Because cooks aren't necessarily competing with counterparts at other restaurants, but with other line cooks and themselves, simultaneous time off could be leveling and democratizing.
"The mind-set is contagious; it seems like the only real solution is if everyone can do it at once," Kinsman says. "Chefs tend to, by nature, be masochists and tend to work until they drop. These are people who spend their lives in service of feeding people and providing them with pleasure. If they don't take that break, they will break."
The time off also allows staffers to experience food outside of their own restaurants. This year, for example, one of Contra's sous-chefs went to London and "ate two lunches and two dinners every day." Another went to Spain and another to Copenhagen. Others visit family, travel, and just generally relax. Some even cook — it's a lot more fun to grill sardines, for example, when you're holding a glass of wine and there aren't demanding customers waiting to be fed.
For employees, in other words, the benefits are obvious. But even for employers, who have to shoulder the financial realities of closing, there can be an upside to making sure everyone takes off at the same time: "As far as peace of mind is concerned," Kirkley says, "it's a hell of a lot easier to take time off when you know that you're not missing a service, when it's your name on the door."