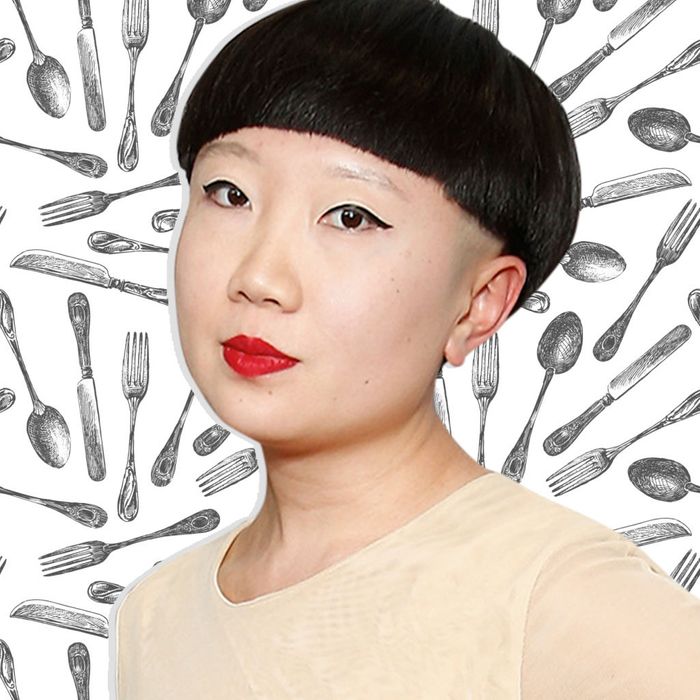 JiaJia Fei.
Photo: Brian Ach/Getty Images
Nothing works up an appetite like spending a few hours inside a museum. Just ask JiaJia Fei, the digital director at the Jewish Museum on the Upper East Side, where she leads up the 104-year-old institution's social media, mobile, and digital-content efforts. Since taking on the position three years ago, Fei has cultivated an impressive list of great places to grab a bite or a drink in one of the city's most quiet and picturesque neighborhoods.
"Working on the Upper East Side is almost like going to the suburbs every day," says Fei, who commutes uptown from Brooklyn. "There are some jewels in the neighborhood, but you really have to search." Luckily, she's already done most of the work for us. Here are her recommendations for where to eat around New York City's Museum Mile.
Russ & Daughters
1109 Fifth Ave., at 92nd St.; 212-475-4880
"The Russ & Daughters at the Jewish Museum has been life-changing for both people who work here and who live in the neighborhood. So, my approach for dining is I do like a dim sum menu, where I order a bunch of different things and we all share it.  I've basically had almost everything on the menu at this point. The vegetarian chopped liver is my favorite thing on the menu now because when we had this Isaac Mizrahi show when I first started, he had told someone that was his favorite thing on the menu. It's this nut-based spread that you put on matzo and it's really amazing and great to share. And then definitely lox, some of their knishes, and deviled eggs. And the desserts are really good, too. My go-to is the halva ice cream, which is like salted caramel."
Naruto Ramen
1596 Third Ave., nr. 90th St.; 212-289-7803
"My team and I have a ritual every Friday to go out to lunch and we always end up here. I assign everyone an Outlook calendar event called Mandatory Friday Lunch, so that everyone's required to go out to lunch that day and so that we make sure that we plan our meeting to end at 11:45 a.m. so we can walk over before it opens. It's kind of a small ramen place, but we've been going there every Friday for the last couple of years. It's really rare to find pretty good ramen on the Upper East Side. It's a very authentic and adorable place."
Lolita's Kitchen & Burger House
1364 Lexington Ave. #1, nr. E. 90th St.; 212-722-5055
"On the rare occasion in which Naruto is closed, this has happened a few times, or maybe we make it there too late and we have too big a group, we go to this Mexican place. It's a very quiet hole-in-the-wall, but has really good tacos. And we either eat there, or when it's really nice, we'll get it to-go and have lunch outside at the Cooper Hewitt Garden."
Bemelmans Bar
35 E. 76th St., at Madison Ave.; 212-744-1600
"My other go-to is Bemelmans Bar at the Carlyle Hotel. It's a very classic New York bar and they have live jazz music sometimes. It's a really lively place to get a drink after work. I usually get the Flor de Paradis with Hendrick's gin, St. Germain, grapefruit juice, lemon juice, orange bitters, simple syrup, and Champagne. In terms of food, they have very simple bar food like sliders and oysters."
Bluestone Lane
1085 5th Ave., nr. E. 90th St.; 718-374-6858
"It's an Australian coffee shop that does really fantastic flat whites and general coffee drinks and a great lunch spot. I usually get their avocado toast or their brekkie board. You can always add on a poached egg or bacon. It's very fresh and has excellent presentation. And there's really delightful Australians working there. And the coolest part is that it's in this former church that got renovated."