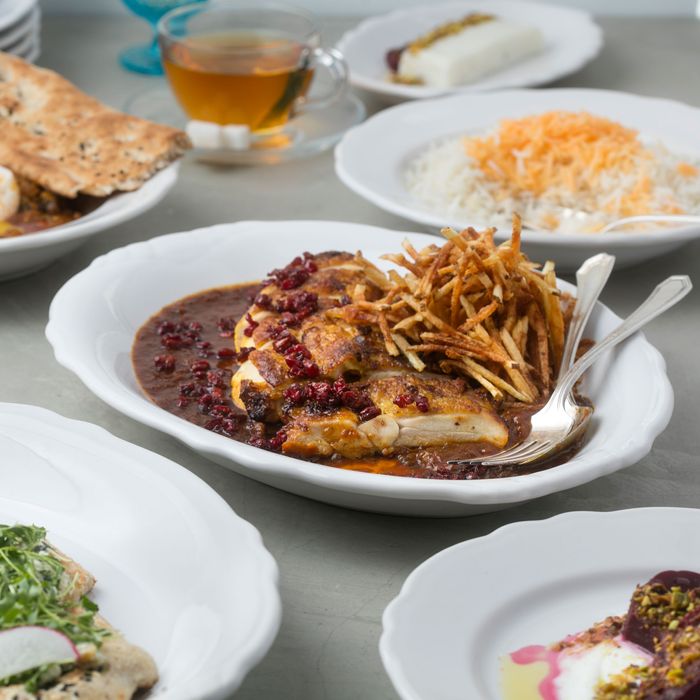 While New Yorkers tend to have adventurous tastes, restaurants anchored in French, Italian, East Asian, and Latin American cuisine still dominate the market. But some of the most transporting and interesting meals are happening in the kitchens of Middle Eastern restaurants, which are bringing the colorful and intense flavors of North Africa, the Levant, and beyond to dining rooms in Manhattan, Brooklyn, and Queens. Some of these restaurants are sticking to very traditional foodways, making the same dishes that their great-great-grandparents enjoyed, while others are taking a more global approach and exploring ways to bring Middle Eastern food into the 21st century. Here are 14 new or notable Middle Eastern restaurants from both sides of that culinary divide that you need to check out right now.
Sofreh
Cuisine: Persian
Two months ago, Sofreh quietly opened near the corner of St. Marks Avenue and Flatbush, and chef Nasim Alikhani may have a hit on her hands. Alikhani is taking dishes overflowing with traditional Persian flavors (read: rosewater, pistachio, mint oil, golden raisins, saffron, Persian cucumber, and more) and presenting them in a modern way in an equally modern setting (think white, everywhere). Come for the lamb shank served in a turmeric broth with fava beans or the honey-roasted beets drizzled with arbequina olive oil and a dusting of pistachios. And expect Alikhani or her husband to drop by your table at some point to ask how you're enjoying the meal.
Nur
Cuisine: North African and the Levant
Our own Adam Platt describes the food at this Flatiron restaurant as "flamboyant," and rightfully so. Chef Meir Adoni opened Nur with the idea that the foods of North Africa and the Levant could not only be modernized, but made high-end as well. That means smoked eggplant carpaccio with Feta, tahini, dates, pistachios, and rosewater; a sea-bass dish with freekeh risotto and charred cabbage; and a Syrian Caesar featuring puffed bulgur, romaine lettuce, and finished with a anchovy za'atar vinaigrette.
Yemen Café
Cuisine: Yemeni
The strip of Atlantic Avenue that stretches over Boerum Hill is a great place to cop imported spices and traditional foodstuffs from Sahadi's, but if you have a moment to sit and dine, step into Yemen Café. For over 30 years, this hole-in-the-wall restaurant has specialized in dishes of two varieties: lamb and chicken. We highly recommend the lamb haneeth, a slow-roasted lamb shank, the soul-warming lamb broth, or the chicken zorbian, which manages to elevate the chicken-over-rice found at every halal cart in the city.
Mekki NYC
Cuisine: Moroccan Fusion
This Moroccan restaurant's opening was overshadowed by the debuts of Oxomoco and Danny Meyer's Tacocina, but in the two months since it arrived in Greenwich Village, it has garnered mostly enthusiastic reviews from diners. The menu is inspired by owner Mekki Karrakchou's favorite foods from childhood, which the restaurant's executive chef, Luis Pena, learned to cook alongside Karrakchou's mother in Morocco. Among the standouts here is the shrimp dish with Moroccan chermoula, a popular garlic-, cumin-, and coriander-based marinade, and the eatery's chicken and lamb tagines. Throughout, you'll find some non-Moroccan fare, including a filet mignon with a poached egg and traditional briwate pastries stuffed with the nontraditional shrimp, cheese, or kale.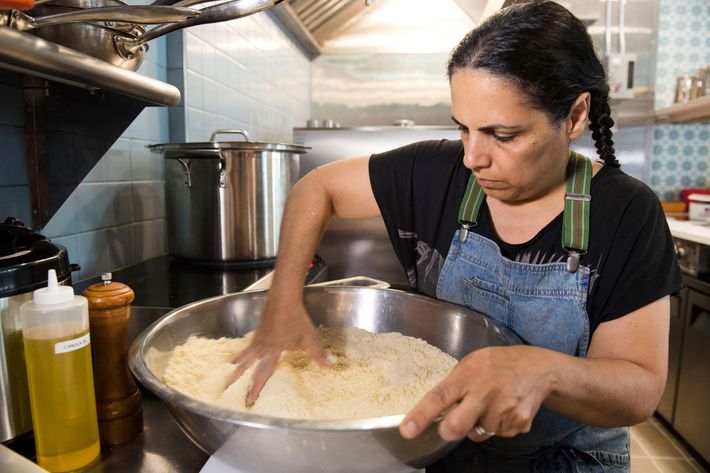 Taïm, Bar Bolonat, and Kish-Kash
Cuisine: Israeli
There's no doubt that Einat Admony has played a pivotal role in the rise of Israeli cuisine in the city. Though her flagship restaurant, Balaboosta, is closed (for now), the Israeli-born chef is still finding new ways to put the food she grew up eating on the map. Most recently, she introduced West Villagers to the ancient art of of hand-rolled couscous at Kish-Kash while the four-year-old Bar Bolonat continues to impress with its elevated take on Middle Eastern staples like kebabs and fattoush. At the same time, Admony's falafel empire is ever-growing with two new locations of Taïm coming to the Financial and Flatiron Districts this year.
Tanoreen
Cuisine: Palestinian
This year marks the 20th anniversary of Rawia Bishara's restaurant, Tanoreen, her ode to all foods Palestinian and, more generally, Middle Eastern. In that time, she's made Bay Ridge a destination for people seeking her delicious (and extremely affordable) takes on staples of the Palestinian diet, like musukhan flatbread served with sumac-dusted chicken and shulbato, a Bulgar wheat pilaf mixed with tomato sauce, chickpeas, and vegetables. But don't sleep on Bishara's more modern-minded dishes like the cauliflower steak with tahini and pomegranate or the mashi, which features baby squash and eggplants stuffed with rice and lamb in a fresh tomato sauce.
Almayass
Cuisine: Lebanese-Armenian
This Lebanese-Armenian restaurant has become such a staple that many forget that it's the U.S. outpost of a Beirut-born chain of restaurants. The atmosphere is friendly, and diners are encouraged to eat family-style, carousing over seven different types of hummus and staples of the Levantine diet like fattoush, tabbouleh, and shawarma, while also digging into an impressive selection of Armenian dishes, including subereg (flaky pastry with cheese and parsley), mantee (meat or spinach with garlic yogurt served in a boat of crisp pastry), and dolma, a dish where Italian eggplant meets tomatoes, rice, olive oil, yogurt, and lemon. Think of it as two countries for the price of one.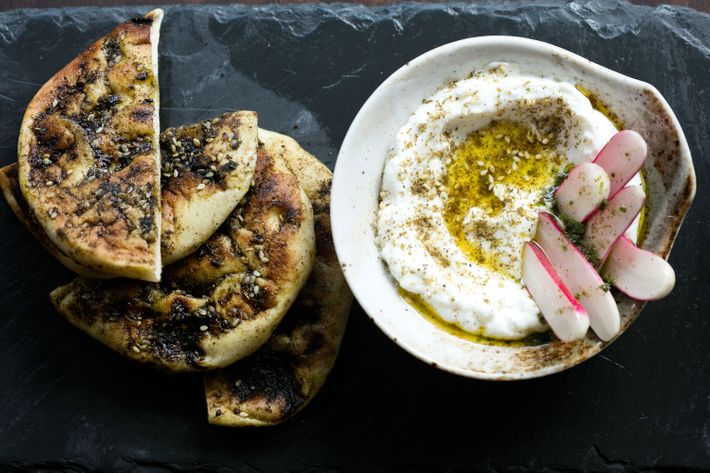 Miss Ada
Cuisine: Israeli
Fort Greene's Miss Ada walks a far more modern line than many of the offerings on this list. Chef Tomer Blechman, late of Einat Admony's Bar Bolonat, has remixed staples of Middle Eastern cuisine in fascinating ways, putting items like sweet-potato hummus, ginger aïoli-tinged baba ganoush, labne with Italian-made salmoriglio, and Israeli mole on his menu. The result is a menu that's refreshingly unexpected and perhaps best enjoyed in the space's sunny backyard.
Ilili
Cuisine: Lebanese
If you want unadulterated Lebanese food, Ilili is the place to get it. Chef Philippe Massoud comes from a long line of restaurateurs that traces its history back to Beirut. But while he's happy to showcase traditional dishes like baba ghannouj and batata harra (cubed potatoes spiced with coriander and Aleppo pepper) at his decade-old restaurant, there's no denying the man's appreciation for New York fine dining, which is why you'll also find rich duck shawarma and a 40-day dry-aged côte de boeuf on Ilili's eclectic menu.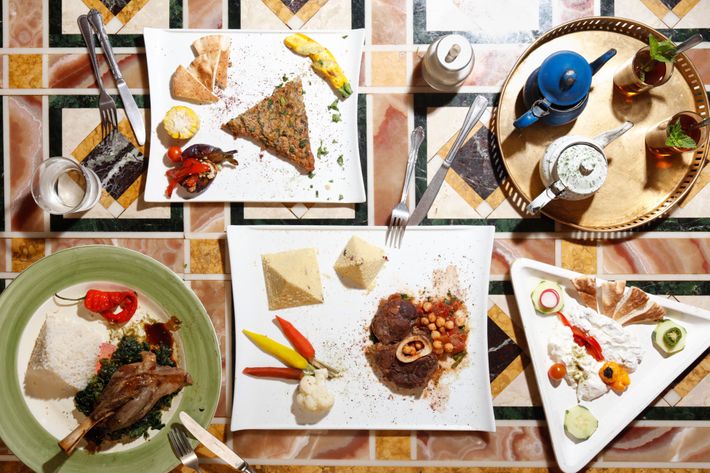 Mombar
Cuisine: Egyptian
What Flushing is to Chinese food, Steinway Avenue in Astoria is to Egyptian. You could spend a week trying all the eateries in "Little Egypt," but if you have time for just one, make it Mombar. Chef Moustafa El Sayed specializes in clay-pot dishes that are slow-cooked, creating fall-apart dishes like lamb with pomegranate, and braised beef shank in a tomato sauce. While you're there, don't sleep on egga (El Sayed's take on a frittata), the vegetarian-friendly couscous dish, or the homemade yogurt with olive oil, garlic, sumac, and za'atar.
Cafe Mogador
Cuisine: Moroccan
Cafe Mogador lives at the intersection of Morocco and France and has stayed pretty much the same since it opened in 1983, remaining family-owned to this day. Go for the mixed meze plate, a tour of Middle Eastern staples that includes hummus, tabouli, Arabic salad, and eggplant, as well as the roasted halloumi cheese appetizer. As for the main menu, it's all about the tagines, a Moroccan stew featuring chicken or lamb served with ingredients like preserved lemon, apricots, and chickpeas. But maybe avoid this place during the brunch rush on weekends when young East Villagers come to nurse their hangovers.
Ravagh Persian Grill
Cuisine: Persian
In many ways, Ravagh put Persian cuisine on the map for at least two generations of New Yorkers, starting with its Koreatown location, which opened in 1998. Today, the chain has five locations (three in the city and two on Long Island) and remains a good place to get introduced to the food of Tehran. Diners swear by the jujeh kebab, featuring chargrilled, lemon-saffron-marinated Cornish hen and the sambuseh, a Persian take on a samosa featuring chickpeas and herbs with a spiced chutney sauce. As for which of the locations to visit? The one on the Upper East Side on First Avenue is your best bet.