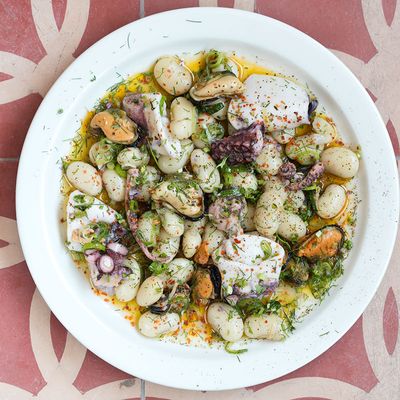 Butter beans with octopus, squid, and mussels at the seafood-centric Cervo's.
Photo: Melissa Hom
Long weekends are perfect for going out of town, of course, but they tend to be even more perfect for staying put and exploring your own backyard. The city's a little quieter, a little tamer, and places that are usually crowded have more breathing room. Which is to say that they're great for eating all sorts of things. Here are 14 restaurants you need to add to your long weekend to-do list. (Or, if you want to get started early, go head out sometime this week.)
Cervo's
43 Canal St., nr. Ludlow St.; 212-226-2545
What's not to like about Cervo's? Good vibe in a cool part of town and a perfect place for seafood lovers. All of that makes it pretty difficult to get through the doors, but this upcoming weekend, this spot from the Hart's team has plenty of open reservations. Feel free to drop by and see what all the fuss is about.
Madcap Cafe
387 Court St., nr. 1st Pl., Carroll Gardens; 929-337-6117
On Friday, head to Carroll Gardens for an all-you-can-eat crab fest at Madcap Cafe, a favorite of the Underground Gourmet. For $45, diners can sign up for either a 5 p.m. or 8 p.m. seating where there will be unlimited blue crab, corn, and Narragansett straight out of the cooler. Just call 929-337-6117 to secure your spot.
Paulie Gee's Slice Shop
110 Franklin St., at Noble St.; no phone
After a two-year delay, Paulie Gee's slice-focused restaurant is finally open in Greenpoint. The project was originally announced by owner Paulie Giannone in 2016, and ever since pizza heads have been hankering to get a Paulie Gee's pizza to go, which is against policy at the original location on Greenpoint Avenue. Among the pizzas the shop has been experimenting with is a Hellboy with pepperoni from Ezzo Sausage Co. and Mike's Hot Honey and a vegan "cheese" pizza.
The Backyard at Ada's Place
517 W. 38th St., nr. Tenth Ave.; no phone
Ada's Place, the bar at Legacy Records, just launched its own late-summer pop-up, which has been dubbed the Backyard at Ada's Place, a 12-seat tiki lounge on an outdoor patio featuring frozen cocktails and large-format drinks, including the $59 Shady Pines with three types of rum, sweet tea syrup, lemon, pineapple, and passion fruit, and a $41 Miami Vice (piña colada and strawberry daiquiri) for two.
Emmy Squared
Multiple locations
As Emily and Matt Hyland expand their pizza and burger empire (most recently to Nashville), it can be easy to lose sight of the simplicity and damn good food at Emmy Squared, their Detroit-style pizza shops in Williamsburg and the East Village. There are oh-so-many reservations available at both locations this weekend, so drop by and get Le Big Matt burger or a Roni Supreme (pepperoni pizza with Calabrian chilies).
Oxomoco
128 Greenpoint Ave., nr. Manhattan Ave.; 646-688-4180
Since opening in early June, Oxomoco, the wood-fired Mexican spot from the team behind Speedy Romeo, has been mobbed. Now, the Greenpoint Avenue restaurant has launched a brunch menu, featuring much of what you can get at dinner, plus three different brunch burritos with grilled bacon, chorizo, or roasted kale, a huevos rancheros platter, and masa griddle cakes with Oaxacan chocolate, banana, cajeta butter, and walnuts for dessert. Check out the full menu here.
El Vez
259 Vesey Street, at North End Way; 212-233-2500
If you'll be wandering around Fidi or Battery Park City over the long weekend, and you have kids in tow, taco-and-burrito bar El Vez is hosting a family-friendly Labor Day BBQ. Chef Darren Carbone will prepare chile-dusted chicken wings, guava- and chipotle-glazed pork spare ribs, and slow-cooked beer-can chicken with blue corn bread, jícama and cabbage slaw, and morita potato salad playing backup. There will also be burgers, hot dogs, and soft serve for kids, and margaritas for adults. The party starts at 2 p.m.
Fat Rice at Chefs Club
275 Mulberry St., at Jersey St.; 212-941-1100
Chicago's always-mobbed Fat Rice is the current restaurant-in-residence at Chefs Club in Nolita, and this is the perfect weekend to check it out: There are plenty of open reservations. James Beard Award–winning chef Abe Conlon is serving up Asian-Portuguese-inspired cuisine with dishes like Polvo à moda dos Açores — braised octopus, red wine, cinnamon, piri piri, potato, and preserved peppers — and his giant chili prawns with garlic, fermented black beans, white wine, and a lot of butter.
La Mercerie
53 Howard St., at Mercer St.; 212-852-9097
Marie-Aude Rose's La Mercerie very recently launched a new apéro menu, which has nothing to do with Aperol spritzes and everything to do with midday drinking and light snacking. From 2:30 p.m. to 5:30 p.m. every day, the café is serving up a strong list of aperitifs, from Lillet Blanc or Rouge on the rocks to Pineau des Charentes served neat, as well as four aperitif cocktails and a small list of bites, including a petit croque madame, "bonbons, biscuits, and fruit," and foie gras with toasts.
Essex Street Market
120 Essex St., nr. Rivington St.; 212-312-3603
For 78 years, Essex Street Market has been the Lower East Side's go-to food hall, long before places like Berg'n and the North 3rd Street Market opened. After protracted negotiations dating back a decade, the publicly owned market will move to the ground floor of a high-rise in November. Moving day is just around the corner, which means it's time to say your good-byes. We suggest stopping by Saxelby Cheesemongers, Ni Japanese Delicacies, and Shopsin's General Store to start.
Butler Bake Shop
40 Water St., at Dock St.; no phone
As the pastry chef at intimate New American restaurant Piora, Ryan Butler helped the now-closed establishment earn a Michelin star. A few years ago, he opened his own pastry outfit, Butler Bake Shop, in Williamsburg and now a second location is open in Dumbo on Water Street. The menu includes standbys like his peach toffee babka and the more savory herb-and-chili scone, part of a large breakfast menu. With a slightly larger space, Butler will also host $59 baking classes every Thursday starting in September.
Chez Ma Tante
90 Calyer St., nr. Franklin St.; 718-389-3606
If you appreciate restaurants that chug along, put out great food, and don't cause too much fuss, Chez Ma Tante is really the place to go. There's still time to scoop up a last-minute dinner reservation or grab a table for brunch at a place our own Adam Platt loved for serving the "best versions of classic European-inspired dishes in a stripped-down environment that lets the food speak for itself." Be sure to get the pancakes.
The Meat Hook
397 Graham Ave., at Jackson St.; 718-609-9300
Earlier this month, Williamsburg's the Meat Hook kicked off the Backyard Hook Up, a series of grill-outs with notable restaurants and breweries, including Fort Greene's Metta with Grimm Artisanal Ales and butcher shop Ends Meat with Other Half. This Thursday brings the union of Taiwanese hot spot Win Son and nearby Interboro Spirits & Ales. No tickets are required to attend, but the event is cash-only, so hit up an ATM before arriving.
Brooklyn Cider House
1100 Flushing Ave., nr. Knickerbocker Ave.; 347-295-0308
Did you really live your summer life to the fullest if you didn't attend a clambake? Well, you have one more chance to correct that. On Sunday, September 2, Brooklyn Cider House will host a clambake at its huge space in Bushwick. For $27 (advance) or $32 (door), guests will get a clambake platter with shrimp, clams, mussels, calamari, corn, and potatoes, and a free five-pound bag of new-season apples from the cider house's orchard upstate. And, of course, the housemade cider will flow freely. Purchase tickets here.
Existing Conditions
35 W. 8th St., nr. Macdougal St.; 212-203-8935
You've probably heard of Existing Conditions, the fancy cocktail bar from the superstar team of Dave Arnold, Don Lee, and Greg Boehm, but for some reason you haven't been yet. This is the weekend to fix that! Stop by for quirky and highly scientific cocktails minus the gimmick — and all in a nice, comfortable space you'll actually want to hang out in.