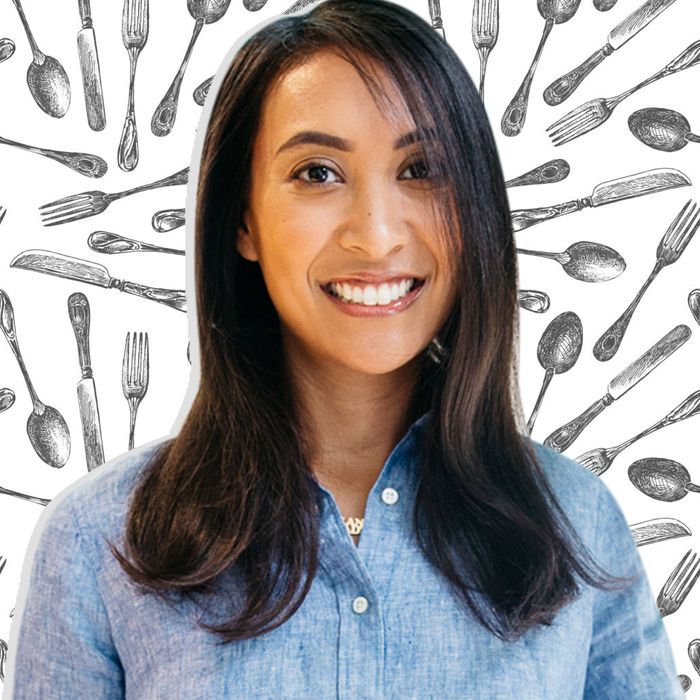 Eliza Blank.
Photo: Masha Maltsava
Even the woman behind one of the city's most popular plant shops knows that a bunch of houseplants won't cut it when you need a proper dose of Mother Nature. That's why The Sill CEO Eliza Blank and her husband purchased a home in the sleepy town of Stone Ridge, New York, a few years ago. "We basically decided to draw a two-hour circle around the city," says Blank. "Because we didn't want it to be impossible to get to, but we also wanted it to be the type of destination where you had to commit to it for the full weekend."
With half a dozen small towns within driving distance, Blank and her husband have made it their mission to try the majority of the great restaurants along the Hudson River and inadvertently created a guide to planning a perfect food-centric weekend trip. "The food up there is surprisingly good and naturally farm-to-table," says Blank. "Everybody is considerate and gets local fresh ingredients, so it's all seasonal. We've had no problem finding awesome places to eat." Here are her favorite places to grab a meal just outside the city.
The Spy Social Eatery
155 Main St., at Old Rte. 213, High Falls, New York; 845-687-7249
"It's owned by this couple, Brigitte and George, and everybody knows them; literally everybody knows them who eats there. It's really pretty; it's where you meet locals who either live there full time or weekend there. The food is good, it's not super expensive, and they change their menu every night. It's American bistro style: My husband always gets the burger, so he's boring, but I'll get the salmon dish or they'll have a pork chop, or they'll do a meatloaf in the winter. It's just a really nice atmosphere."
Butterfield at Hasbrouck House
3805 Main St., Stone Ridge, New York; 845-687-0887
"If you're up there for a special occasion, like my parents were visiting and my dad took my mom there for their anniversary, it's great. Their food is a little bit more elevated, and they also have a barbecue hut in the back next to the pool, which I've heard is really good. Obviously, most places up there have a lot of meat on the menu because you are close to farms, so we'll get a really amazing steak or an amazing pork dish. But then they'll do exceptional salads because everything is just fresh out of the garden."
Sweet Sue's
49 Main St., nr. State Hwy 214, Phoenicia, New York; 845-688-7852
"I almost hesitate to put it on the list because I don't want to ever have to wait for a table at Sweet Sue's. They're known for their pancakes and the pancakes will literally blow your mind. They have 20 different types of ways in which they serve pancakes, but I can barely finish one pancake. That's the level you're dealing with. But then it's fun because you'll go and watch people eat a stack of them, and you're like, How is that even possible? But we exclusively go there to get pancakes. You have to get the pancakes. They're literally the best pancakes that exist, as far as I'm concerned. That's what they're known for. So we love going there in the winter, or when it's rainy. And that's a fun spot."
Food Studio
610 Warren St., nr. S. 6th St., Hudson, New York; 518-828-3459
"This is a Southeast Asian restaurant that is shockingly good. Because it's upstate, they use fresh ingredients and their menu changes often, but they just have amazing noodle dishes and rice dishes; you literally can't order anything on their menu that isn't really, really yummy. I would say it's also a good spot for the winter because they do a lot of ramen dishes. And be sure to check out the drink menu, too. It's just a nice, kind of casual but really tasty spot in Hudson."
Gaskins
2 Church Ave., at Main St., Germantown, New York; 518-537-2107
"Germantown has nothing in it. There's like a main street that has a deli and a hardware store and literally nothing else. But Gaskins has been there for two years. It's an elevated food experience, but it doesn't feel fancy. So they'll usually have a market fish; they'll have like some kind of beef or pork dish — it's the type of place that you can order chicken and you know it's going to be really good. I would say it's probably more of a hipster vibe than any of the other spots. Also definitely a destination. And they have a really tight menu that fits on a single sheet. Everything's going to be good, you just don't need a ton of options."
Mercato
61 Market St., at Cherry St., Red Hook, New York; 845-758-5879
"Mercato has really, really good Italian food. We are always fighting over which pasta to get. (They also have amazing risotto.) It's small, intimate, and dimly lit, so you can make it feel like a special occasion. You end up ordering four courses and wanting to roll yourself out of there. But in a worthy way. That's the type of place where we'll literally order an appetizer, a pasta dish, a main course, a dessert; you want to drink wine there; we'll eat the bread. That's a full, full meal."