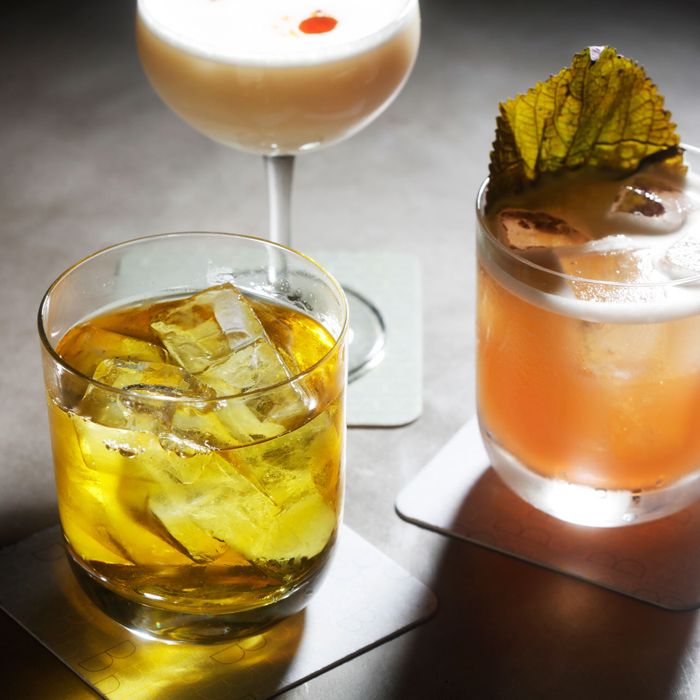 Have a drink. Or three.
Photo: Melissa Hom
Every month in New York, there's a bewildering number of new dishes to eat, drinks to imbibe, and food-themed events to attend. Often, the hardest part is just figuring out what's really worth your limited time. So Grub kicks off each month with a curated collection of dishes, drinks, and events that should absolutely be on your agenda. Make your plans now.
1. Have a diner-style brunch at a new bar that's all about rum.
It's been a good summer, Grub knows, for cocktails in New York. And summer, of course, is for drinking rum. One new place you might want to do that is Paradise Lounge, Ridgewood's new tropically minded, rum-crazy bar that's starting Saturday and Sunday brunch this weekend. The food from Ed & Bev's, which along with its regular weekday menu of feta poppers ($8) and such, will include some brand-new dishes like a Coney breakfast hash ($13) with griddled hot dog and chili. As for the drinks, the menu is a Who's Who of rum and Caribbean cocktails: the Queens Park Swizzle ($10), Ti' Punch ($9), and a triple threat of highballs (all $9) in Wray & Ting, Mt. Gay and tonic, and the Cuba Libre. There's also a "rum shop" service, a nod to a Barbados-born approach to drinking in which $16 will net you a 200 milliliter bottle, ice, and a choice of mixer.
2. Then go drink cocktails made with smoked cedar and miso-honey in Williamsburg.
While on the topic of cocktails: Williamsburg's Bar Beau is no longer all-day in name only, as it was when it opened earlier this summer. The owners have, at long last, opened the back bar, a 65-person retreat designed by of-the-moment MP Shift. The house drinks here have a lot less rum and are more avant-garde; think toasted rice in the bourbon-based Radio Flyer ($15), smoked cedar in the Papa's Toque ($15), and miso-honey in the Veleveteen Rabbit ($15). There are classics, too, like the Last Word ($14), giving you plenty to drink while you think about yours.
3. Go to an upstate party on a farm where an all-star lineup of chefs will cook everything over fire.
Looking for a very good excuse to get out of the city on August 11? Head up to Hudson, where from 3 p.m. to 9 p.m. Zak Pelaccio will host a live-fire cooking event at his Fish & Game farm. Thrown in tandem with reservation app Resy and Ketel One, Play With Fire (tickets are $195) will bring an excellent cadre of cooks together including Elise Kornack, formerly of Take Root; King's Jess Shadbolt and Clare de Boer; Metta's Negro Piattoni; and Oddfellows' Sam Mason. The food will be cooked on one-of-a-kind apparatuses created by sculptor Kris Perry (with Pelaccio's help) and there will be performances by Club d'Elf and others. The Broken Shaker's Elad Zvi and Atla and Cosme's Yana Volfvson will make the cocktails, plus there will be wines from Fifi Imports, Goatboy Selections, and other importers and distributors. All proceeds benefit the Heirloom Foundation, which benefits hospitality workers dealing with work-related and quality-of -life issues.
4. Attend a week-long festival that's all about women in beer.
It's true: Women do, in fact, drink and even enjoy beers. To celebrate and connect women in craft beer, Hop Culture and self-described "beer nerd" Grace Weitz have organized Beers Without Beards, a week-long series of events (prices vary). There's a night of "Women in Beer History" with the National Museum of American History, a beer dinner and panel with Stone Brewing, and women in beer media. Capping the week off is a tasting festival at the Well in Brooklyn (August 11, noon to 4 p.m.,) where you'll be able to cheers with beverages from more than 20 women-owned or -led breweries like Interboro, Eagle Rock, and Grimm Ales.
5. But, before that, go get some beer at one of New York's favorite breweries.
While we're talking women in beer, pregame the women in beer festival by heading to Grimm Ales (owned by Joe and Lauren Grimm) for its can-release on August 4. It's bringing back its extremely summery passionfruit Berliner weisse, as well as debuting a double IPA, Gravity of Smile, for those who like it bitter. Not to mention that this is a good excuse to finally check out the new brewery, if you haven't, or stock up on beers for the beach.
6. Go on a mortadella crawl, because why not?
Black Seed Bagels' August chef collaboration with the Franks of Frankies fame is all about the (Franks' housemade) mortadella, which gets piled on a pretzel bagel and is topped with a fried egg and sweet and spicy mustard. After having that you'll want to head to the new cocktail bar Katana Kitten for its Fra'Mani mortadella katsu sando ($15), which means — yes — panko-fried mortadella. Finally, it's time for the double pizza feature. Pop by the new Emmy Squared in the East Village for the muffaletta-inspired ($21) square pie, then traipse across the river to Brooklyn's Ops, home of the very excellent mortadella and pickled pepper rojo ($19).
7. Eat at Chicago's Fat Rice without actually going to Chicago.
One of Chicago's most acclaimed restaurants will sprout up in New York: From August 13 through October 13, Abe Conlon and Adrienne Lo's Fat Rice will take over Chefs Club New York. The restaurant takes its cues from Portugal and the wider world it colonized, highlighting Macau, and Conlon (who won the James Beard Award for Best Chef: Great Lakes) serves dishes like piri-piri lobster with coconut, eight-treasure chicken, and more-offbeat Portuguese wine. Those who saddle up at the bar will get to eat the Brazilian cheeseburger Xtudo, with multiple toppings included heart of palm and ham, and the private dining room will be transformed into a version of the Ladies Room, the bar inside Fat Rice.
8. Pop into the new café at designer Todd Snyder's flagship store.
Going shopping? At designer Todd Snyder's flagship off Madison Square Park, the café has been transformed this summer. Keeping things local, it'll serve a selection of New York beverages. That means coffee and tea from Brooklyn companies Pipe and Tabor in the morning and In Pursuit of Tea for the afternoon, and beer from Brooklyn's Threes Brewing, Finger Lakes canned sparkling wine Vinny, and more selected by importer Skurnik. To eat, there's a short rib and horseradish mayo sandwich ($14,) rice krispies ($4) to snack on, and a couple salads.
9. Watch a movie about Filipino-American chefs during a night celebrating Filipino-American culture.
If you're interested in Filipino-American food and culture, you'll want to clear your schedule for August 4. They're going all-in on adobo for the final night of the 41st Asian American International Film Festival, with an evening of events centered around filmmaker Alexandra Cuerdo's Ulam: Main Dish. The documentary depicts the rise of the country's contemporary Filipino-American chefs, and after the screening Cuerdo will be joined by producer Rey Cuerdo, chef Alvin Cailan, restaurateur Nicole Ponseca, chef Miguel Trinidad, and cinematographer John Floresca for a panel. Following the panel, the Asia Society will host Ponseca and Trinidad's trio of restaurants (Jeepney, Maharlika, and Tita Baby's), Cailan's the Usual, and Woodside spot Ihawan for food, drinks, and dance.
10. Check out a new Dominican restaurant in Spanish Harlem.
East Harlem has long been a hub of Latin cuisine, with restaurants like the Puerto Rican spots Cuchifritos and Lechonera El Barrio and the Mexican al pastor specialist Taco Mix. From a looks standpoint, the new Santiago Beer's Garden has more in common with the colorfully Caribbean Lolo's Seafood Shack: It's sunny and spacious, with brick walls, lots of wood, and a large outdoor area that's partially enclosed by a glass roof. Areas of the outside walls are painted vibrantly optimistically, one from the Brazilian muralist Letícia Anguito depicts a bucolic country town with a rising sun and a Skittles rainbow of colors. The food is affordably priced, traditional Dominican cooking like pernil ($12) or roasted pork shoulder and rabbo ($14) or stewed oxtail, and by mid-month the owners expect to get their liquor license and be able to live up to the restaurant's name.
11. Drop by a bagel pop-up at a great Taiwanese restaurant.
East Williamsburg's hopping Taiwanese restaurant Win Son will host Buenos Aires's Sheikobs Bagels for a pop-up on August 4 from 11 a.m. to 3 p.m. The menu reads like the fever dream of a Jewish New Yorker raised in Taipei: Sheikob's kuzine ($7) is a sesame bagel with fermented tofu and scallion cream cheese; the Gaucho Chino ($13) tops an everything bagel with five-spice gravlax, shallots, and tomato gribiche; and the Bodega Nutrition is a spin on Taiwan's nutritious sandwich. The "nutritious-style" bagel ($13) comes with a shrimp cake, fried egg, pickled pineapple, and jalapeño.
12. Have chicken wings for your appetizer and teriyaki chicken for your main in Bushwick.
The perpetually mobbed Momo Sushi Shack is Bushwick's de facto local haunt for rolls, but its most popular dishes include its "pork betty" and Japanese-style fried chicken. Perhaps taking a page out of the Blue Ribbon playbook, its owners have opened Momo Chicken Shack in what was the home of their sandwich shop and bar Hi Hello. The menu sports its sister restaurant's karaage ($9), along with miso wings ($7), buttermilk marinated tenders ($9), and teriyaki ($11), along with sides like nori fries ($4) and an everything bagel onigiri ($4).
13. Then drop by a Korean fried chicken specialist's new restaurant.
Turntable is a New York favorite for that classic pairing of Korean fried chicken and vinyl records, and now its owners have opened a restaurant they're billing a "Korean gastropub." Called Turntable Rock Café & Lounge, there's the same emphasis on music but with a unique menu featuring dishes like the Aloha bulgogi taco ($15 for two) with beef brisket and pineapple and shoestring fries ($13) smothered with bacon, sour cream, jalapeño, cilantro, and sauteed kimchee.