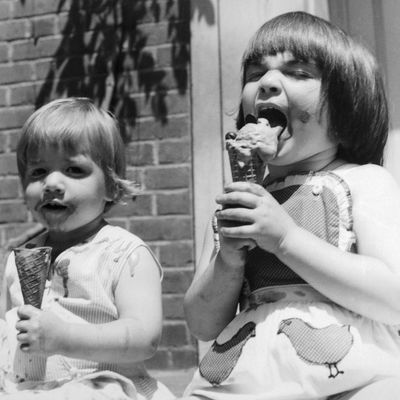 There's only so much time left to do this.
Photo: Bettmann/Bettmann Archive
One day it's June and you have the whole summer ahead of you. Next thing you know, you wake up and it's August. The clock is ticking. With that in mind, it's time to cram in all the activities you won't be able to do once it cools off (or once everyone gets back from out of town). Here are a dozen ideas to get you started.
1. Have a focaccia picnic in Central Park.
What's a day in the park without a proper picnic? Instead of forgetting until the morning of to make any food, go to Leonelli Focacceria e Pasticceria. The speciality of the house is, of course, focaccia ($5.50 for a slice, $20 for a half-sheet, or $40 for a whole sheet), an ideal picnic food in that it doesn't have to be hot. Round out your park buffet with pastries like sfogliatelle ($4.25) and cookies by the pound ($22.50, or five for $4), including biscotti and Italian-American classics like tricolore.
2. Drink all the spritzes.
It may be the summer of the Aperol Spritz, but the city is filled with more unique options, too: Leonelli Taberna's Aranciata Rossa ($15) is made with bitter Capelletti, the Sicilian blood-orange liqueur Amara Rossa, Prosecco, and soda; Nitecap's Finders Keepers ($16) pairs sparkling rosé with dry vermouth and an aromatic trio of elderflower, Douglas fir, and violet; and Fausto serves the Thistle Spritz ($14) with Don Ciccio C3, Cynar, lemon, and soda. Maybe, though, your bubbly-drink inclinations lean toward highballs. If so, book it to Frenchette for a calvados-and-tonic ($14). It's the sort of drink that'll make you forget about the swampiest of weather, and you'll wonder why you weren't drinking it all summer long.
3. Go to the Meat Hook for a backyard barbecue featuring local restaurants and brewers.
There are only so many weeks left to get out of town and grill. Don't fret it: You can eat better without actually leaving the city. Or cooking yourself, for that matter. Every Thursday from 6 p.m. to 9 p.m., the Meat Hook opens up its backyard for an evening of burgers, sausages, and smoked meats. Starting this Thursday through September 13, it'll instead host a New York restaurant and brewery for a night of meats and beverages. First up are Ends Meat with Other Half, when you'll get to eat "stoutwursts" and potato salad, followed by Yuji Ramen and KCBC, who will serve tuna burgers and smoked swordfish collar. The rest of the lineup: Metta and Grimm Ales, Win Son and Interboro, Gramercy Tavern and Industrial Arts, and finally, Brooklyn Grange and Threes Brewing.
4. Eat all the good produce, before it goes away.
You'd be wise to focus your eating endeavors on good produce for the rest of this month, so here's a start: Head downtown to Bessou for charred corn ($7) dipped in shoyu-koji butter, then across the Brooklyn Bridge the next morning to Hart's for its brunch BLT ($15, or another $3 with chorizo). At the Bombay Bread Bar, order the summer bean roast ($14) — with mustard seeds, chilies, and coconut — and pop by Empellón in midtown for a different kind of fruit salad of sliced Rainier cherries ($18) with queso fresco. For dessert, abcV uses summer's berry bounty for a dessert with coconut custard ($13) and yuzu-mint gel.
5. Check out all of New York's new ice cream.
Can you eat ice cream in the winter? Sure, but like eating soup in the summer, it's just not the same. So clear your calendar, gear up, and eat as much ice cream as possible before it's cider-doughnut season. Start with the new Ample Hills Factory scoop shop's the Hook, with burnt-sugar ice crema, stroopwaffles, and salted fudge. Then head to Republic of Booza, the Williamsburg shop dedicated to the Middle East's stretchy and chewy ice cream, and OddFellows Coffee & Cream, where you can get a cone of a swirl of espresso and lemon soft serve ($6). And it might not be ice cream, but you should go to Kreuther Handcrafted Chocolates for the shaved chocolate ($5), which is like chocolate sorbet (made by a master) meets kakigori. Just don't forget Mister Softee.
6. Plan your final Rockaway Beach days around these restaurants.
Have plans for one last beach day in the Rockaways this summer? Why not make a day (of meals) of it? However you're getting there — by bike, car, walking from your house on Beach 92nd — make sure you're landing point is near Rockaway Beach Bakery. Cure your yawns with cold brew, then get a breakfast spread like, for example, the excellent pecan sticky buns ($5) for something sweet, and a bacon, egg, and cheese on a buttermilk biscuit ($7) for something savory. Maybe take a nap in the sand. For lunch, hit the boardwalk for a burger ($7.5) from Rippers or chicken shawarma ($11 for a sandwich, $15 for a plate) from Samesa. When it's time to pack up and go, hit the neighborhood's best restaurant, Uma's, for manti ($9), shish kabob ($6 to $10), and other Central Asian food.
7. Eat smoked lamb carnitas in a Brooklyn backyard.
For its August 19 "chef soirée" backyard barbecue (tickets are $45 for just food or $60 for food and two drinks), the Columbia Street restaurant Popina will bring in Felipe Donnelly of Fort Greene's Latin spot Colonia Verde. Here, he'll serve dishes like Colombian-style beef tenderloin, smoked lamb carnitas, and corn salad with mint and cumin dressing. To drink, there will be Transmitter Brewing beer, mezcal, and more.
8. Snack on satay at the Indonesian Food Bazaar.
The Indonesian Food Bazaar is one of those events that reminds you what's so great about New York: Hosted in the parking lot of an Astoria mosque, it's the place for some of the best Indonesian food you'll eat in this city. The events are warm and friendly, and the next one is this Saturday, August 11. Snack on satay, slurp on a bowl of fishy bakso, and get some snacks to take home with you. Make it an all Queens day and head to the Queens Night Market at night, the seasonal, outdoor market that the Underground Gourmet calls "the New Yorkiest of all."
9. Go to a beer-and-music festival on Governors Island.
Beer and music are always good. That doesn't mean you can't use them to wind summer down. On September 8 and 9, Pitchfork's second annual OctFest (tickets are $75 for one day, $140 for two) returns to Governors Island. At this celebration of all things brewed and recorded, there will be 90 breweries, including Boxing Cat, Bogota Beer Co., and several, like DC Brau, making it here for the first time. There will be food and music, too, from artists and acts, including Vince Staples, the Flaming Lips, and No Age.
10. Head upstate to a barbecue competition.
Kill two smoked birds with one stone and head upstate to the Hudson Valley Ribfest (admission is free, VIP tickets are also available), a food festival and barbecue competition. The event is held from August 17 through 19 in a New Paltz park, and you'll get to eat ribs from the likes of Big Kev's BBQ, get drinks at Tuthilltown Spirits, and attend two different contests. Saturday is the New England Barbecue Society Grilling Contest, while Sunday it's the Kansas City Barbeque Society Grilling Contest.
11. Go to a tiki contest with some of the city's best bars.
Get your tiki on with the Official Tiki Thrown Down (tickets are $50 or $65 for VIP), part of the Cocktail Expo. On Sunday, August 19, at Melrose Ballroom, some of the city's best tiki and tiki-ish bars will be paired with top rums for a cocktail contest. Expect Mother of Pearl, Paradise Lounge, Broken Shaker, and others.
12. Have one more lobster roll.
Summer is for, among other things, lobster rolls. You can't beat eating one at a seafood shack, but why limit yourself? On September 1, the Hester Street Fair will host its fourth Lobster and Beer, an afternoon of lobster roll, whole lobsters, tacos, and other lobster things. Your mission: Eat as much lobster as possible.