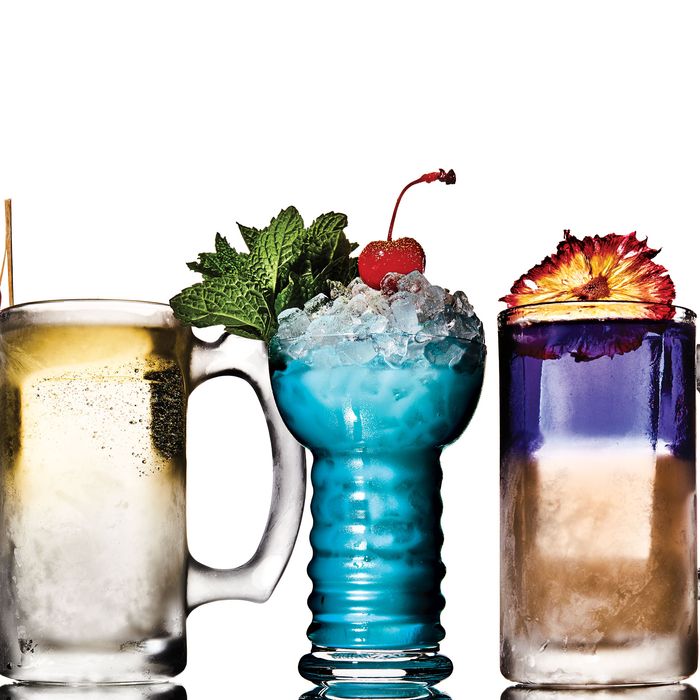 From left, Katana Kitten's Shiso Gin and Tonic, Toki Highball, Calpico Swizzle, and Bright N' Sunny.
Photo: Bobby Doherty/New York Magazine
In 1993, when most of the city was gulping Cosmos, a tiny bar opened inside an East Village izakaya. The owner, Tony Yoshida, modeled it after ones in Tokyo: elegant, clandestine, with a focus on technique and perfectionism in everything from ice to garnish. Angel's Share was soon frequented by customers like a 20-something Sasha Petraske, who studied the staff's grace and dexterity, the smooth-motioned hallmarks of Tokyo bartending. It served as inspiration for his own spot a few years later: Milk & Honey, which revolutionized the city's (and country's) bar scene with a new wave of "civilized" drinking.
A quarter-century later, the seeds Angel's Share planted have sprouted not only the speakeasy-style cocktail shrines in the Milk & Honey mold but a new kind of bicultural bar, melding tenets of Japanese mixology (itself an elaboration of pre-Prohibition American bartending) with Asian ingredients and flavor profiles in a setting devoted equally to Tokyo precision and high-volume New York speed. What seems like a recent trend is actually the product of a cross-cultural exchange that's been unfolding for decades. In 2003, Okamoto Studio in Queens began creating Japanese-style "crystal clear" ice; in 2011, Dutch Kills owner Richard Boccato launched Hundredweight Ice and made cubes and blocks like those used in Tokyo. Bar-world impresarios founded Cocktail Kingdom and sold Japanese barware — like the tall, narrow jiggers that quickly appeared on bar mats around town. It was only a matter of time before the recipes began reflecting a similar influence.
The unrushed, balletic bartending you see in Tokyo's Ginza neighborhood may never prevail in multitasking New York. But Japan's devotion to the craft is visible in the focus and flavor of a new generation of Japanese-inspired New York bars. Here, seven recent arrivals.
Katana Kitten
531 Hudson St.
Cocktail Kingdom founder Greg Boehm teams with Japanese-born bartender Masahiro Urushido and James Tune (Boilermaker) to open a Japanese-American cocktail bar. Urushido looks to pair the perfect execution of a Ginza drinks parlor with the high-volume cheer he knows from Saxon & Parole, where he cut his teeth.
Try these: the Shiso Gin and Tonic (gin, shiso, lime, tonic water); the Toki Highball (Suntory's Toki blended whisky, lemon oil, koume plum); the Calpico Swizzle (gin, Nigori sake, the yogurtlike drink Calpico, tingly sansho pepper, Champagne, blue curaçao); and the Bright N' Sunny (rum, lemongrass, ginger, butterfly-pea flower).
Tokyo Record Bar
127 Macdougal St.

Make reservations for late-night "listening sessions" at this basement lounge from Ariel Arce, who was inspired by the "jewel boxes of vinyl in Japan" (on one visit, a DJ spun John Mellencamp records).
Try this: sake from a list color-coded by taste; a sake cocktail like the tart yuzu highball.
Straylight
32 Mulberry St.
A basement-level "concept" bar below full-service izakaya Juku. The owners and designers are a pair of artists who aimed to make the bar look like a "strange wellness spa."
Try this: the Old Goat (genever, myoga ginger, daikon); a $60, two-hour cocktail omakase.
Bar Goto
245 Eldridge St.
The closest New York comes to a Ginza-style cocktail bar, says Urushido, who refers to Bar Goto owner Kenta Goto as Kenta-san: "The aesthetic, the flavors, the visuals, the aroma; it's very Japanese."
Try this: the Yuzu Sansho Sour (gin, yuzu marmalade, sansho pepper, and its leaf as garnish).
Bar Moga
128 W. Houston St.
Stop by this serene space on Wednesdays, when expert Kayoko "Coco" Seo (who trained under Angel's Share's Shingo Gokan) does tastings of a different Japanese spirit each month.
Try this: the Sleepwalk, which pours yuzu omoi sake and lemongrass shochu over pebble ice.
Alley Cat Amateur Theatre
The Beekman Hotel, 10 Theatre Alley
No surprise that Serge Becker — the Box, La Esquina — would model his latest after "hidden" bars in Japan (but with a Wall Street vibe). Recently, a string quartet played Stevie Wonder.
Try this: The Head in the Clouds pairs Thai-basil-infused vodka and unfiltered sake.
The Hidden Pearl
621 Manhattan Ave., Greenpoint
Brand-new bar in back of a ramen shop; from the team behind Donna, who claim an Okinawan inspiration. The Japanese aspect comes out mostly through ingredients.
Try this: The Cloud Busting blends gin, tonic, and yuzushu, sake spiked with yuzu.
*This article appears in the August 6, 2018, issue of New York Magazine. Subscribe Now!