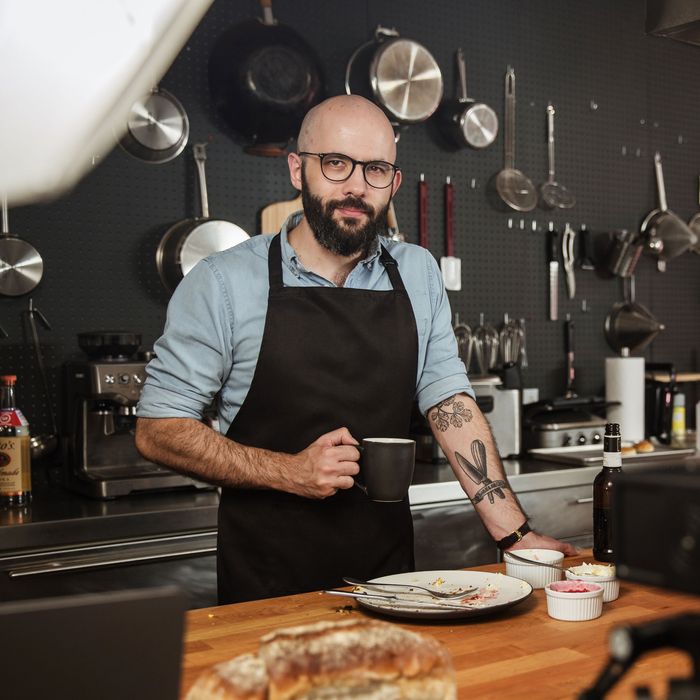 Rea, at his home and studio in Soho.
Photo: Scott Heins
It's entirely possible that you don't recognize Andrew Rea's face, but you've likely seen his torso, witnessed his cooking skill, and listened to his soothing baritone voice as it walks you through a surprisingly precise recipe. As the creator of YouTube's immensely popular Binging With Babish, Rea made his name re-creating iconic movie dishes like the Goodfellas prison pasta, Pulp Fiction's Big Kahuna Burger, and the ratatouille from, um, Ratatouille. This week, Rea worked on a new dish from Phantom Thread ("for the hungry boy"), and experienced his first three-Michelin-star meal. Read all about it in this week's Grub Street Diet.
Thursday, August 23
Breakfast was espresso and toast. I love breakfast food, but I'm generally not very hungry in the morning. So, I just whipped up espresso. You're going to find that's the theme here.
I have a Breville machine. I've been wanting an espresso machine for years, and the second I set it up, ten people in the comments are like, "What is with this weak-ass espresso machine?" They pointed me to these machines and I looked them up, and they're $2,000 or $3,000 with a grinder and the espresso machine separate. I'm like, "Guys, I don't give that much of a fuck about coffee. This is my house; I'm just trying to set it and forget it."
Then lunch was at Le Bernardin, which I didn't do on purpose, I swear. I had salmon rillettes, lobster tagliatelle, artichoke confit, petit filet, coffee caramel crémeux, bourbon, and espresso. Then I took a nap. I had that reservation for a solid month and a half. I've always wanted to go there and I figured lunch is a more affordable time for all the high-end tasting menus, so I decided to make my way up there. I've been trying to go to more high-end restaurants now that I have the means to. I have a laundry list of places I want to go to. I've never been to, like, Eleven Madison Park. I recently went to Daniel, which was fabulous. It was a real experience. But Le Bernardin was my first three-star restaurant, so that was very exciting.
For dinner, I had one slice of margherita pizza from Rubirosa because we were there for an industry event at Patreon and they had pizza. I was still full from lunch, but I grabbed a slice. It was good, they have solid pie.
Friday, August 24
Breakfast was, as usual, espresso.
Lunch was a salad with pomegranate, tomatoes, Feta, and chicken from Made Nice, the Daniel Humm place. Even though it's a delivery salad, it's all well-posed. The chicken's still got the skin on it; it's nice and crisp. I've only been there once and then I went on Caviar and saw that they delivered here, and I was like, That's where I'm getting lunch from now on. Now that I live in Soho, after living in Harlem for two years, the food's definitely healthier. The stuff Harlem is known for is deep-fried and slow-cooked and lots of butter and lots of bread and waffles. I enjoyed that a great deal, but it's nice to have a Sweetgreen around the corner.
Actually, something that totally blew my mind was that I lived there for two years and the whole time I was there, there was this sushi place, this hole-in-the-wall, and I was like, Eh, one day I'll order in from there. And then one day I was like, I feel like sushi tonight; I'm gonna check it out. And I go in there and there's a Michelin star hanging on the wall. It was Sushi Inoue and it was two blocks from my apartment. I only got to try it once, but the omakase is killer.
Then I moved down to Soho and made a major investment in renting my new place because of the kitchen. It didn't have to have the view or the rooftop or anything. The kitchen was the main selling point because it's perfect for what I'm doing. It has a full space for an island layout, two tables, and a stove in the middle of the room. It was made for making the show. It's still coming together and I'm thinking of reorganizing it a bunch. At the old place, I had to move the camera when I wanted to open the fridge. It was very cramped in there. I almost stopped making the show when I moved there because I couldn't find the right setup, and then I turned the table and realized that I should shoot an entirely different side of the kitchen. I do miss the natural light that place had, though. I'm working with a friend to figure out the lighting here because it looks so much like a studio.
Anyway, after that nice, healthy lunch, I ruined it with johnnycakes and breakfast sausage because I had to eat it for the show. It was from The Sopranos when Vito flees Jersey because they find out that he's gay. Overall, my shooting schedule is pretty sporadic and hectic. It's what needs to be done when it needs to be done. I'm leaving for California soon, so I want to have a couple of episodes under my belt, and for the first time ever, I'm finally getting a backlog going, which I've never had. Never been able to have a couple in the bank just in case I want to get out of town or if I don't have time.
Episodes come out on Tuesday morning and there's usually a Monday-night scramble. I'm still cooking or I'm still editing or whatever. This is a very small operation, and one of the unfortunate parts about the structure of the show is that I need to do voice-over and I don't write a script. I have been editing it since the beginning, so I've gotten this kind of rhythm going. The show has to hit certain marks, and I've tried outsourcing it, but I end up just editing anyway. I'm still doing the creation of the show, front to back.
Dinner was leftovers from a Blue Apron meal. I decided to just do it. Everyone thinks I eat crazy great food all the time and I'm constantly cooking for myself. I love cooking, but I do it so much for the show, I don't have the energy to do it myself and go out grocery shopping. So, it's actually really nice to be able to make a fresh, healthy meal, and I don't have to put any thought into it. It was curry chicken with coconut rice and zucchini. (I swear I'm not sponsored right now.)
Later, I had people over for drinks. I'm a big whiskey drinker. That sounds bad. Let's say, I prefer whiskey. I got a bottle of Angel's Envy Cask Strength, which I've always wanted to try, and it was delicious. And I also got a bottle of Booker's, which is a lovely Kentucky bourbon. I've also been all about the James Bond Martini, the Vesper from Casino Royale, which is a great Martini for not having any olives in it. And this summer I've been all about Aperol spritzes because it's the year of the spritz.
I recently did an episode about the basics of cocktails and caught a lot of flack for it because people said I did some things wrong. But I don't think people realize that maybe half of the things I'm making on the show, I'm making for the first time. I'd never made scones before. I've never made johnnycakes. I've never stuffed sausage before. Most of the time, you're seeing me make it for the first time. If somebody's like, "I've been making pizza my whole life and you did this wrong," I'm like, "Well, I just did this today for the first time. Of course, you do it better. It's your vocation." I always read the comments, and as long as they're not being dicks, I do take my viewers' criticism to heart, and I do try to incorporate what they told me the next time.
Saturday, August 25
Because I did some drinking the night before, I woke up and made myself a hearty breakfast: bacon and soft-scrambled eggs with an Americano. Something to soak it up.
Lunch was more leftover Blue Apron. It was pasta with zucchini, corn, and pesto. I know I said I'm keeping the carbs down, but I guess not. Then for a snack I had graham crackers and peanut butter. The policy is that if I have snacks in the house, I'm gonna eat them, so I try not to keep them in the house. The only reason I had graham crackers was because I thought I was going to use them in an episode recently and I didn't, so now I have a box full of graham crackers. And they're my weakness.
I mainly go out and do my own grocery shopping when I need specialty items — like I need to make sure the meat is a certain thickness and well-marbled, and I can't trust someone else to do the shopping for me. Mostly, I go out of the house for things I need to have eyes on. There's an amazing butcher just short of here called Pino's Prime Meats. There's Japan Premium Beef; it's really cool. And the Hong Kong Supermarket in Chinatown is amazing. I go there whenever I need pork bones or milk candy. I love this game where we'll go to the candy aisle, which is utterly a mystery and we'll grab two bags of whatever. Last time we ended up with milk candy and red-bean candy. And they were both good.
Dinner was a half-chicken with roast broccoli and apple slaw from Fields Good Chicken. Just wanted to go high protein and fiber. I'm getting back into fitness. I've realized that my torso is my meal ticket, so I need to take care of it, so I've been doing pull-ups and push-ups and I just joined a gym, so I'm going to start going there next week.
Sunday, August 26
Breakfast was an espresso.
Lunch was a roasted pepper and Feta salad from Sweetgreen.
For dinner, I went to Raoul's in Soho. It's French, but very creative. It's not trying to be too fusion-y. We had crab beignets that used a crab-cake batter over a spicy rémoulade. It was really good. Then there was a lightly seared tuna with avocado. We had steak au poivre with frites and then chicken with jambalaya risotto, which was killer. It's definitely got some Creole kind of vibe, and New Orleans is my favorite place in the world. My first tattoo is the code that they spray-painted on the houses in New Orleans after the hurricane. It's my favorite place on earth — foodwise and peoplewise. It's like what Disney World should be, the actual happiest place on earth.
Monday, August 27
Breakfast was an Americano.
For lunch, I had turkey, bacon, avocado, and sprouts on seed bread with some kind of kale-juice thing that we ordered in from Kaffe 1668. I order in more than I'd like to, but there's just a lot of cooking going on in here and it's generally not healthy.
For dinner, I just wanted to make whatever I had in the fridge because I'm going out of town. I had sweet-potato tacos with red-pepper salsa, rojas con crema, quick pickled radishes, and toasted pepitas, which turned out to be really good. It tasted very vegetarian. You know how sometimes you get a vegetarian sandwich and you're like, "This is just a mountain of vegetables betwixt bread?" This was the same, just a mishmash of what you put in tacos that isn't meat.
Tuesday, August 28
I had a kale, cucumber, and apple pressed-juice thing for breakfast.
For lunch, I had Welsh rabbit, poached egg, sausage, bacon, scones, clotted cream, butter, and Lapsang tea from Phantom Thread. That's what Daniel Day-Lewis specifies in the scene I'm copying, and I wouldn't want to piss off Daniel Day-Lewis. I'm doing the whole meal "for the hungry boy." I've always wanted to make Welsh rabbit, I've always wanted to make clotted cream, I love making butter, and I've always wanted to stuff sausage.
I actually don't go to the movies often enough, so this was a viewer request; and I don't get into shows just for the sake of the show, but if it's a movie, I'll definitely go check it out. I have heard that Crazy Rich Asians has some pot stickers in it. The problem is, I always do a clip from the movie, and unless I cell phone it in a theater, I'm going to have to wait a little bit. But I would like to do it as it's still topical at the box office right now. I'm just lucky that people in my comments section scream out what they want.
If I'm doing a meal that doesn't have specific directions, like crème brûlée from Amelie, I'm up front and say, "This is a good excuse to make crème brûlée. There's no recipe here, but what we're going to do is make a classic French crème brûlée." I'm not going to do any shortcut-y moves; I'm just going to do it in a bain-marie, the way that they would do it. I made pizza from Teenage Mutant Ninja Turtles even though they never talk about the recipe in there, but I wanted to make pizza, so where else are you going to look? I don't think I'm going to run out because there's so much in anime that I haven't covered. People constantly request Miyazaki movies. Like, in Howl's Moving Castle, there's this scene with bacon and eggs. It's going to be boring if I just do plain bacon and eggs, so I want to show how to cure your own bacon starting with pork belly.
As for dinner, it was leftovers because, like I said, I'm going out of town tomorrow.