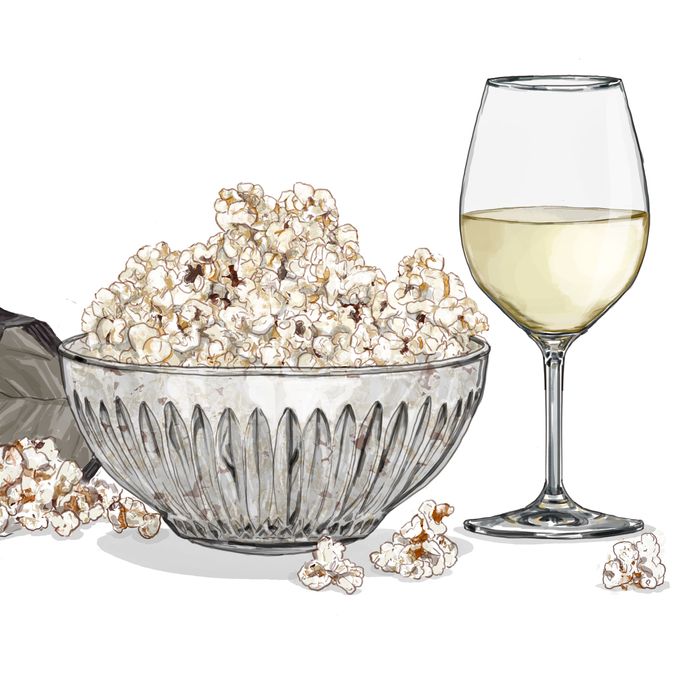 Illustration: The Ellaphant In The Room
You and I both know that we love white-cheddar popcorn. It's a true fact that nobody on earth knows why such junky popcorn is called "Smartfood," but it is nevertheless irresistable — a truly crucial member of America's snack canon. (Okay, maybe not as important as Doritos, but definitely up there with, like, Ritz crackers or Bugles.) It's a classic, in other words, and that means you should honor it with an equally classic wine. White Burgundy, here we come.
Burgundy is the most famous wine region on planet Earth for Pinot Noir and Chardonnay. A small number of other grapes are grown here, but these two reign supreme. The area is considered the benchmark against which any other area producing these grapes will be measured, and Burgundy wines are held in such high esteem that their pricing has reached stratospheric levels, even at the entry point for the top producers.
The reasons why this is command entire volumes of literature, so let's not get too deep into the weeds here. But let's get a few quick facts straight: Burgundy produces wines at hierarchical quality tiers known — from top to bottom — as grand cru, premier cru, village, and Bourgogne (or regional wines). This classification is based on an amalgamation of soils, climate, and a millennium-plus of wine-making experience.
Right now, let's talk about the regional tier. They are simple wines that are meant for drinking when you buy them. Bourgogne Blanc is what the entry white tier is called, and the wines are often fermented in stainless steel (or oak barrels that aren't new), so they will have appley, salty raciness with just a touch of butteriness without feeling too heavy on your palate. And when you drink them with the salty popcorn, you are in my own personal happy place. The fluffiness of the popcorn and the light body of the wines are a natural fit, and there's usually an underlying cheese-rind sort of aroma to these wines that sounds weird but is — I promise — really great, especially with the cheddar popcorn. In fact, white-cheddar popcorn is a little like the American version of gougères, the puff pastries made with Gruyère cheese that are typically served with Bourgogne Blanc as an appetizer in Burgundy. It's almost as if this matchup is a no-brainer. Here are three (not outrageously expensive) picks to get you started.
Domaine Pernot Belicard Bourgogne Chardonnay ($22)
A great style of everyday drinking BB — this wine is from a young domaine that came from the marriage of two historic wine families, so these wines may not stay affordable for long. Get some now, while you can.
Pierre Morey Bourgogne Chardonnay ($33)
Formally the winemaker of the great Domaine Leflaive — which you'll see in the pick below — Pierre Morey makes precise, taut Bourgogne Blanc in a classic style, with ample fruit, savory salinity, and tons of freshness.
Domaine Leflaive Bourgogne Blanc ($75)
Domaine Leflaive is one of the pioneers of biodynamic viticulture in Burgundy and its admiration extends globally among the wine elite. Its domaine extends over 24 hectares (59.3 acres) all growing one varietal: Chardonnay. These wines are all about appreciating focus and precision. This is also one of the exceptions on the ageability scale; these wines have a lot of life ahead of them.