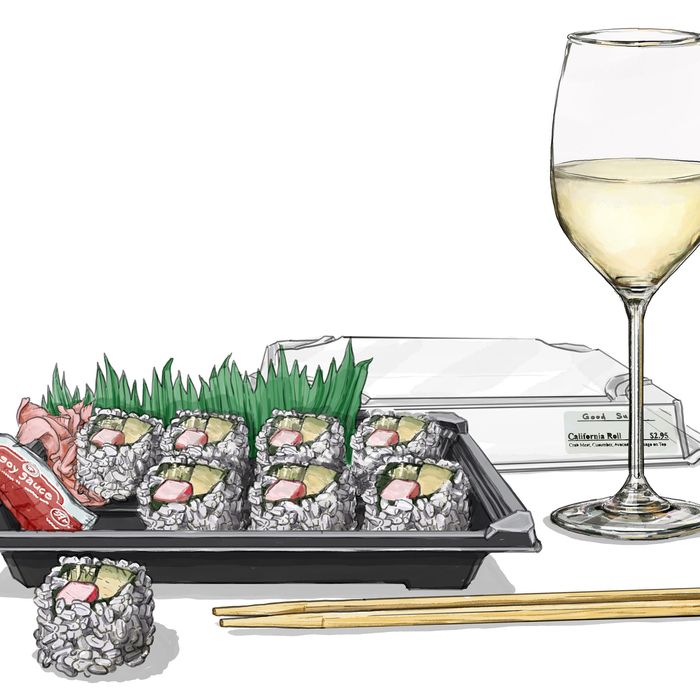 California rolls and Austrian Grüner were made for each other.
Illustration: The Ellaphant In The Room
My constant craving for sushi far outweighs my wallet's reality, so while I will happily eat a fabulous omakase prepared by a sushi master, I am proudly guilty of ordering otherwise-standard NYC sushi at least three times a week. I also make sure to have a few bottles of wine on hand to go with that sushi. And when the delivery involves a California roll or two (which is always), Austrian Grüner Veltliner is a no-brainer.
Austria is not the most famous European wine producer, but its wine-making history is just as long as the more renowned countries'. Because it is a cooler climate with a lower rate of sunshine, the best Austrian wines tend to be white. The most ubiquitous and most revered white grape in Austria is Grüner Veltliner, and it can be made in a variety of styles from super light and crisp to full, rich, and dense. (Most are dry but there are few sweet renderings as well.) Regardless of the style, the wines are pure and vibrant, with what wine experts would call a bursting expression of minerality. That is very good.
For California rolls, the wine's crispness will work well to wash away the flavor and texture of imitation crab and real crab alike. The minerality is nicely complemented by the seaweed and the sesame, and the wine's razor-sharp acid gets a nice boost from the vinegared rice. The whole package is brought together by the often lower alcohol content in these wines, so the body won't work to overpower this light dish.
Grüner Veltliner, Franz Etz 1L ($13)
The best part of this delicious, estate-grown, family-owned wine might just be the extra 250 milliliters you get when you spring for the oversize bottle.
Nikolaihof, Grüner Veltliner, Hefeabzug ($25)
Nikolaihof (the producer) has a history of wine production that stretches back to 63 B.C., but all you need to know is that this wine will be expressive and lively with fresh, zesty aromas, a creamy texture, and subtle smokiness on the finish.
Franz Hirtzberger Grüner Veltliner Honivogl Smaragd ($82)
If you're in the mood to splurge, Hirtzberger is considered one of the best in the Grüner game. In this case, the wine is "Smaragd," which means the best grapes were picked at the ultimate level of ripeness. That makes for a wine that is dry, but with an intensely rich texture, body, weight, and flavor. (They cost more because they are a lot of work to produce and can age for a long time.)