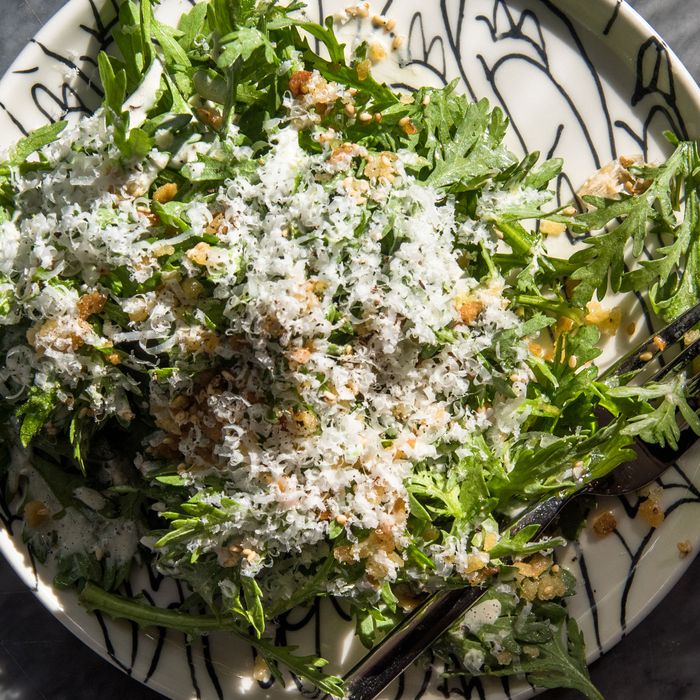 The chrysanthemum salad at Don Angie.
Photo: Ashley Sears
There's so much more to thoughtfully crafted salads than little gem, romaine, and arugula, and the good news is that you don't have to wander far to find an exciting plate of greens in this city. Whether it's a delightfully sweet grilled-strawberry salad or one that winks at the long legacy of old-school Jewish delis, Grub has rounded up 12 bangin' salads that won't put you to sleep.
Chrysanthemum Salad
Where: Don Angie
Price: $14
For their heaping chrysanthemum salad, the Don Angie kitchen first tosses herbaceous chrysanthemum greens in olive oil and lemon juice, and then tops them with a Caesar-style dressing made with mayo, garlic, anchovy, pepper, lemon juice, colatura fish sauce, and salt. To finish, the salad is sprinkled with sesame bread crumbs, black pepper, and just the right amount of parm, which is to say all the parm they can find.
Grilled Strawberry Salad
Where: Loring Place
Price: $17
We get it: Most restaurants put salads on their menus because they're quick and easy to make and easy to mark up. But Dan Kluger and the team at Loring Place aren't phoning it in. For this summer menu item, they grill strawberries with cucumber, mint, and jalapeño, served in a Sun Gold tomatoes purée and dressed lightly in an acidic red-wine vinaigrette. We suggest following the salad up with the restaurant's insane new calzone.
Punta Verde Caesar
Where: Oxomoco
Price: $16
Just like its sister restaurant, Speedy Romeo's, Oxomoco keeps a live fire going during the dinner rush. So, it's no surprise that they add a little fire and smoky flavor to their salads in the form of the Punta Verde Caesar, which features wood-fired romaine lettuce covered with a Dijon- and anchovy-based Caesar dressing, blistered poblano peppers, a crunchy topping made with toasted corn masa, and lime zest. Peeking out beneath a whole lot of Cotija cheese are thinly sliced radishes for a little added bitterness.
Guohua Street Salad
Where: Win Son
Price: $15
Named for and inspired by a popular thoroughfare in Tainan, Taiwan, best known for its open-air markets and amazing selection of street food, including Taiwanese spring rolls, oyster omelettes, and rice cakes, this salad is assembled in layers. At the bottom, grated carrots and sliced cabbage are dressed with peanut butter, soy, and rice-wine vinegar and seasoned with salt, shrimp powder, pickled raisins, and other crunchy elements. Above that is a layer of smoked bean curd with diced mangoes (or in-season persimmon) and a cilantro-mint purée. All that is hidden beneath a layer of mint and basil leaves garnished with a griddled shrimp skewer, butter-fried peanuts, smoked arbequina olive oil and fresh lime juice. Basically, this is a meal in and of itself.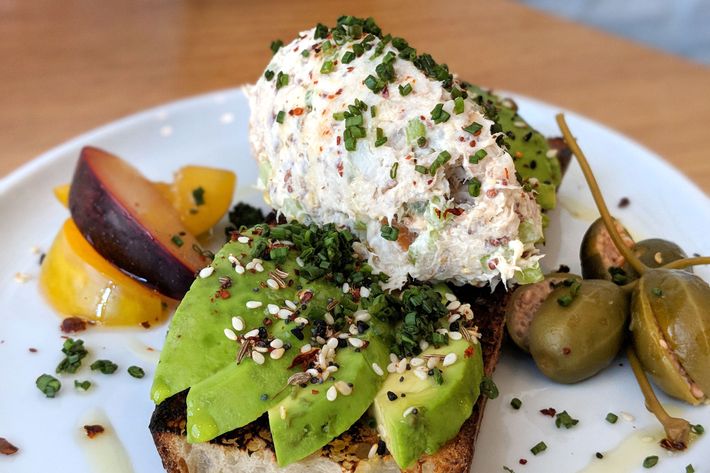 Smoked Whitefish Salad
Where: Golda
Price: $15
In a nod to the whitefish salad served at many a Jewish deli, Golda chef Ryan Wythe takes whitefish fillets and cures them overnight with salt and sugar. The next day, the fillets are smoked at a low temp until they take on a nice color and then tossed with Dijon mustard, whole-grain mustard, labneh, and aïoli. To bring up the crunch factor, Wythe finishes the dish off with diced celery. If this sounds like a perfect sandwich, don't worry, it's served with bread.
Summer Salad
Where: Dimes
Price: $14
A few weeks ago, Dimes added this extremely seasonal summer salad to its menu. Served like a small pyramid of farmers' market finds, the salad features masala-style corn, pickled cherries, ribbons of zucchini, and heirloom tomatoes tossed in a full-bodied basil vinaigrette before being sprinkled with tiny cornflowers.
Thai Mushroom Salad
Where: Pig and Khao
Price: $16
You've never seen a salad like this. Inspired by head chef Leah Cohen's time at the Three Trees Doi Saket cooking school in Thailand, this particular dish makes use of three different mushrooms — oyster, king oyster, and hon shimeji — which are sautéed with seared shrimp and then topped with an exceedingly spicy chili-jam dressing and a more mellow drizzle of coconut cream.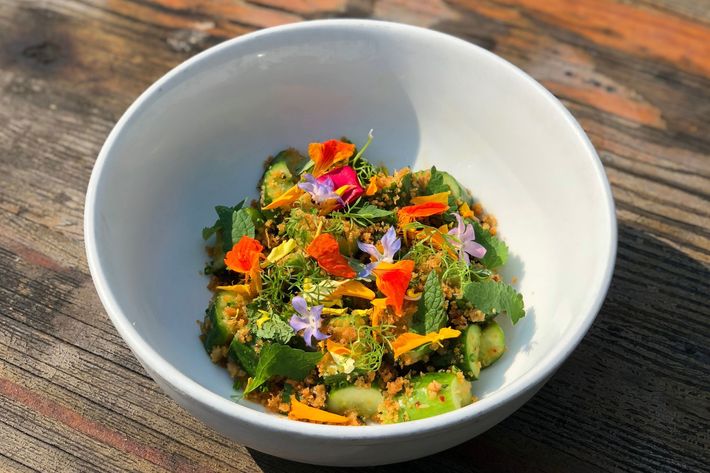 Marinated Cucumber Salad
Where: Roberta's
Price: $9
Until Roberta's V2 arrives in Williamsburg next fall, the only place to get this good-looking cucumber salad is at the location in Bushwick. It starts, of course, with ice-cold marinated cukes as a canvas for a whole lot of pretty things, including fennel fronds, basil leaves, and flower petals.
Melon and Cucumber Salad
Where: Hart's
Price: $13
After you're done eating the smoked-whitefish salad at Golda for lunch, traipse over to Hart's, right next door, for the melon and cucumber salad. It sounds simple enough, but actually starts with deseeded cucumber and melons that are chopped and marinated with white onions in a slightly sweet Muscat vinegar and tossed with torn mint, basil, and Indian fennel seeds. The dressing is a Greek yogurt mixed with fresh garlic, dill, mint, olive oil, and preserved lemons. For a bit of heat, the finished salad is garnished with urfa biber, a dried Turkish chili known for its sweet and smoky flavor.
Grapefruit, Crab, and Avocado Salad
Where: La Mercerie
Price: $19
A fancy French bistro needs a fancy French salad, and La Mercerie is no different. The dish starts with fresh crabmeat that's tossed in mayo and then garnished with carefully segmented grapefruit and sliced avocado. The whole salad is seasoned with orange-blossom water (a staple of Persian, Turkish, and other cuisines), salt, olive oil, and sherry vinegar, then finished with dill and rye bâtard crisps.
Pizzeolo's Chopped Salad
Where: Pizza Moto
Price: $14
If you're looking for a salad with a little more heft, look no further than this setup at Pizza Moto (one of the finest restaurants in Red Hook). On one side, floral dandelion greens and chickpeas; on the other, salty salami, funky Pecorino cheese, and pepperoncini for a little heat. A tweezer salad this is not. It's more like your hippie friend hooking up with an Italian dude from Jersey.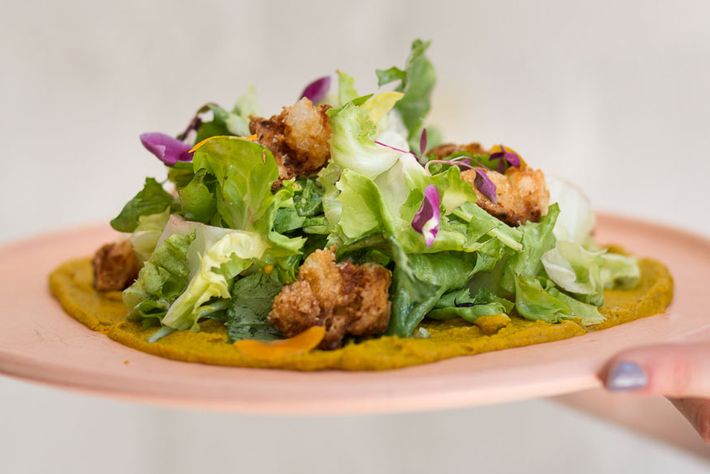 Escarole Mizuna Salad
Where: De Maria
Price: $15
This salad features a wonderful interplay between the slightly bitter escarole and mizuna, an aromatic Japanese mustard green. To balance the intensity of these greens, chef Adriana Urbina adds toasted cauliflower croutons; a hummus made with turmeric, sumac, and soft white beans; nutty tahini dressing; and Thai basil for an herbaceous finish.