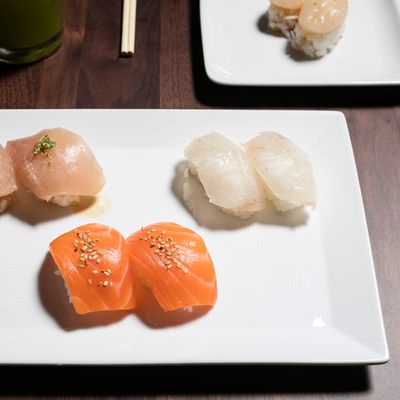 Sushi from Sugarfish.
Photo: Melissa Hom
When Sugarfish came ashore in New York in 2016, it was one of the year's most anticipated and hyped openings. The chainlet achieved a cultish popularity in Los Angeles, courtesy of its affordably priced omakase ($42 in L.A., $51 in New York) and pedigreed co-founder Kazunori Nozawa. Since arriving in New York, the Flatiron outpost has been a big hit with customers (if less so with critics), and now Team Sugarfish is ready to expand on the East Coast, to Soho and beyond.
New York's second Sugarfish will be located at 202 Spring Street, in a 1,800-square-foot space near Sixth Avenue. A real-estate broker had released a statement saying the location was 3,200 square feet, almost double the size of other locations, but co-founder and CEO Jerry Greenberg disputes this, saying the figure includes a basement that they won't use.
If all goes according to plan, that restaurant will open during the first quarter of 2019 and be one of two or three New York openings during the year. The second new restaurant will be another location of KazuNori, their temayaki shop, which also made its East Coast debut last year. Greenberg declined to say where, exactly, this would be, citing lease negotiations, only that it won't be in Soho or the Flatiron. There's also the possibility of a third New York Sugarfish opening in 2019, somewhere in the midtown orbit.
If that sounds like a lot more Sugarfish, the demand seems to be there. While the chainlet has been met with more mixed reviews in New York — New York's Adam Platt gave it one star and the New York Times' Pete Wells dropped a goose egg — the sushi-eating masses nevertheless flock to the restaurant. When asked if the company wants a footprint in New York that's comparable to L.A., where it has nine locations, Greenberg responded, "You know, the answer is not yes … going back to before we opened here, I don't believe we will be able to."
That said, the company does think it'll expand outside of Manhattan — but only into Brooklyn, which is in the cards further down the line. And, bad news for other East Coast cities: There are currently no plans to expand to, say, Washington, D.C., or Philadelphia. "We're not interested in other cities," Greenberg explains. "It's not to say we would never do anything else, but it is clearly a decision we've made for now, anyway, that we aren't looking to expand beyond these cities."