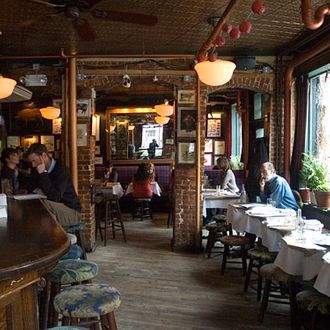 The Spotted Pig.
Photo: Ryan Monaghan
Today, the office of New York state attorney general Barbara D. Underwood issued a subpoena to the Spotted Pig's holding company and its majority owner Ken Friedman. The New York Times reported, which was shared by an anonymous source, that the office is investigating sexual harassment and workplace discrimination at the Spotted Pig. In a statement to the paper, Underwood wrote, "New Yorkers are entitled to workplaces free of sexual harassment, discrimination and intimidation."
A source tells the paper that the state attorney general's office has been conducting a civil-rights investigation for months, and is seeking records for both Friedman and Spotted Pig investor and regular Mario Batali. Both restaurateurs were the subjects of extensive reports about sexual harassment and abuse at their businesses, including the Spotted Pig, where, in one instance, 60 Minutes reported that a former employee of Batali's Babbo alleges that the chef drugged her and then assaulted her. The restaurant's private, third-floor space earned the nickname "the rape room" from some employees. Both men declined to comment.
If wrongdoing is found, the state attorney general's office could file a civil-rights lawsuit and seek civil penalties, restitution, and damages, as it did against Harvey Weinstein. Both Batali and Friedman have retreated from the public eye, but neither has, as of yet, faced legal consequences for their alleged behavior. Some of Batali's restaurants have closed, and the other owners of Batali & Bastianich Hospitality Group are in the process of buying him out, but that has not happened yet. Friedman's success was tethered to chef April Bloomfield, who split from him and took four of their restaurants with her. He did, however, find a new chef for the Spotted Pig in Gabrielle Hamilton.