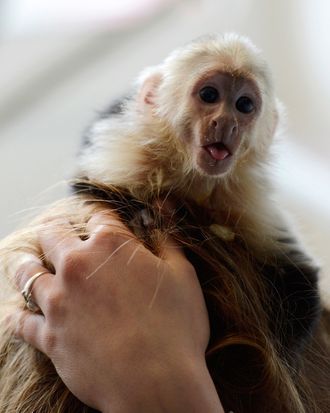 Photo: Christof Stache/AFP/Getty Images
A Carrabba's Italian Grill in Stuart, Florida, was forced to end its beloved Monkey Mondays after a 9-month-old capuchin monkey bit someone.
The weekly tradition actually surrounded just one pair of monkey owners — Mary and Richard Van Houten — who brought at least one of their five pet monkeys in each week to the delight of diners and restaurant staff alike.
The Miami Herald reports, however, that it all came crashing down when JoJo, the nine-month-old capuchin who had been acting "hyper" all night long, bit an 8-year-old boy who didn't quite understand that no matter how cute something is, if it has teeth, it can still bite. The boy was fine, didn't even need stitches, but Carrabba's was forced to ban monkeys, though service dogs and ponies are still welcome, "like at Publix," as one manager put it. Meanwhile, the Houtens were cited for failing to get JoJo a rabies vaccine and for letting her bite someone in a restaurant in the first place.
Going forward, JoJo will most likely spend Monday nights in with monkey siblings Kalani, Keegan, Elvis, and K.J.