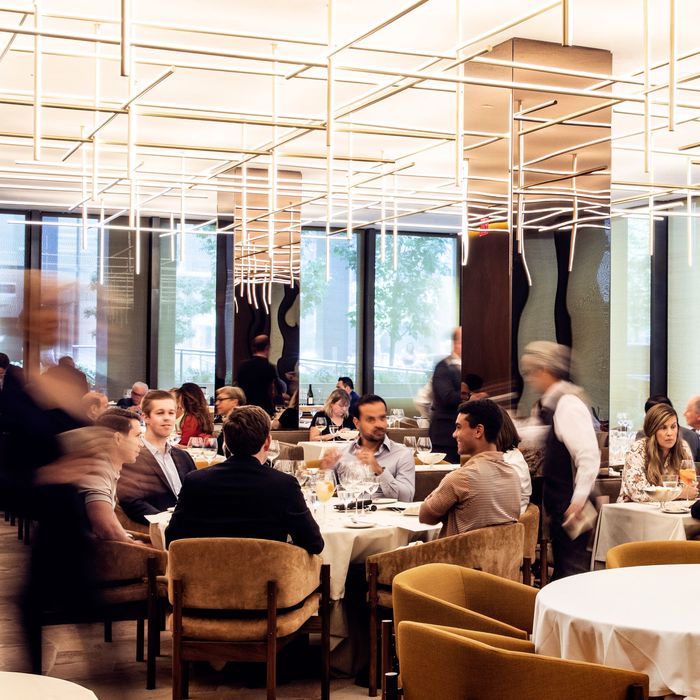 Power lunchers at the new Four Seasons.
Photo: Nitzan Rubin
The original Four Seasons restaurant was, for most of its 57-year run, the country's most important restaurant: It was a nexus of power in New York, where every president but Richard Nixon ate; the Philip Johnson–designed space was an architectural marvel from the minute it opened; and the kitchen stressed the idea of seasonal cooking in the age of Campbell's soup. "It is the quintessential, classic American restaurant," the famed chef Daniel Boulud told Grub on the eve of restaurant's closing. Against all odds, it is now open again, in a new space that's just a few blocks away. Much has changed, but it is still a relic of an older time, one that, in hindsight, looks more troubling than ever before.
Managing partners Alex von Bidder and Julian Niccolini have made some noteworthy changes: They reportedly spent $30 million building out the space at 280 Park Avenue, and they have a new chef. Diego Garcia, who helped open the seafood restaurant Gloria, has put together a menu that mixes Four Seasons classics like Dover sole meunière and crab cakes with originals like littleneck clams with cannellini beans and almond milk; there is also the classic cotton candy and a new peaches-and-cream tart from pastry chef Bill Yosses (formerly of the White House).
But never fear, regulars of the original Four Seasons: This new restaurant is still intended to be the de facto destination for power lunching, that throwback meal when celebrities, publishing giants, and titans of industry drank afternoon martinis, rubbed elbows, and made deals. There's a wistfulness with which people talk about the glory days of the power lunch and the chunk of New York's history that they represent. It was, after all, only a decade or so ago that there was a pervasive nostalgia for Mad Men style and a return to so-called civility. Unfortunately, as that particular aesthetic was thoroughly mined and documented over the last ten years, the era's inherent power imbalance has been brought into sharp focus.
Power lunching isn't really about deals or even lunch. It's about one-percenters celebrating their one-percent-ness. Its signifying qualities are whiteness, wealth, and power, with an unmistakable air of toxic masculinity. As Niccolini once told New York, "Young girls are always the most popular item on the menu." Matt Lauer took Ann Curry to lunch at the restaurant after he and NBC realized the optics on her ouster weren't great; Charlie Rose is, of course, in a documentary about the restaurant. And a few months before the original Four Seasons restaurant closed in 2016, Niccolini pleaded guilty to charges of misdemeanor assault that kept him on "conditional discharge" for a year. (The charges stemmed from a 28-year-old woman who alleged that, at a party at the original restaurant, Niccolini groped her and ripped her bra while she pled for him to stop.) Even back in 1992, he faced a $4 million sexual-harassment suit from a Four Seasons waitress that ended in an unknown settlement. In 2015, Niccolini told GQ "I cannot change the way I am … even when somebody tells me I'm a terrible human being."
In the run-up to the reopening, Niccolini has not talked about the sexual-abuse charge, and he was not made available for this story. (He also didn't respond to the New York Post earlier this year when asked for comment about how the case would affect the reopening.) Maybe Niccolini really "cannot change," but the world certainly has. Once-untouchable power brokers are being held accountable for their behavior and the unsavory actions of bad men — men in the hospitality industry especially — have finally resulted in some real consequences.
By all accounts, some longtime regulars are looking forward to the reopening of the restaurant. According to CNBC, regulars invested amounts ranging from $250,000 to $1 million in the new restaurant. Speaking to the Post, Martha Stewart says she "can't wait" to go, and Whitney Global Media president William O'Shaughnessy calls Niccolini "a maestro" and of the Four Seasons adds, "They're selling a venue where fun exists." Fun for whom? Presumably an often-touted regular like Henry Kissinger, whom Von Bidder says was impatient about the reopening and about whom The New Yorker once asked, "Does he have a conscience?"
Maybe Niccolini doesn't need to change, because the restaurant's clientele hasn't: It's a largely aging audience who, after all, came up in the time of the power lunch and are no doubt looking forward to celebrating their own success once more. It's hard to imagine that too many other diners will feel similarly excited about that.
The Four Seasons Restaurant, 42 E. 49th St., nr. Madison Ave.; 212-754-9494