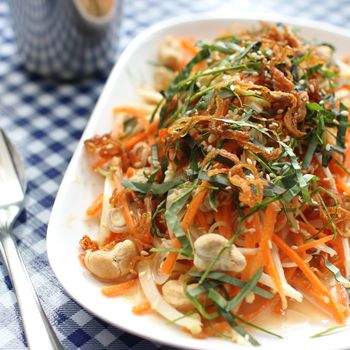 Pok Pok Ny's yam samun phrai.
Photo: Melissa Hom
When it opened here in 2012, Andy Ricker's Pok Pok Ny was a game changer that sent waves through the city's restaurant scene. At the time, good Thai food was limited in New York to, pretty much, Woodside and Elmhurst in Queens. Pok Pok Ny, though, was home to dishes and ingredients otherwise not served in New York: Ricker has spent his adulthood in a sort of continuous study of Thai cuisine and is obsessive enough to ship over ingredients for the restaurant group he started in Portland, Oregon. The Brooklyn branch seemed like the beginning of something bigger for Ricker, but just six years later it will close on September 2.
It was, in fact, the start of something: Ricker also opened Pok Pok Wing before converting it to Pok Pok Phat Thai and Whiskey Soda Lounge. Both New York locations have since closed, despite general critical enthusiasm for Ricker's food. It was the highest ranked Thai restaurant on the Underground Gourmet's 101 Best (New) Cheap Eats list in 2014, and received positive reviews from every critic in town. Its closing is a shame, though maybe not entirely unexpected. Business seemed to have slowed, and many more Thai restaurants have since opened in New York. (Like the nearby Ugly Baby.) Ricker also announced in 2014 that he would open a Pok Pok Phat Thai and another Pok Pok in Los Angeles, but closed both within a year and a half.
Ricker wrote about the decision on Facebook: