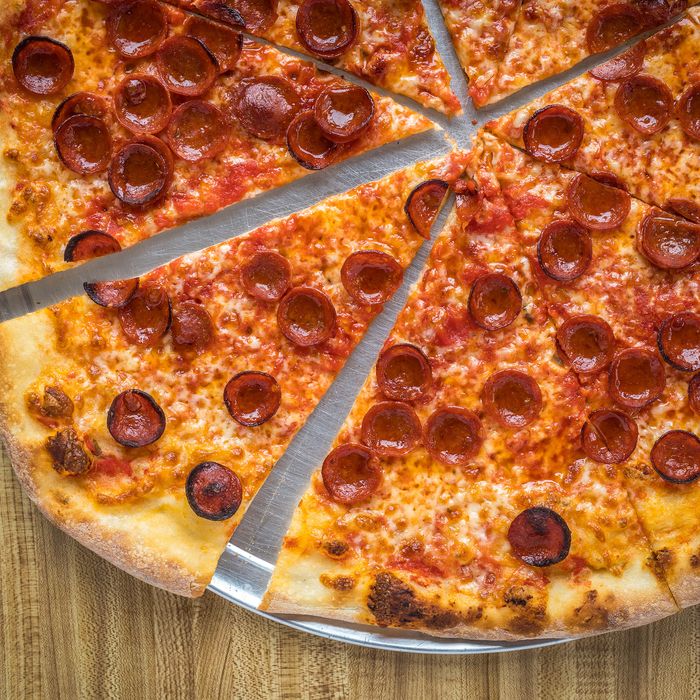 A New York–style version of the Hellboy, Paulie Gee's popular pepperoni and hot honey pie.
Photo: Noah Fecks
Paulie Giannone was another guy who posted on the now-defunct pizza-obsessive blog Slice before opening Paulie Gee's. The Greenpoint pizzeria is considered by many (including Grub Street) to be one of New York's best, and it turned Giannone into one of the city's better known figures on the local pizza circuit. While Paulie Gee's serves the Neapolitanish, toppings-eccentric pies that were all the rage when it opened in 2010, Giannone has more than pizza up his sleeve. For his second act, he's going old-school with Paulie Gee's Slice Shop, which soft-opened Monday and opens, officially, tomorrow.
Always happy to talk pizza, and then talk some more about pizza, Giannone tends to name-check the sort of old-school pizzerias and slice shops he grew up with in southern Brooklyn. Places like Totonno's, of which he once told me, "everything done in New York is based off it"; New Park Pizza, which he's called his favorite slice when at its best; Joe's; L&B Spumoni Garden; and Prince Street Pizza. He and his head pizza chef Andrew Brown, a four-year alum of Paulie Gee's, are taking inspiration in slices from these places.
Take the Freddy Prince, an upside-down Sicilian with fresh mozzarella that nods to Giannone's favorite square, Prince Street's Soho Square. "It's a combo of that and one from this place in Whitestone called Freddy's, where they have sesame seeds on the bottom of their crust. I just really like that," he says. They're literally taking from L&B in the form of its famous spumoni ices, one of the two dessert options. (The other is a lemon ice.)
Along with the squares, Brown is serving a plain slice, a white with fresh mozzarella, pepperoni, sausage, and a version of Paulie Gee's popular Hellboy. The toppings don't get gonzo like at Paulie Gee's, at least not yet, but Brown will take a page of that restaurant's playbook with a full selection of vegan pies made with Numu vegan mozzarella and caramelized Vidalia onion, and a vegan version of the Freddy Prince. Other slices will be available as specials; there will be beer and wine to start, and eventually, if all goes according to plan, a full liquor license. Delivery and takeout are both, also, still in the works.
Although not for the menu, they've also taken something (again, literally) from the Martinsville, New Jersey, pizzeria Joe's, from which they got their nostalgia-inducing orange booths. Giannone showed the owner a photograph of similar booths from The New York Pizza Project, and accidentally found what he was looking for. "They remodeled, I forgot he had those. I said, 'What do you want for them?' He said, 'Want for them? My wife is going to kill me if I don't get them out of my garage.'"
That retro-inclination defines the space, which looks like a set from a Back to the Future sequel set in New York. There's wood-paneling on the walls, an autographed picture of Ron Guidry, Yankees yearbooks going back to 1968, and vintage Coke signs. There's also a Ballantine and Sons Brewing Company–branded clock, the first television sponsor of the Yankees, and a boxy television that looks like what your grandparents ate TV dinners around. Of course, Giannone and Brown are hoping you like their slices a lot more than Stouffer's TV dinners.
Paulie Gee's Slice Shop, 110 Franklin St., at Noble St.