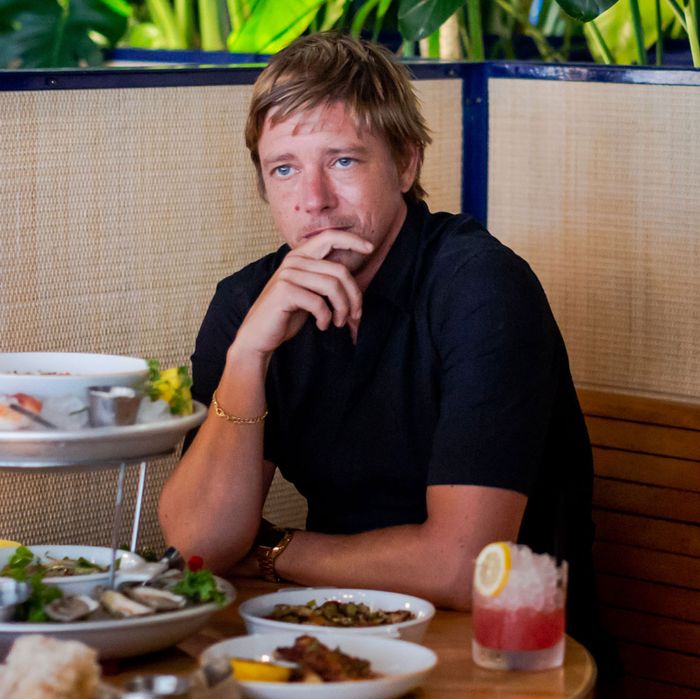 Banks, at a Summer Day Cafe in Tribeca.
Photo: Mark Abramson
Interpol lead singer Paul Banks doesn't take his meals lightly: "I can't eat food that was made with nonchalance," he says. That might be because he grew up in a family that loved food, with a father who went to great lengths for his favorite meals: "He would nerd out and make these very elaborate dishes," Banks says. "He would make Thai green chicken curry and go all around Michigan hunting for ingredients." Banks, who now splits his time between Panama and New York, was in town this week for the run-up to his band's latest record, Marauder, and the front man managed to celebrate the release with both omakase and Chop't's kale Caesar. Read all about it in this week's Grub Street Diet.
Thursday, August 16
When I'm in the city, one of my main pastimes is boxing. My trainer tends to like making me suffer and he'll book me at 9 a.m. As far as breakfast goes, I've learned from other sports that involve an early morning, like surfing. At first I was like, But I gotta get some fuel in the tank before I paddle out. And one of my surf bros was like, "Dude, just paddle out, and you can eat afterward." So now, as long as the exercise happens early enough in the morning, I can just get coffee and go; I'm still good to do it.
Around 1 o'clock I had a Mexican egg wrap from NewsBar on University Place, a black-bean tortilla with eggs, onions, black beans, tomatoes, and cheddar. They're really sweet in there. They know my order, including the extra green tomatillo sauce on the side. And I don't fuck with it if they ever run out of the black-bean tortilla because the regular tortilla does not work with that dish. NewsBar is not some place you would necessarily look to, but it's one of those places that's been around a long time. The wrap is always hot and steaming, and it's just a really nice balance of bean to egg to onion to tomato. For me, Mexican breakfast is the best breakfast.
Dinner was omakase at Hasaki with a friend who used to live above the restaurant. We used to do it at a minimum of once a week, but then he moved to Chinatown, and this was scheduled in advance to keep the dream alive. I don't drink alcohol, but I can't do sushi without beer and they generally stock one of the best fake beers, which is Beck's.
I'm not altogether snobby with food to be honest with you but with sushi, I'm super snobby. Raw fish, you don't want to mess around. And I think if any food is about attention and love, it's sushi. To prove that I'm not a snob, I will even confess to this: I don't like uni. Eh? How do you not like that? I'm aware that uni is the caviar of sushi for sushi heads. It's not for me. But of course it would be part of Hasaki's omakase menu, but my guy there knows about me and usually replaces mine with a Japanese scallop. He puts a little lemon on there, and some pepper. I will take that scallop over uni a hundred times over a hundred. Also on the menu is a seared fatty tuna that is insanity and a truffle sushi that is so good, I have to close my eyes when eating it. It's just one piece of sushi with a shaved truffle on top, and then he has a paste that he makes with, I think, Parmesan and truffle. That's a symphony in your mouth.
Friday, August 17
I have a friend in Panama who grows coffee, so whenever I'm down there I bring home a couple of pounds of his beyond-organic, volcanic-slope-grown Panamanian coffee. Right now I'm drinking his Highland Arabica, called Hacienda Scenario. I do a pour-over. I like the ritual of making coffee. Whenever I'm out of his beans I'll go to Joe Coffee. They'll ask if I want the coffee ground. "No! Of course I have a grinder. What? Am I just gonna have this ground coffee getting dry in my house? That's crazy. I'll be doing the grinding, thank you very much."
I did some light sparring, had a pain au chocolat from Pret a Manger, and later a group of us went to a Summer Day Cafe. That's my friend Matt Abramcyk's new restaurant; he's a buddy of mine from college. He's a super-talented guy. We got a seafood platter and I'm not a big oyster guy, but I'm a big shrimp-cocktail guy, and the shrimp cocktail was perfect. So was the bass crudo. We had some roasted artichokes, fried pizza dough, and octopus à la plancha. I tasted the octopus, but octopus is not my favorite, and I have a really hypocritical, dumb reason for that. I have a real affection for that animal. So I don't eat a lot of calamari or octopus.
Dinner was at Il Cantinori, one of my favorite spots. They really care about what they're doing, and they can kind of do whatever you want. I don't think there's an arugula salad on the menu. But I like having my tomato with my arugula salad, so I just had them make one, with very light dressing, very lemony. That, with a half-portion of the Arborio risotto and a half-portion of their signature tagliolini, a pink sauce with sausage and peas. It's like Italian comfort food.
Then my friend and I went to the movies to see something terrible: The Meg. I don't mind paying to see a flying shark, but it was not good. Had a Coke and half of a small popcorn. Just because everything is supersized doesn't mean I gotta eat all that shit. I literally will pour out half of a small popcorn just to control myself because I remember reading once that a small popcorn was like a Big Mac and fries, like crazy fattening. But I do love it, so I just covertly dump the majority out. Portion control, man.
Saturday, August 18
A berry-crunch smoothie with almond butter and added blueberries, from Liquiteria. Oh yeah, that was the bomb. I don't even think it was all that healthy, but fuckin' A, it was so good.
Once, when I was riding up to a friend's apartment in an elevator, some kid with his mom was too eager to wait until he got home, and he opened his pizza box. I was looking down and it was like a white pizza with zucchini flowers. And I was like, look at this kid! Gourmet with his fucking zucchini-flower pizza. That's highbrow. I told my bandmate Daniel about it and he was like, "Oh yeah, there's this pizza place Martina, and it's considered very good." So I went with a friend and yeah, it's super-great pizza. I did not get the zucchini-flower pizza. I had two slices of artichoke, chicken sausage, and olives. With a San Pellegrino Aranciata to drink.
Dinner was takeaway from the Smith East Village. That's the only burger I fuck with these days in New York. I have a running gag with my bandmates on tour because on tour, on days off, we look for Bolognese or burgers. And we quickly learned that we just don't fuck with burgers abroad anymore. It's just not worth the frustration of "What is this? This is not right." Bolognese you kind of can't go wrong anywhere in the world, but with burgers there are just too many misfires. So I don't do burgers on tour anymore. Except in Denmark. In Denmark they can do a burger!
So anyway, I'm perfectly good with a standard American cheeseburger, and we all know how that comes, but I like my Smith burger medium-well, with the pickles and the fried onions. And just a great brioche bun. And more than the burger being the jam at the Smith, it's the kale and quinoa salad. It's toasted quinoa and it's got some toasted, sliced almonds on there. There's like an extremely mild cheese as well, cranberries, and this great, great dressing — it's a perfect salad. I took it home and re-watched the film Upgrade. It's a pulpy, gritty, super-violent dystopian future film. Like I said, I didn't see The Meg because I wanted to see high cinema, and I didn't watch Upgrade for that reason either. But I will watch a movie that's just trying to be a good violent adventure film, and within what it's trying to be, Upgrade is really fucking great. So I ate a burger and watched a really violent tough-guy movie.
Sunday, August 19
I took my boxing trainer for brunch at Morandi. Morandi has another one of these salads that's in my top ten. It's Bibb lettuce, and nothing else. To me, that's just such a masterful choice of a salad. It's just a stack of lettuce and then they have a vinaigrette and some ground fresh pepper on it and that's it. And then I had the frittata with scallions, broccoli rabe, Parmesan, and tomato. It's always good.
I spend half my time elsewhere on a beach, and I cook every meal when I'm not in Manhattan. When I'm here, I don't want to be that guy who eats every meal in a restaurant, so for dinner I made the effort to cook. What's funny is that the food I bought at Whole Foods to cook for myself was more expensive than every meal I had this week, except for the sushi. Like $21 for a swordfish steak. That's crazy. But I nailed my blackened swordfish. I got a little Cajun blackening seasoning, put a little butter in a pan, set it on medium to low heat and put a lid on it. And then I flipped it over one time, and man, it came out so well. And broccoli rabe is my favorite side, so some, just some, sautéed broccoli rabe and garlic and oil and then a little Spanish rice pilaf out of a box.
For dessert, I had one of those chocolate-pudding cups. I'm a dessert guy, but I'm trying to keep it together because I've got to hit the road soon. What is that like 60 calories in those things? Don't get me started on desserts. Give me chocolate ice cream, and if you can put some chocolate in the chocolate that'd be cool, or if you want to give me some chocolate cake with some chocolate ice cream with some chocolate powder on the side and some chocolate sauce, that's what I'm talking about. Or, apple pie is okay, too.
Monday, August 20
Breakfast was a small Greek yogurt with sliced almonds, bananas, and honey from Maison Kayser to hold me over while I was doing album promo. It's a chain, but they do have great breads and great yogurt parfaits.
Later I had a salad from Chop't. Listen, I celebrate Chop't. I used to work at a magazine on Broadway and 23rd, and the 17th Street Chop't opened when I was working there, many, many years ago. I remember I went in and I saw the owners of the restaurant when they were still figuring out the décor and stuff, right when it was opening, and they just seemed like guys who were almost right out of grad school, kind of like young dudes.
I also worked in a place called Café Angelique, and I remember seeing the care involved for a food-service business that's doing a good job. To maintain high quality is no easy task because every single link in the chain has to be invested in the quality of the product, and that's not easy when you're employing, like, college kids. At Chop't, I could sense that these dudes cared and were going the extra mile. And the ingredients were great from the beginning. Now, there are all these impostor places, and I've been to them, and it's like, Nope, this is not the same. I had one time where some guy at Chop't was having a bad day at work and gave me too much dressing. This guy wasn't even looking and he just fucking ruined my shit, but that was 1 time out of 500 when I wasn't 100 percent satisfied with what I got. So yeah, I swear by and celebrate Chop't. I had a San Pellegrino Limonata with a kale Caesar salad with added tomatoes and chicken. I think kale is a funny green. It basically just got trendy, but I love kale, and it ain't because I'm on some bandwagon.
Tuesday, August 21
Went straight to the gym. I didn't get to box the day before, so I went and just did a very short workout to try to get my mind right before doing promo.
Lunch was La Esquina, a favorite in  the summertime. I had two green chicken tacos and half of a Mexican Coke.
Dinner was at Desnuda. It's an amazing place. Luckily, we were there when this guy Dom was there, the chef who had been recommended to me. It's a very unique, vibe-y place, and the shrimp ceviche there is my favorite. I love ceviche, and this is a perfect ceviche. There was jasmine rice and also yellowtail skewers. It was a great meal. And I brought my own fake beer. Because, as I said, when I'm going that way, I need my fake beer. I had St. Pauli because that's what I had in the fridge.
I bring my own beer often: Whether or not a restaurant is going to keep my business really depends on how they react to me bringing my fake beer if they don't already carry it. If I get any kind of flack, I say, "You just lost yourself a customer, my friend. And I am among the loyalest, once we get this thing going."