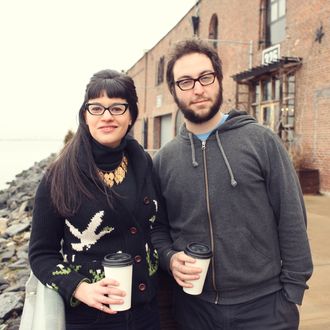 Rae Cohen Bernamoff and Noah Bernamoff.
Noah Bernamoff has left Mile End, the Montreal-style deli that he opened with his wife, Rae Cohen Bernamoff, in 2010 and that launched his restaurant career. The split sounds amicable, with Bernamoff telling Eater that his interests were diverging "from what was best for" the deli, and that he hasn't been involved in the day-to-day operations lately.
More smoked meat, though, sounds like it's in the cards. The remaining owners have plans to add 25 seats to the original Mile End in Boerum Hill and to expand, including in the South, where they already have one location in Nashville and intend to open another in Alabama. (The Manhattan location will remain open.) Partner Joel Tietolman has brought on Alabama chef Adam Grusin as a partner, and wd~50 alum Katherine Beto will be director of operations.
With Mile End, Bernamoff became one of the bigger local names in the Brooklyn food scene. He's also carved out a bigger space for himself in his corner of Brooklyn. He opened the popular cocktail bar Grand Army in Boerum Hill and is a partner in the Pan-Mediterranean Celestine. He's also started a Montreal-style bagel chain in Black Seed Bagels, and last year was one of four partners who bought Otto's Market in Germantown, New York. The store was renovated during the spring, and Bernamoff and his partners brought in former GG's chef Bobby Hellen.
"We're doing some amazing things in the back of house in addition to the well-selected grocery, local produce, and country store good vibes," Bernamoff writes. "Much more to come as we get settled in."
Bernamoff says he's focused more on Grand Army and expanding Black Seed, and he's spending more time upstate. In a June news story about Germantown opposition to a planned Dollar General store, Bernamoff was referred to as living "about 400 feet" from the planned store and quoted voicing opposition. He tells Grub he's splitting his time between New York and Germantown.