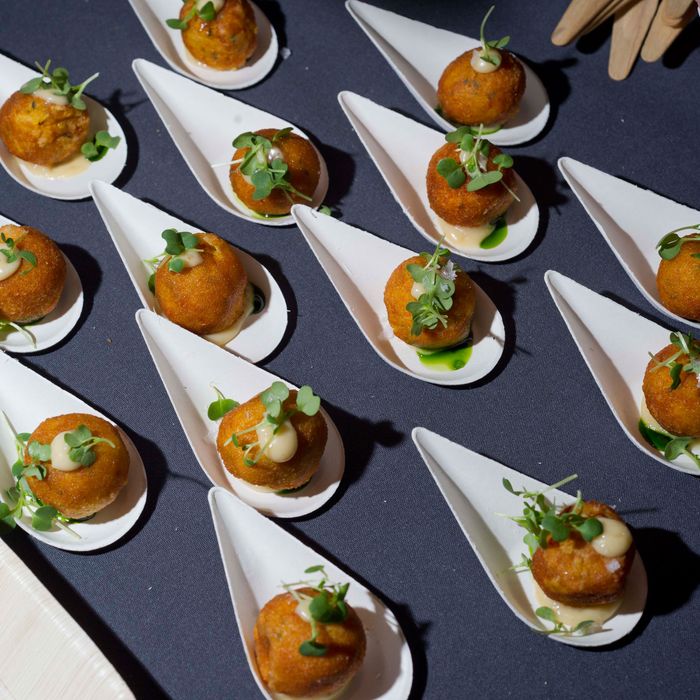 Bites from
New York
Taste 2017.
Photo: Jed Egan
New York Taste is back and celebrating its 20th year. On Monday, October 22, head to the Waterfront on the West Side for an evening of eating and drinking with some of the city's finest chefs.
As usual, the lineup is pretty stellar, featuring the likes of Dan Barber (Blue Hill), Marie-Aude Rose (La Mercerie), Greg Proechel (Ferris), Angie Rito and Scott Tacinelli (Don Angie), Miro Uskokovic (Gramercy Tavern), Nick Tamburo (Momofuku Nishi), Sam Mason (OddFellows Ice Cream Co.), Corey Chow (Per Se), Daniel Rose (Le Coucou), Jason Pfeifer (Manhatta), and more.
$125 general admission tickets include unlimited tastings and an open bar, while $225 VIP tickets include access to a special preview hour and a private VIP lounge, a very exclusive gift bag valued at $200, and a complimentary three-month New York by New York membership. Buy both here.
See you on October 22 — and come hungry!