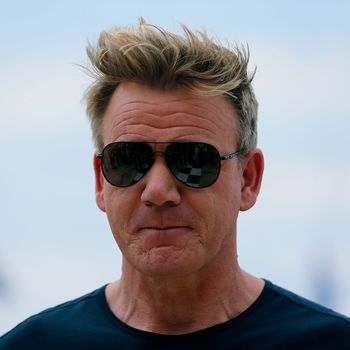 Photo: Jonathan Ferrey/Getty Images
Owners of a New Orleans restaurant that was featured in a 2011 episode of Kitchen Nightmares says they're still being haunted by that appearance nine years later.
According to the New Orleans Advocate, operators of the Oceana Grill in the French Quarter are suing celebrity chef Gordon Ramsay and producers of the show, which ended in 2014, after an infamous clip from the program was shared on social media last week. In the clip, Ramsay is shown vomiting after opening a vat of shrimp, discovers three dead mice among other unsanitary conditions, and watches as unsatisfied customers send dishes back to the kitchen.
Though the five-minute clip was up for only about 24 hours, it garnered 1.5 million views before it was taken down. Cajun Conti, the parent company of Oceana Grill, claims that "none of the above-described events were real, but were contrived and orchestrated by defendants to manufacture drama for their show."
In fact, the company sued Ramsay and FOX back in 2011 to prevent the episode from ever airing, but lost the case. Instead, the company allegedly reached an agreement with FOX that restricted it from re-airing any "re-mixes" of the episode without paying Cajun Conti $10,000 and sharing an update on the current state of the restaurant. No update was shared.
"During the episode's filming, defendants went to great lengths to over-dramatize and even fabricate problems with the restaurant in order to increase ratings," reads the lawsuit. "The footage intentionally portrayed Oceana and its employees in a patently false and negative light, as it depicted the appealing restaurant as an unsuccessful, unsanitary and mismanaged restaurant."